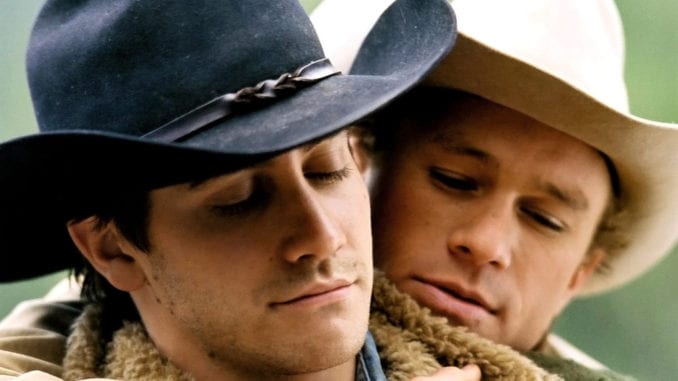 "That is how much Health Loved Me"
In a recent interview with GQ Magazine, actor Jake Gyllenhaal revealed a touching story about his friendship with the late actor Heath Ledger.
The handsome 37-year-old star recounted events from a time when he and Mr. Ledger were up for the lead role in 2001 film Moulin Rouge! by Baz Luhrmann.
Said Gyllenhaal to GQ Magazine, "We auditioned with many different actresses, it was a long process. But I never met Heath, I only heard about him."
He went on to add: "We would be shuffled in and out of rooms. They would literally put me in a room and lock the door and Heath would come in and then Heath would be shuffled through the door. I never saw him."
Several years later, after the phenomenal success of Gyllenhaal and Ledger's celebrated film, Brokeback Mountain (2005) – the same sex romance between two cowboys, Gyllenhaal got a telephone call from Ledger.
[He] was like, "Hey mate, I got some news for you". I said, "What?" He said, "Baz just offered me his next movie. I just wanted you to know, I f**king turned it down."
He added, "So that was how much Heath loved me, you know."
Both stars were nominated for their work in Brokeback Mountain in 2006. Ledger tragically passed away in 2008 (age 28) in his Manhattan home.
His death occurred at a time when he was filming the movie, Dark Knight, where he played the part of The Joker.
In 2015, Gyllenhaal sat down for an interview with the Hollywood masters and reflected on the importance of Brokeback Mountain, its impact on LGBTQ persons and his work with Ledger.
Gyllenhaal has a number of film credits under his belt, including Nightcrawler and Southpaw. Recently, it was announced that he will appear in the film, The Anarchists vs. Isis per his IMDb file.
Below is the video from the 10-year anniversary of "Brokeback" where Gyllenhaal discusses the film and his friendship with Ledger.