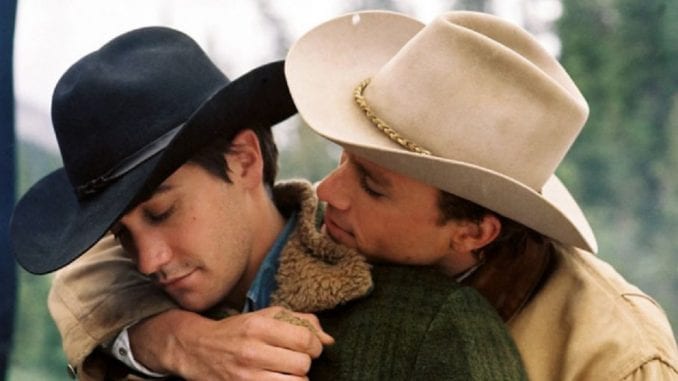 Jake Gyllenhaal Talks Brokeback Mountain
Jake Gyllenhaal is reminiscing about his time making Brokeback Mountain and sharing info about late co-star Health Ledger and his hate of gay jokes about the film.
Back when he was promoting Spider-Man: Far From Home, Gyllenhaal had an interview with GQ. For the video,  found below, the actor shared his thoughts on iconic roles and movies of his career like October Sky, Donnie Darko, and Brokeback Mountain.
Specifically with the latter, Gylenhaal shared great words for director Ang Lee and the experience to work under his artistic eye.
"I think we had been cast for our 'essences' without really understanding what our 'essences' were – and that's outside of our sexuality – we're two straight guys cast in these roles, but who we are, who we were, Ang could see. And I don't know if I could. So when the movie had the response that it had … I don't think we recognized what Ang had seen in us so we were blind at the profundity and the echo the movie made. We understood the power of the story. But I think, playing a character in it, we didn't fully, and I don't think we ever had any idea it would have the impact that it had."
In addition, Gyllenhaal shared how honored he was to work on the film that would later become Oscar golden.
"To make a movie that even just works is a miracle," said Gyllenhaal. "When it resonates even beyond that, it's impossible. And it has nothing to do with you in the end. Just being in Brokeback Mountain, that's the feeling I have. I feel that deeply about it. It had nothing to do with me. It came to me, I was honored to be a part of it, and it is now everyone else's in a way that I can't even fathom."
Heath Ledger's Anger
But despite the joys of making the film, there were plenty of headaches after production wrapped.
The three-time Academy Award-winning film (for Best Director, Best Adapted Screenplay, and Best Original Score), centered on a gay romance. The movie explored the tumultuous relationship between cowboys Jack Twist (Gyllenhaal) and Ennis Del Mar (Heath Ledger). This was one of the first mainstream movies to focus on a gay romance, and it was a flagship film for LGBTQ entertainment. But, it seems all of that accomplishment and praise also opened the door for ridicule and hate.
In a recent interview with Sunday Today, Gyllenhaal shared that his late co-star Ledger dealt with a lot of homophobes because of the movie. Gyllenhaal remembers that Ledger was "protective" of the movie and complained about insensitive jokes about the gay subject matter.
"I see people who have joked with me or criticized me about lines I say in that movie—and that's the thing I loved about Heath. He would never joke. Someone wanted to make a joke about the story or whatever, he was like, 'No. This is about love.' Like, that's it, man. Like, no.'"
On the 10 year anniversary of the film, Gyllenhaal talked to Out Magazine about how Ledger was conscious of the cultural and societal importance and impact of the movie.
"He was extraordinarily serious about the political issues surrounding the movie when it came out," Gyllenhaal said. "A lot of times people would want to have fun and joke about it, and he was vehement about being serious, to the point where he didn't really want to hear about anything that was being made fun of."
Even with so many years past and so many films springing up that focus on the lives of gay men, Gyllenhaal says he's thankful for the film. Though, he's not only thankful for the film helping to launch his career. He's also proud of it becoming a cultural and historical touchstone in entertainment, gay content, and American life.