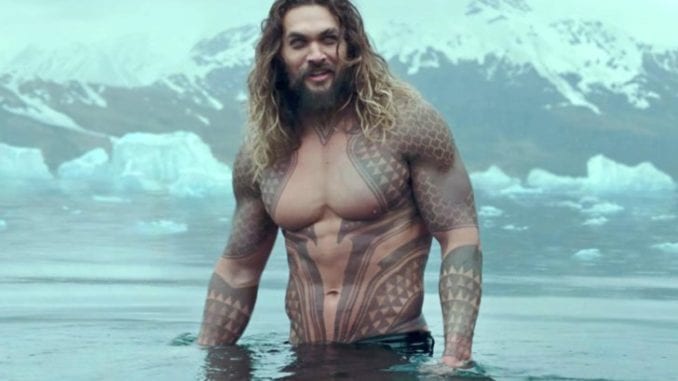 Jason Momoa: Modern Man
Jason Momoa is talking about men's issues like growing up without a dad and masculinity in the modern age.
The Aquaman star shared these thoughts while in conversation with GQ Australia. The Hawaiian native was named GQ's Man of the Year. He's not to be confused with John Legend, who was named People Magazine's Sexiest Man of the Year.
In order to highlight the honor of being named as the Man of the Year by the publication, Momoa had an interview with them. The conversation quickly turned into tips from Momoa on how to be more like a Momoa man. Momoa answered that being him is simply about the pursuit of honesty.
"The biggest thing for me is I'm searching, and I'm honest with myself," said the star. "I get really happy and stoked about stuff, I just go for it, and I'm not afraid to say that. Maybe that's an attractive thing – the guys I love and follow are like that, they're doers, everyone from a musical friend to someone who's an outdoorsman."
Momoa then gave some advice on manhood overall. Specifically, he noted how men need to be able to be sensitive and expressive.
"It's important to be funny too and in touch with your feminine and masculine side. I just feel like it's OK to be a man, it's OK to be a sensitive man, it's OK to be a strong man. That way, slowly you come into it all."
He later added:
"Men often brag 'I don't cry, God dang.' Whereas I'd say don't cover it up. I'm like, 'Goddamn, you're a boy, you're a little baby boy.' I didn't have my mum going, 'Toughen up,' so I don't know another way but I've learnt with any issue, you need to get to the root of it.
Dad Life
The conversation also covered the topic of fatherhood. Momoa admits that he was "a little envious of not having a dad around." Because of that, he grew up looking forward to being a father himself. Momoa then shared who are his idols in fatherhood and parenting.
"Chris [Hemsworth], The Rock, all those guys are awesome," he said speaking of other celebrity dads. "But I look up to my uncles. They were idols to me."
Momoa then shared another father that has inspired him as a parent.
"My stunt double, Kim Fardy is an Aussie, he's a big time surfer, so is his younger brother and his older brother has served in the armed forces, so there's these three boys, and the dad and mum are so cool; I look up to them. There's so many buddies I met down in Australia where their pops are just fucking rad, man."
To read the entire interview and hear more of Jason Momoa's thoughts on masculinity, parenthood, and being a movie superhero, check out this link here.
h/t: GQ Australia