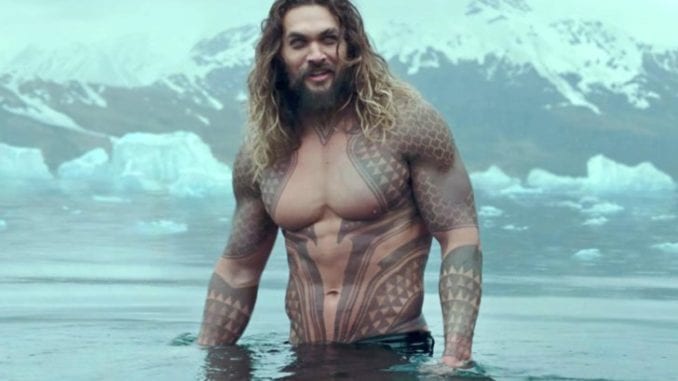 Jason Momoa's Beard Trimmer
We didn't need another reason to love Jason Momoa, but he gave us one anyway.
The Aquaman actor made headlines back in April after he decided to shave off his iconic beard. News sites all over the world were reporting on Momoa's decision to trim down his face, and it turns out that action was to spotlight a great cause.
At the time, Momoa posted the below video to Instagram and said:
"Goodbye DROGO, AQUAMAN, DECLAN, BABA …I'm SHAVING this beast off, It's time to make a change. A change for the better…for my kids, your kids, the world. Let's make a positive change for the health of our planet. Let's clean up our oceans our land. Join me on this journey. Let's make the switch to infinitely recyclable aluminum. Water in cans, not plastic."
"I just want to do this to bring awareness because plastics are killing our planet and I think we have a solution," he shared in the video while encouraging viewers to use cans and reusable bottles. "About 75 percent of all aluminum that's ever been used is still in use today, and it's 100 percent recyclable."
It turns out, Momoa shaved off his beard of seven years in order to make an environmental statement.
Fan Response
As far as publicity stunts go, Momoa shaving his beard is one of the best. It's such a simple thing, but it ended up getting tones of coverage. Plus, plenty of fans went crazy when they heard the news.
https://twitter.com/JXEDEAL/status/1118746892454776832?ref_src=twsrc%5Etfw%7Ctwcamp%5Etweetembed%7Ctwterm%5E1118746892454776832&ref_url=https%3A%2F%2Finstinctmagazine.com%2Fpost%2Fjason-momoa-shaved-what%2F
Jason Momoa's beard, 2012-2019 💔https://t.co/ELVlbd0Dd2 pic.twitter.com/cCh6GPk5Bq

— notagainben (@NotAgainBen) April 18, 2019
Jason Momoa has shaven off his beard.

I- we've arrived at an interesting point in our relationship and would be extremely greatful if you could respect our privacy during this trying and emotional time. Tysm xx pic.twitter.com/3VHs6rxmKc

— Stephy (@StephanieYeboah) April 18, 2019
Jason Momoa is FIINNE with or without the beard. Stop playin. pic.twitter.com/89kOaNpcSO

— Sunshyne (@Jord_yynn) April 18, 2019
Related: 7 Celebrity Facial Hair (Beard) Styles to Rock Your Look
Second Wind
But that's not the end of the story. Momoa also made sure to make the most of the attention he's getting. In order to do that, he capitalized on the shaved beard drama.
Next, Momoa decided to sell the trimmer that shocked the world. Yes, the Braun MGK5080 Multi Grooming Trimmer went up on Ebay. The trimmer ended up being sold for $730. Those proceeds then went to the Nature Conservatory.
The Braun brand seemed to like Momoa's message. It goes hand-in-hand with its mission of creating products built to last and be environmentally friendly. In order to exemplify that good faith and comradery, the company matched the donation for another $730 to the Nature Conservatory.
Again, we didn't need another reason to love Jason Momoa, but we're glad to have Jason Momoa's beard trimmer to remind us.