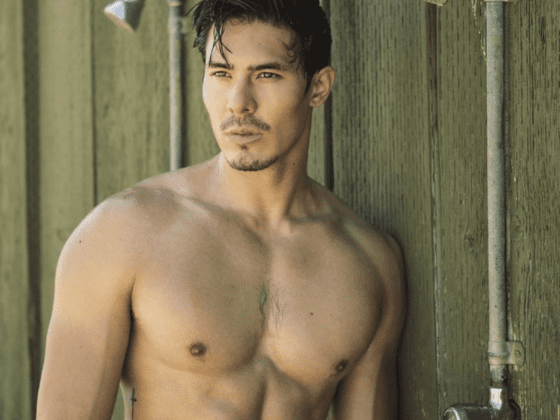 Meet Lewis Tan, the Asian-American Actor Playing A Bisexual Mutant
Little is known about Lewis Tan's portrayal of Shatterstar in Deadpool 2, aside from the fact that his character knows how to handle a big sharp sword or two…
When Shatterstar was first created by Fabien Nicieza and Rob Liefeld in 1991's "New Mutants" #99, the genetically engineered hero was initially depicted as asexual. 
It wasn't until acclaimed comic book writer Peter David tackled the character years later in another X-Men related title that Shatterstar was revealed to be both bisexual and polyamorous. In 2009, his kiss with Rictor was the first gay kiss in a mainstream Marvel comic.
https://www.instagram.com/p/BXcSmuABqXj/?hl=en&taken-by=lewistanofficial
Lewis, 31 was originally born in Manchester, England to a Chinese father and British mother, but calls Los Angeles home, and can switch fluidly between British and American accents. He is best known for playing Gaius Chou on AMC's Into The Badlands and Zhou Cheng on Netflix's Iron Fist.
The handsome man loves his mixed heritage because it has given him depth and perspective on the world.
"It has also been challenging in the film industry, but at the same time it created a deep discovery of who I am as a man and I am proud of my heritage," the actor said in a recent interview.
https://www.instagram.com/p/BUOCNM2BRVo/?hl=en&taken-by=lewistanofficial
And it's not just his family heritage that gave him the chance to get a broader worldview.
"Traveling has introduced me to the craziest mixes I have ever seen, people with accents you would never expect. It has been such a mind-opening experience and the world is a colorful and beautiful place."
For too long, we've seen Asian men portrayed as meek computer geeks with no sex appeal and no social currency. Well, no more! Asian dudes with sex appeal, gusto and ripped bodies like Tan are here, and they're not going away.
More: Josh Brolin Is Ripped For The "Deadpool 2" Movie
Check those sexy sculpted arms! ?
Stats
Birthday: February 4, 1987
Birthplace: Manchester, England
Age: 31 years old
Birth Sign: Aquarius
Deadpool 2 is scheduled to be released in the United States on May 18, 2018