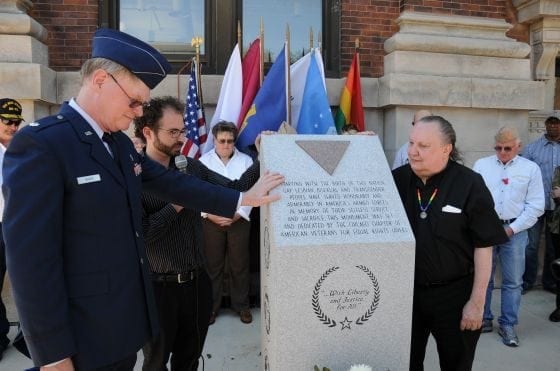 Chicago unveils monument for LGBTQ veterans
Chicago members of the American Veterans for Equal Rights (AVER) unveiled  a beautiful memorial to honor the lives of LGBTQ veterans who served in America's armed forces.
GPB reported on the plans for its dedication back in March and spoke to Tim Zylstra, Vice President of the organization. At the time, it was unclear if the granite monument would become a reality.
We are happy to report that it has.
This structure is one of just a several in the nation designed to honor LGBTQ service members. The Chicago memorial was placed in front of an LGBTQ-friendly senior living complex, right in the heart of the city's historic Boystown area.
See the video below to watch the dedication.
"Every veteran should be remembered and honored for their service," said U.S. Rep. Jan Schakowsky during the dedication ceremony, which included performances by the Chicago Gay Men's Chorus, Windy City Gay Chorus, and Travis.
More: 8 famous LGBT service members
The city's mayor, Rahm Emanuel, wrote that the monument is "a tribute to the sacrifice of our soldiers" in a message read at the event.
Chapter members of Chicago's AVER chapter gave credit to former President Barack Obama for making possible public recognition and celebration of LGBTQ veterans by helping to rid the Don't Ask Don't Tell policy that disallowed LGBTQ service members from being open.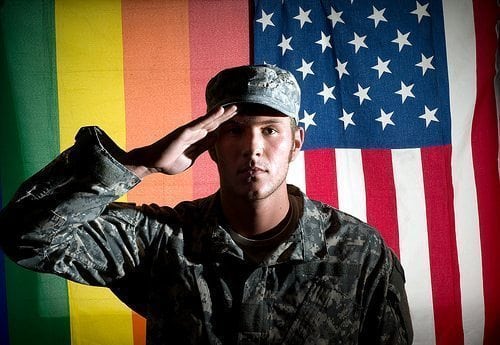 "You see what our voices together can accomplish," said Chapter Vice President and Treasurer Timothy Zylstra. The unveiling also marked a 25-year anniversary of the of the Chicago AVER chapter.
Per AVER information, the first monument ever created to remember LGBTQ veterans was enshrined back in 2001 in Palm Springs. This happened because members of AMVETS Post 66 and Palm Springs Gay Veterans. The Arizona Rainbow Veterans designed and donated the first LGBTQ-inclusive memorial in a National Cemetery in 2000.
A National LGBT Veterans Memorial has been in planning for some time for the  Congressional Cemetery. It is unknown if the monument will ever be built.
h/t: Windy City Times