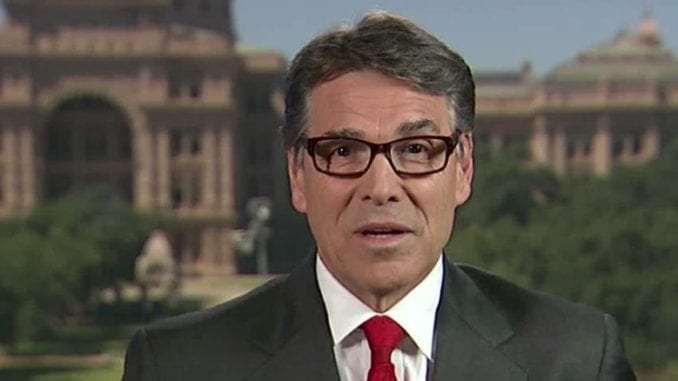 Why aren't we surprised?
Nobody should be shocked to learn that our Secretary of Energy, Rick Perry gave a huge thumbs up to Donald Trump's recent announcement to ban transgender persons from military service.
Perhaps you didn't hear?
Perry, the former Governor of Texas, is a longtime proponent of banning LGBTQ persons from being allowed to service in the armed forces.
Back in 2012 during his ill-fated run for the presidency, he released a bigoted ad during his campaign claiming there's "something wrong in this country when gays can serve openly in the military but our kids can't openly celebrate Christmas".
That's why we were not surprised when we caught word that Perry is now majorly supporting Donald Trump's comments on banning transgender troops.
After Trump hastily announced a new policy banning transgender people from the armed forces, Perry was mobilized to defend the ridiculous policy in the media.
According to the Texas Tribune, Perry told reporters: "I totally support the president in his decision."
He said: "The idea that the American people need to be paying for these types of operations to change your sex is not very wise from a standpoint of economics.
"I think the president makes some good decisions about making sure that we have a force that is capable."
The cost of transgender troops in the military was estimated in the neighborhood of $2.4 million to $8.4 million, while the military spends ten times as much – a whopping  $84 million – on erectile dysfunction drugs like Viagra annually.
Both figures are pebbles on the beach when one considers the military's $600 billion budget. Still, Mr. Perry is standing by his comments.
When a reporter pointed out the stat, he said: "You know what, I don't check on the price of Viagra."
Perry's ant-gay rhetoric dates back several years.
While serving as Texas Governor in 2014, he compared gay people to alcoholics.
He had claimed: "Whether or not you feel compelled to follow a particular lifestyle or not, you have the ability to decide not to do that.
"I may have the genetic coding that I'm inclined to be an alcoholic, but I have the desire not to do that, and I look at the homosexual issue the same way."
His comments came after the Texas Republican Convention announced its support for gay-to-straight conversion therapy.
Last year when Mr. Perry was running for President, the former Governor launched an attack on the Boy Scouts of America when the organization opted to end a ban on openly gay scoutmasters.
Perry had claimed: "Openly active gays, particularly advocates, present a problem. Because gay activism is central to their lives, it would unavoidably be a topic of conversation within a Scout troop. This would distract from the mission of scouting."
When asked if he would retract the comments, he insisted: "I believe that scouting would be better off if they didn't have openly gay scoutmasters."
The Trump official recently publicly attacked a gay university student – leading to a barrage of homophobic threats.
h/t: Pink News