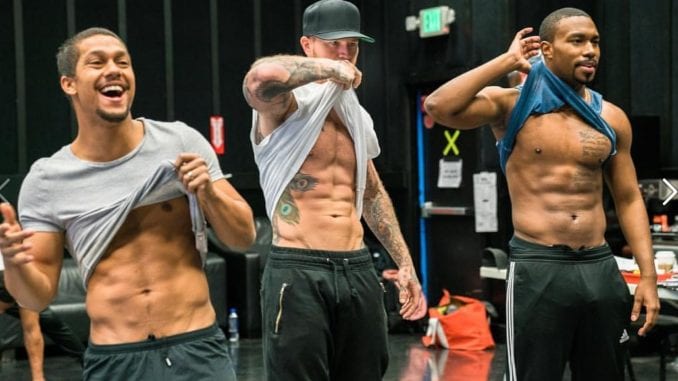 Magic Mike Live!
Were you a fan of Magic Mike and Magic Mike XXL?
Even if you're not you've got to admit those movies were full of hot men doing some hot dances.
Thankfully, Channing Tatum has realized that he could be making a whole lot more money from this IP by making a business out of his stripping past. So, why not take the men out of the movie screens and put them (literally) into your lap?
Thanks to that wonderful idea Magic Mike is now on its way to becoming a stage show in Vegas. That's right, Brittany's out of Vegas and Channing's in!
But the thing is this new Las Vegas strip show isn't all about Channing Tatum.
During the press release from last year, Tatum had this to say, "Magic Mike has been a special and very personal project for me, and this show is a natural extension of that. So, while I won't be on stage as Mike, Magic Mike Live Las Vegas is my vision and I'm looking forward to spending a lot of time in Las Vegas creating something that will give women what they really want."
https://www.instagram.com/p/BR7TwiqguCp/?taken-by=magicmikelive&hl=en
https://www.instagram.com/p/BO5ghUKBx9S/?taken-by=magicmikelive&hl=en
So it goes to show that this Magic Mike: Live, which opened up for previews last month, is really about the new men that will be taking on the Magic Mike legacy. But who are they?
Cosmopolitan decided to get their hands dirty to find this out. They were given special permission to visit the rehearsal space for the Las Vegas show. They got some great footage and shared it with us through a behind the scenes video.
In the video you can see the wonderful dancers getting their moves ready for the stage and for the countless women (and men) who'll be thirsting to see it all.
https://www.instagram.com/p/BMdPohwhdGJ/?taken-by=magicmikelive&hl=en
And though he won't be performing himself, Channing Tatum truly cares about the Magic Mike brand and wants to make sure Magic Mike: Live is done right. So, you can even see him watching over the rehearsals and making sure that everything goes smoothly.
After you've seen the video and convinced yourself to go see the real thing, head over to here to buy tickets for Magic Mike: Live at the Hard Rock Hotel in Las Vegas.