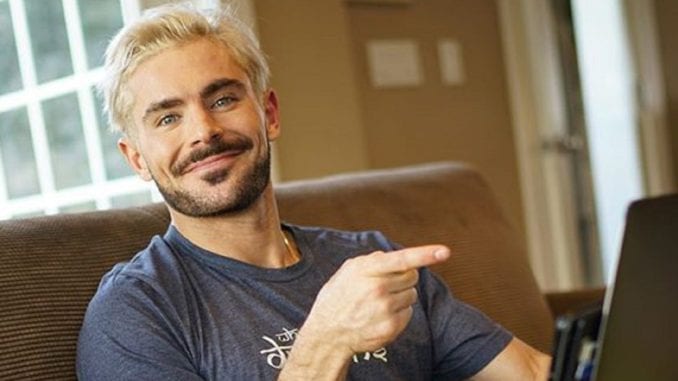 Zac Efron Facts
Last week, Zac Efron trended online. And while the reason may have been negative, it reminded us that we've never written a facts post about the star. Efron has been on our tv and movie screens for over a decade from now. From Disney Channel star to big name movie actor, Efron has continued to be in our minds and social media pages. But what are some facts (both fun and sad) about the actor? Here is a list to keep you informed.
Pop File: Zac Efron
Birthday: October 18, 1987
Birthplace: San Luis Obispo, California, United States
Zodiac Sign: Libra
Height: 5 feet 8 inches (173 centimeters)
Eye Color: Blue
Body Type: Athletic
https://www.instagram.com/p/CCkGOfylEo0/
1. Body Issues
The reason Zac Efron was trending last week was that he appeared on Bill Nye's Earth Day Musical Facebook special on Thursday, April 22. After seeing the actor on the Facebook special, fans started to wonder why his jawline looked different than normal. Zac Efron then began to trend on the Twitter social media platform as they speculated (or joked about) whether Efron underwent plastic surgery.
Why did zac efron ger jaw filler why pic.twitter.com/J5ST3USLo3

— Exilir (@Zeydeth) April 24, 2021
Thankfully, some fans brought up the fact that making fun of Zac Efron's body is not only cruel but also expanding on the actor's body dysmorphia. In a 2020 interview on the YouTube series "HotOnes," Efron shared that he went six months without eating carbs while shooting Baywatch. The constant need to fit societal expectations of his body led to him almost having a mental breakdown.
"That was actually a really important time to do 'Baywatch' because I realized that when I was done with that movie, I don't ever want to be in that good of shape again. Really. It was so hard," he confessed.
Related: Quick facts on Henry Cavill
"You're working with almost no wiggle room, right? You've got things like water under your skin that you're worrying about, making your six-pack into a four-pack. S–t like that it's just not. It's just stupid."
2. He Went To Rehab In 2013
Unfortunately, body issues aren't the only problem that developed from Efron's stardom. The actor also dealt with substance issues in his 20s. While filming the 2013 film Neighbors, Efron became addicted to drinking and taking drugs. He ended up checking into rehab. Thankfully, he says rehab helped him turn a new corner and he is actively fighting off his addiction.
https://www.instagram.com/p/B4LaeVSl85F/
3. His Teacher Embarrassed Him For Acting
Now, let's move on to some happy facts! Let's start with his "origin story" as an actor. Zac Efron knew that he wanted to be an actor since he was a child. But, he didn't start getting work until he was a teenager. His first role was a cameo on the short-lived Firefly. He then appeared in ER in 2003. That role made him an actor… at least in one of his teachers' eyes.
As Efron once shared, "I made the huge mis­take of bringing the tape into school be­cause one of my teachers asked to see it. I found out after my period that he had shown it to every single class. I was open to so much ridicule. It was embar­rassing. After that, I was like that weird ac­tor kid at school. It singled me out."
4. He Was Almost A Chef
But what would Zac Efron be if he wasn't an actor? A chef, apparently. Zac Efron says his hobby is cooking. And while he tries to eat healthy to maintain his celebrity figure, he still enjoys making extravagant meals.
https://www.instagram.com/p/CM5UghoJT7y/
5. He Almost Had A Record Deal
While Zac Efron became famous for his role on the Disney Channel original movie series High School Musical, Efron is not interested in being a singer. In fact, he turned down reality star and music producer Simon Cowell's offer for a record deal. Cowell offered to sign Efron down with British entertainment company Syco, but Efron wanted to focus on his acting. And it looks like that won't change anytime soon.
6. Close Friendship With His Brother
Who is one of Zac Efron's best friends? That would be his younger brother Dylan. The two are insanely close. And, Efron has also brought Dylan into the entertainment business. The two made a YouTube series called "Off The Grid" where they traveled and vlogged their experiences.
https://www.instagram.com/p/BxP-2W6HFBE/
7. He Loves To Travel
Not only has Zac Efron appeared in a travel show with his brother, but he also has done two other travel shows. Efron also filmed a Quibi show called Killing Zac Efron. Set up like a Man v. Wild, Efron was tasked with trying to survive in Papa New Guinea. But the show's premise became too real, as he eventually had to be medically evacuated after contracting typhoid.
Then in 2020, Efron starred in the Netflix show, Down to Earth with Zac Efron. That travel and food show spotlighted the many ways that people around the globe try to eat healthily and live sustainably.
It looks like Zac Efron loves to travel (and to get paid for it too!)
8. He Rode A Tiger Shark
On top of being a daring traveler, Zac Efron likes to live on the wild side during his adventures. That includes going shark diving with Mike and Dave Need Wedding Dates star Adam Devine. While the two planned to see sharks, a 14-foot long tiger shark wasn't in their plans. Initially, Efron followed protocols to make sure the animal didn't see him as prey. But he then decided to grab the shark's fin to catch a ride back to the boat. Luckily, he survived to tell the tale.
https://www.instagram.com/p/CMdm7f6p9mb/
9. He Broke His Hand While Filming "Neighbors"
Lastly, Zac Efron broke his hand during an accident on the set of Neighbors. While filming a fight between him and Dave Franco, Efron hit his hand and broke it. But trying to stay professional, he didn't ask for medical attention immediately. He tried to keep filming the scene. When he did go to get his hand checked up, Efron had to get a metal plate in his hand. Then, he went right back to set. We don't know whether to applaud him or be worried for him. No matter what, it seems Zac Efron will do anything to get back to work.