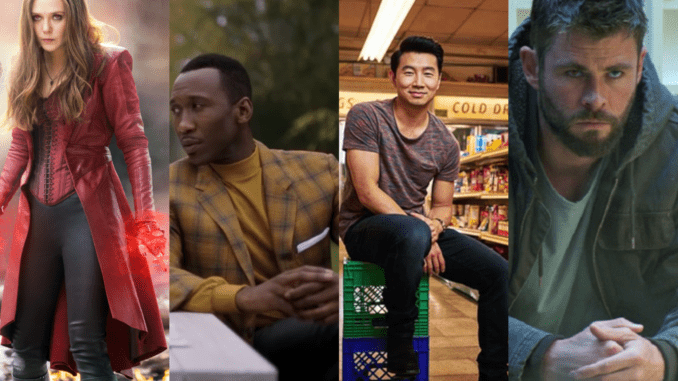 Marvel did that!
Guys, I am shocked, I am amazed, I have fallen and I can't get up. Marvel Studios has just finished its Hall H panel at San Diego Comic-Con. They drew over a crowd of around 7,000 people in the room and caught the attention of thousands of others on the internet. I was certainly one of them.
And for guys who weren't sitting on their commuter refreshing live coverage on news sites or checking out every tweet about the panel, you don't have to worry. I've got you covered. I'm gonna give you a rundown of every announcement made at this panel. So go ahead and read the news below.
The Eternals. November 6, 2020.

Live from Hall H: https://t.co/bSqCDutwr2 pic.twitter.com/Uzmjj8IfTN

— BD (@BrandonDavisBD) July 21, 2019
The Eternals – November 6, 2020.
The panel started out with Marvel Studios head honcho Kevin Feige announcing the premiere date and cast of The Eternals. The Eternals are a group of immortal aliens set with the task of protecting the universe and its inhabitants. (Makes you wonder where they were when Thanos was wrecking everything up).
The official cast of the movie, which will come out on November 6, 2020, is Richard Madden, Kumail Najiani, Lauren Ridloff, Bryan Tyree Henry, Salma Hayak, Lias McHugh, Don Lee, and Angelina Jolie.
Richard Madden says he's the "sexiest" of the Eternals. #MarvelSDCC pic.twitter.com/KFPHAmzHeu

— Ryan Gajewski (@_RyanGajewski) July 21, 2019
Madden will be playing lead hero Icarus, the one who's been rumored to be turned into a gay character, and said about the group, "The Eternals are arranged of immortal aliens sent here by the Celestials to protect mankind from the deviants. I play Icarus, who is the sexiest of them."
Hayak then added, "It feels great [to portray a strong female hero in the MCU]. It takes a strong woman to do a movie like this. I am proud to have a diverse family."
https://twitter.com/milevenup/status/1152743707776606211?s=20
The Falcon and The Winter Soldier – Fall 2020
Next, the first Marvel series to hit Disney's new Disney+ streaming service is The Falcon And the Winter Soldier. Next to nothing is known about this series except for its two leads. In addition, Daniel Bruhl is set to return as Baron Zemo, the villain from Captain America: Civil War who used the Winter Soldier's brainwashing to his advantage.
Shang-Chi and the Legend of the Ten Rings starring Simu Liu, Awkwafina, Tony Leung has been announced for February 12, 2021. After the appearance in Iron Man and twist in Iron Man 3, The Ten Rings and Real Mandarin will appear. #MarvelSDCC pic.twitter.com/K6WNwCGn5Z

— Tru (@ET8502) July 21, 2019
Shang-Chi and the Legend of the Ten Rings – February 12, 2021
It seems that Phase 4 of the MCU is deeply trying to represent and diversify. As such, this film will focus on Asian and Asian-American characters like never before.
The Mandarin is a villain who was teased in Iron-Man 3 with a switch-out fake villain taking on the title, but this film promises to give us the real deal. In addition, Chinese actor Tony Leung will play the part.
THE REAL MANDARIN has arrived in the MCU, and he is being played by Tony Leung in @MarvelStudios' CHANG CHI.#MarvelSDCC pic.twitter.com/Gt738mMtPv

— DR Movie News 📽 (@DRMovieNews1) July 21, 2019
Marvel finds its #ShangChi with Chinese-Canadian actor @SimuLiu https://t.co/AmRVsH9v7m #MarvelSDCC pic.twitter.com/ZQBWSDrdHZ

— The Hollywood Reporter (@THR) July 21, 2019
But who will play the hero? None other than Kim's Convience's Simu Liu (who found out he was cast this past Tuesday). In addition, Awkwafina will also star in the film as an unspecified role.
Elizabeth Olsen on her new show WandaVision: "It's gonna get weird." #MarvelSDCC pic.twitter.com/8ojRiSETjU

— Ryan Gajewski (@_RyanGajewski) July 21, 2019
WandaVision – Spring 2021
The next Disney+ series to take the stage was WandaVision.
As Feige stated during this part of the panel, "We're gonna finally understand Wanda Maximoff as the Scarlet Witch."
This series was also announced as a "mega event" "unlike anything we've ever done before."
Though there is no official word on how Vision will come back for the series (as his character was killed off in the movies). That said, it was announced that he and Monica Rambo (the child raised by Maria Rambo and Captain Marvel that later becomes a superhero herself) will appear.
LADIES AND GENTLEMEN OUR MONICA RAMBEAU, TEYONAH PARRIS! SPECTRUM IN THE HOUSE FINALLY! BLUE MARVEL WHEN? #MarvelSDCC pic.twitter.com/cDB6FiWsOx

— TASK the Leader of the #Khongregation of #Khonshu (@UpToTASK) July 21, 2019
Plus, Feige shared that this series will set up the next theatrical Marvel movie….
https://twitter.com/MarvelitePod/status/1152746840711823360?s=20
Doctor Strange In The Multiverse of Madness – May 7, 2021
Doctor Strange 2 will be a first for the MCU. It will be the first scary movie. That said, Feige assured fans that the film will still be PG-13. In addition, he announced that Scarlet Witch will co-star along with Benedict Cumberbatch.
HAPPY BIRTHDAY BENEDICT CUMBERBATCH #MarvelPhase4 #SDCC19 #MarvelSDCC pic.twitter.com/n5HJT8SlMN

— steph 💔 (@luxcali) July 21, 2019
"I'm really excited to be at the dawn of this project and I think it's vital to maintain the humor we had in the first one but with this twist of horror that will really have people gripped," Cumberbatch said.
#Marvel #Sdcc
Spring 2021
Loki
Disney+ pic.twitter.com/LiXNNMSwWi

— SFX magazine (@SFXmagazine) July 21, 2019
Loki – Spring 2021
But back to Disney+, Loki will also have a turn on the streaming platform.
The Norse god of mischief and magic will continue his story from Avengers: Endgame, meaning that he's in a totally different place from the Loki of Infinity War (both in location and in mindset).
"He's still that guy," Hiddleston said of the character. "Just about the last thing that happened to him is he got Hulk-smashed [in Avengers 1]…There's a lot of psychological evolution yet to happen…I can't tell you any of [the plans] but it is one of the most exciting creative opportunities I've ever come across. A new world. New challenges. And I cannot wait to get started."
First ever animated series announced for Marvel!!#SDCC2019 #MarvelSDCC The Watcher played by the AMAZING @jfreewright pic.twitter.com/d6W8GPdxJk

— Book of Cons (@BookofCons) July 21, 2019
What If – Summer 2021
The next project is a surprise and show of Marvel's creative leverage. An animated series.
What If will be an alternate realities/elseworld story that shows different outcomes and setups with the characters we thought we knew. This includes the introduction of Captain Britain and the Watcher.
"The Watcher is a non-earthly being who observes all things. He's watching over the multiverse and occasionally may or may not intervene with the doings of Earthlings. Other than that, he's off doing his own thing," said Jeffrey Wright who will voice the Watcher.
"The Watcher first appears in '63, Fantastic Four," Wright adds. "He turns up on the moon because although today's the 50th anniversary, he had a crib there a long time ago."
#HAWKEYE LOGO KATE BISHOP CONFIRMED TO SHOW UP #MARVELSDCC pic.twitter.com/PIxKl787sC

— Zach Pope (@popetheking) July 21, 2019
Hawkeye – Fall 2021
There's nothing much known about this series yet. It will appear on Disney+ and show some part of Hawkeye during his "Ronin" phase in the midst of Avengers: Endgame.
In addition, Kate Bishop will appear. For those who don't know, Kate Bishop is a young woman who takes on the mantle of Hawkeye after Clint Barton.
'THOR: LOVE AND THUNDER' will be based on 'The Mighty Thor' by Jason Aaron with Natalie Portman set to reprise her role as Jane Foster and become FEMALE THOR! #MarvelSDCC #SDCC #SDCC2019 pic.twitter.com/f4PCWkc8A6

— DiscussingFilm (@DiscussingFilm) July 21, 2019
Thor: Love and Thunder – November 5, 2021
We already shared with you that a Thor 4 was confirmed for the MCU's Phase 4, and now we have a title and cast to go with it.
After announcing the title, director Taika Waititi appeared with Chris Hemsworth and Tessa Thompson to celebrate the upcoming movie. In addition, it was announced that Lady Thor will be coming to the MCU!
Natalie Portman returns to the Thor series, and she will be playing the Jane Foster version of Thor! #SDCC2019 #MarvelSDCC pic.twitter.com/NySzl51SYS

— Flicker Effect (@Flicker_Effect) July 21, 2019
Waititi shared that the movie will be loosely based on the comic The Mighty Thor. He added:
"For those of you that know that story, it's incredible. It's full of emotion. It introduces, for the first time, female Thor. For us there's only one person that could play that role. Please welcome to the stage, Natalie Portman."
Plus, LGBTQ fans and fans of LGBTQ media will be happy to see that Valkyrie's bisexuality will be openly explored. When asked for Valkyrie's first action as the new King of New Asgard, Thompson said, "First thing she needs to do is find her new queen."
Fiege then confirmed after the panel that this is a plot point for the movie.
"The answer is yes," he told i09. "How that impacts the story remains to be seen with that level of representation you'll see across our films, not in just Thor 4."
https://twitter.com/whaateveritakes/status/1152752567069396992?s=20
Black Widow – May 1, 2020
Lastly, the cast of the Black Widow prequel was officially announced and Stranger Things' David Harbour was among them! The roles and casting go as follows:
Alexi — David Harbour. Yelena Volova — Florence Pugh. Mason — OT Fen Bentley. Molina — Rachel Vice. Black Widow — Scarlett Johansson.
That film is set to release in May of next year.
https://twitter.com/adayave/status/1152761542389248004?s=12&fbclid=IwAR0qVogptQ1jh5nPTXtvZw-dsShzVVmBkZXx3ZlqNcqaV6a251ASOu6zyxY
Black Panther 2, Guardians 3, X-Men, Fantastic Four, & Blade
But that's not all. While all of the above announcements were being made, fans were sad to hear no news of a second Black Panther, a second Captain Marvel, and additional Ant-Man And the Wasp, the third Guardians of the Galaxy film, and the additions of the X-Men and the Fantastic Four now that Fox has been bought by Disney.
Well, Fiege decided to drop the fact that all of those projects are in the works for sometime after 2021. That's right, Black Panther 2, Captain Marvel 2, Fantastic Four, mutants, and Guardians 3 are all coming to the MCU. In addition, two-time Oscar winner Mahershala Ali has been cast as Blade!
CRYING IN 73 LANGUAGES MARVEL BITCH YOU DOING AMAZING #MarvelSDCC pic.twitter.com/8uEqbt2DH8

— maya (@dowkieloki) July 21, 2019
Marvel Phase 4 And SDCC
Again, Marvel did that.
The company is juggling a lot of balls in air. From diversifying its hero list, to catering to Disney's demands of putting content on their new streaming channel, to expanding and exploring its already established characters, to incorporating characters from the Fox deal, to giving the fans what they want. Marvel did it all.
What was your favorite announcement from Marvel's Hall H panel? What project are you most excited to see? Are you going to pay for Disney+? Let us know in the comments below as we deal with the fact that Kevin Feige is the new king of Hollywood.
Kevin Feige meeting up with the MCU team after leaving #MarvelSDCC pic.twitter.com/tUDa9AHUjh

— Joshua Chenault (@joshuachenault1) July 21, 2019
Kevin Feige at #MarvelSDCC right now: pic.twitter.com/INgY4XPDym

— Joe Sallmen (@JWSallmenII) July 21, 2019
Feige leaving the Marvel panel knowing he owns all of us now#MarvelSDCC pic.twitter.com/rJoSuL6ZRx

— sara (@bookishbegnning) July 21, 2019