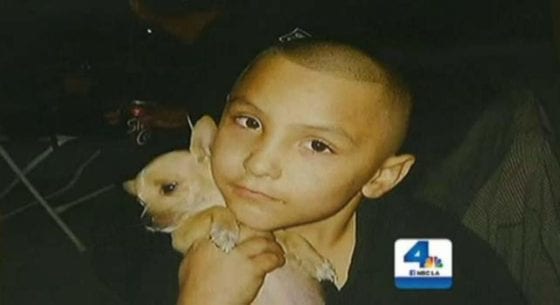 Mother Of 8-Year-Old Boy Sentenced To Life In Prison
Today, 8-year-old Gabriel Fernandez found justice after he was tortured and killed by his mother and her boyfriend.
Los Angeles County Superior Court Judge George Lomeli sentenced Pearl Fernandez to life in prison and her boyfriend Isauro Aguirre has been given the death penalty. The two were tried after the body of Ferenadez's 8-year-old son was discovered with multiple scars and bruises. Plus, prosecutors claim that the two abused the boy because they thought he was gay.
Back in the fall, reports came in about the death of Gabriel Fernandez. First responders arrived at the South California home of his mother to find the boy unconscious. Though he was rushed quickly to the nearest care facility, he ended up dying while being treated.
It was during that process that medical staff discovered just how scarred the boy was. Fernadez's body showed signs of serious abuse. His skull was fractured, his ribs were broken, he had burn marks, his body showed signs of being hit with a BB gun, and more.
"The defendant admitted that he hit Gabriel harder than he hit anyone else. He admitted hitting him 10 times in the head. This is a 6-foot-2, 270-pound man. (He hit him) 20 times in the body. He admitted that he lost count," said Deputy District Attorney Jonathan Hatami according to ABC7.
Plus, Fernandez's sister testified in court to say that she was regularly ordered to clean up Gabriel's blood. In fact, when the couple realized they had gone too far, they called the police and asked the daughter to clean up before first responders arrived.
Then back in December, a jury voted to recommend the death penalty for Aguirre who was found to have committed most of the violent acts.
It turns out that Judge George Lomeli agreed as that's the punishment that Aguirre received.
Frankly, good for the judge and jury, and good riddance to Fernandez and Aguirre.