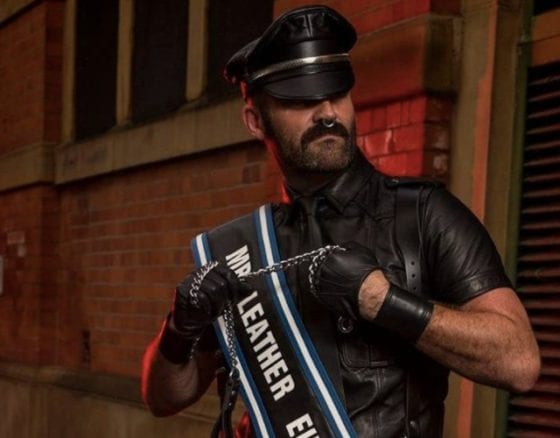 From An Abusive Relationship, To HIV Positive, To a Community Leader.
When people think about the leather community we think of certain expectations and stereotypes.
We forget that each person in leather is still a person. They have their own outlooks, personalities, and life experiences.
The same can be said for the faces of the leather community like Mr. Leather Europe.
Mr. Leather Europe, or Joe King as he's known by those closer to him, was put in the role in 2015 and then won the role a second time in 2016.
It was during his run for the International Mr. Leather competition that he released on a Facebook post that he'd been through his own life struggles and trials.
"In 2001, I found myself in a relationship with a man who could only be described as a malevolent bully."
After five years of being in the abusive relationship, King finally broke away. But he still had a lot of troubles to deal with.
"He ran up debts in my name, refused to pay his half on our mortgage and got us into arrears and the house got foreclosed, gave my dog away, sold my car and kept all my possessions.

He had me arrested for a fictitious assault, harassed my family, and employer and made up horrible rumors about me. IN the end the harassment got so bad that the police arrested him and kept him in cells for over two days.

In the end, I had lost everything I owned and worked for my whole life."
More: I Was a Twink in a Leather Bar?
And just as he was readjusting to life without his ex, he tested positive for HIV. And he knew that the virus came from his ex.
"I would be forced to think about him, inside my body was a permanent reminder of this 'man,' a living scar."
But that was when King found the leather community. A home away from home.
"The acceptance, love and support I received gave me the strength and the courage to get through," he said, "I was welcomed with open arms and I met other men who had silmiar experiences and fought similar fights."
"For the first time in 15 years I felt like I belonged … I had found, a community that during all these years I had never known existed."
That was the start of an upturn for King in his life. Now, he has a national title to go with his love of the leather community, and his health is excellent with HIV no longer being a stain on his life.
And Joe King shares his story to let everyone know that every down in life comes right before an up.
"You must always remember you don't need to live that way. You can find peace and happiness again."
"You might think you don't have the strength to escape," he adds, "but I can tell you from experience, it's easier than the daily endurance of living with an abuser."
h/t: Queerty