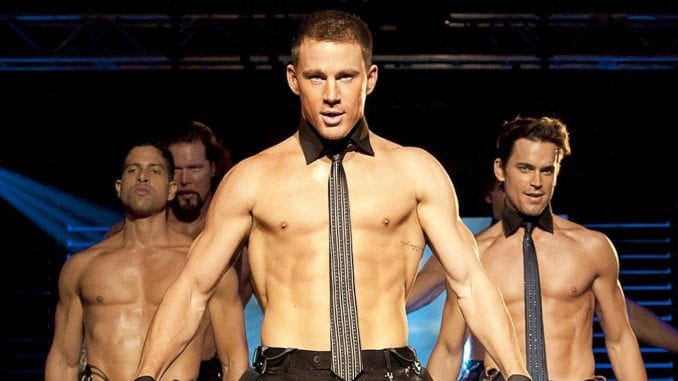 More Magic Mike?
It looks like the Magic Mike empire is expanding to TV screens. When Step Up star Channing Tatum announced his plans to create a film based on his past as a stripper, the idea quickly became a hot topic. But did Tatum realize it would become the major franchise and business empire that it has become (and continues to become)? A newly announced tv series is adding to the expanding brand. To catch you up on how Channing Tatum created this ever-growing empire, we'll share the latest news and step-by-step info on how we got here.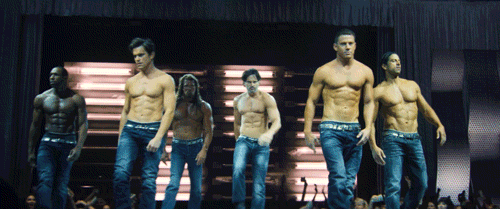 The Real Magic Mike
Earlier this month, HBO Max announced that Magic Mike, which transitioned from the big screen to the stage, is now moving to small screens through an unscripted series. The series will be called The Real Magic Mike and will premiere later this year with 10 men competing for a cash prize and the chance to perform at the Magic Mike Live stage show in Las Vegas.
The show's official logline explains that the contestants "will bare their souls and more as they evolve their bodies, learn to perform spectacular routines, and develop a new level of self-confidence. As they strip off their clothes, they will rid themselves of emotional baggage and regain their mojo, but only one will be the Real Magic Mike."
Channing Tatum, original film director Steven Soderbergh, and screenwriter Reid Carolin are among the executive producers for the film. They will be joined by Eureka Productions and Warner Bros. Unscripted Television in the series' production.
"From box office hits to sold-out live shows, Magic Mike has proven to be a pop culture juggernaut that continues to delight people across the globe," said Sarah Aubrey, HBO Max head of original content. "We're excited to work with Channing, Steven and the team behind Magic Mike Live to continue this successful franchise that celebrates self-confidence and sexiness both inside and out."
"Magic Mike is one of Warner Bros.' most iconic franchises," added Warner Bros. Unscripted TV president Mike Darnell. "We couldn't be more excited to be working with Channing, Steven and HBO Max on an all-new vision of this amazing and legendary brand. We're looking forward to giving fans a front row seat as we search the country for undiscovered talent."
Movie Making
So, how did we get here? How did Channing Tatum create a film franchise big enough to warrant a tv show? And one that people are excited to experience? Well, Tatum remembered one solid and old fact. Sex sells.
First, Channing Tatum marketed the film as based on his own life experiences. Being a recent heartthrob and big-name actor in Hollywood because of the Step Up, Tatum had a step up for success. And a film about male strippers starring Channing TatumJoe Manganiello, Matt Bomer, Matthew McCaughey? That was bound to get people's attention. But to many people's surprise, the film was about more than just nearly naked men. It had a story about the struggle of being a stripper and maintaining a normal life.
Because of these two factors, the film ended up being a MASSIVE success. Despite only having a budget of $7 million, the film made $113 million in the U.S. and $54 million internationally. The film then gained a sequel film to expand the franchise and the Hollywood stars willing to strip for it. While Magic Mike XXL did not perform as well as its predecessor ($66 million domestic and $51.8 million international), the movie still massively made up for its budget ($14.8 million). At that point, it was hard to deny it. Channing Tatum made a successful franchise and brand.
https://www.instagram.com/p/CN8Byamh_oY/
Related: Check Out the Sexy Dancers of Magic Mike Live!
Las Vegas & Beyond
But what does a smart businessman do with an established brand? Expand it. Seeing an opportunity in 2017, Channing Tatum announced that a Las Vegas show called Magic Mike Live was in the works. The show is part strip show, part dance show, Part circus performance, and all parts excitement and fun.
"Magic Mike has been a special and very personal project for me, and this show is a natural extension of that," said Channing Tatum at the show's announcement. So, while I won't be on stage as Mike, Magic Mike Live Las Vegas is my vision and I'm looking forward to spending a lot of time in Las Vegas creating something that will give women what they really want."
That show was so successful that Channing Tatum then opened up two more stage shows. First, he opened up a show in London, UK. He later opened up an additional show in Australia. The later show often travels around the country and stops in cities like Sydney, Melbourne, and Brisbane. And let's be honest, there are probably more shows in other countries on the horizons.
https://www.instagram.com/p/CNbiOtiFgBD/
The Failed Musical
Though, the Magic Mike Empire hasn't always been successful. In 2019, Channing Tatum announced that a new musical version of the Magic Mike brand was in the works. This musical would be a fully scripted stage production with a prequel story about the titular character. Following Mike Lane, audience members would watch Mike struggle as a poor college student. Mike then finds himself taking up a dancing job at a nightclub to stay afloat. He then tries to keep his work life separate and hidden from his dad and girlfriend.
Tony and Pulitzer winners Tom Kitt and Brian Yorkley worked on the musical's score while Roberto Aguirre-Sacasa (Riverdale, Spider-Man: Turn Off The Dark) wrote the book (the non-sung parts of the play). Meanwhile, Trip Cullman directed the project and Camille A. Brown worked as the choreographer.
As Tatum said in a statement at the time:
"When we were shooting Magic Mike, I looked at myself in a thong and thought, 'Well, Chan, say goodbye to your career!' So the idea that seven years later a Pulitzer Prize-winning creative team would be making a full-fledged musical prequel is definitive proof that God loves strippers. I couldn't be more excited about the next chapter in the Magic Mike story. So get ready, Boston. The road to Broadway begins on November 30!"
But here's where things when wrong. While the musical was initially announced to premiere at the Emerson Colonial Theatre in Boston in November of 2019 and later move to Broadway, the show got canceled. Artistic differences were cited as the reason for the lab presentation delay that ultimately halted the project. Then a few months later, the coronavirus pandemic led to a total halt of stage productions. Since then, there has been no word on the potential musical.
Channing Tatum & Magic Mike
Despite the blowback to some of the Magic Mike empire, Channing Tatum has made millions off his initial idea. This is evident from the recently announced tv series. And we have to wonder where the franchise and business empire will go next.