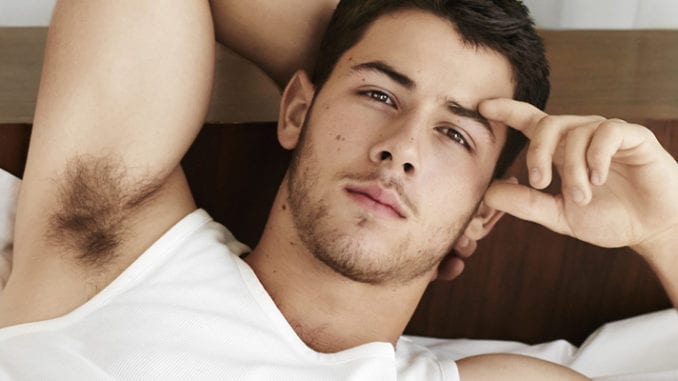 Nick Jonas is rumored to be keeping it in his pants
One of the ways gay fan favorite Nick Jonas gained celebrity status directly relates to the singer's underwear photoshoot back in 2014.
You may recall that Nick appeared in a hot set of pics for Flaunt Magazine where he stood in a pair of white Calvin Klein boxers and grabbed his junk in front of the entire world.
Since the Flaunt piece, there have been other times where Nick has shared partial views of his package with the public, including his appearance at a gay bar in 2015 (See video below).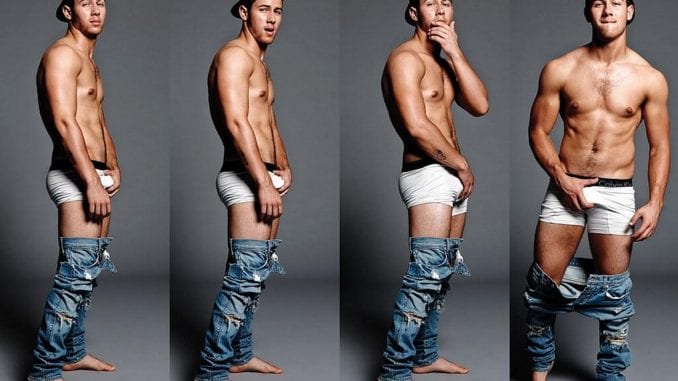 And finally, there have been those occasions where Nick has let us see him partially clothed in movies like
Careful What Wish For
(2015) and television shows like
Kingdom
.
Let's face it – the dude has yummy assets!
But word has leaked that we may not get to see the 23-year old showing off his basket anymore.
Related: How Nick Jonas became a gay icon
According to a report appearing in the August 15, 2016 National Enquirer, Nick will be keeping his little man to himself. He's apparently pissed off about how things went at the MTV VMA awards earlier this year.
"Nick was snubbed by the MTV Awards and blames it on his exposed package," reports an unnamed source to Rob Shuter, author of the  Straight Shuter part of the supermarket tabloid.
More from the Enquirer's source:
"He's going to keep it in his pants. After the way he was snubbed, he doesn't think you deserve to see him exposed anymore."
It is true that the brown eyed actor was disappointed after not receiving any love for his single, Close, from the MTV VMA's. In fact, he tweeted about it at the time.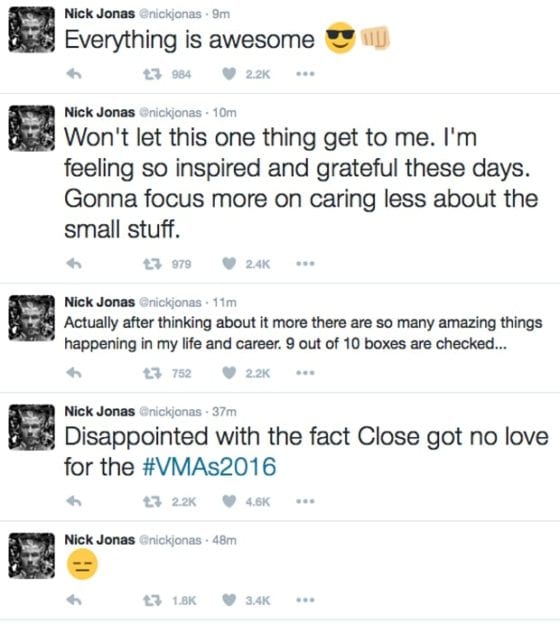 In an interview given to Billboard Magazine in June of this year, Nick shared the following about Close:
"I'm inspired by everything I see. As I walk down the street there's always something that's going to catch my ear or my eye and inspire me in some different way," he disclosed.
"It's always about being open to receive whatever inspiration comes. It's not always a song that I know I have to write that moment, maybe it's just a word or melody that comes to mind and at the perfect moment I can sit down and try to write it."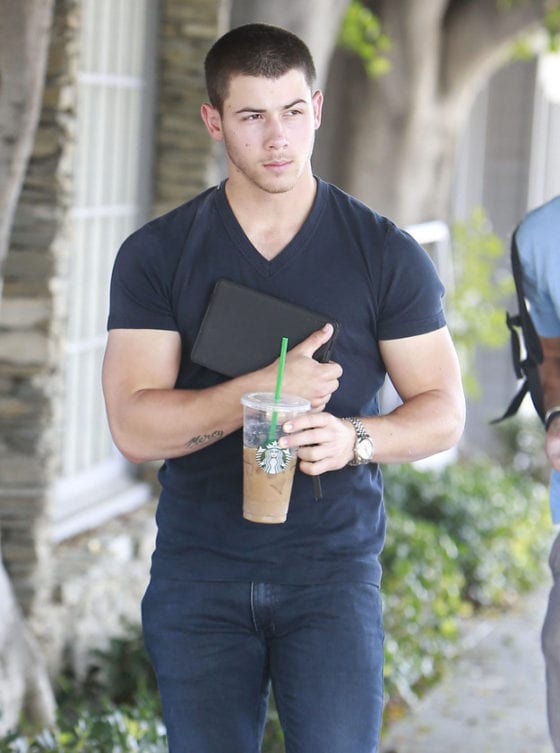 We are hoping that the gossip about Nick keeping it locked up isn't true. We were recently treated to seeing him dawn a pair of black briefs in Running Wild.
In any event, if this is truly is his plan, perhaps he should reconsider? After all, he used his privates to help bolster his career.
Well, that and gay baiting.
FYI: Nick channeled another male celeb who rose to stardom in a similar way over 20 years earlier – Mark Wahlberg (aka Marky Mark).
What do you think – should Nick keep it in his pants?