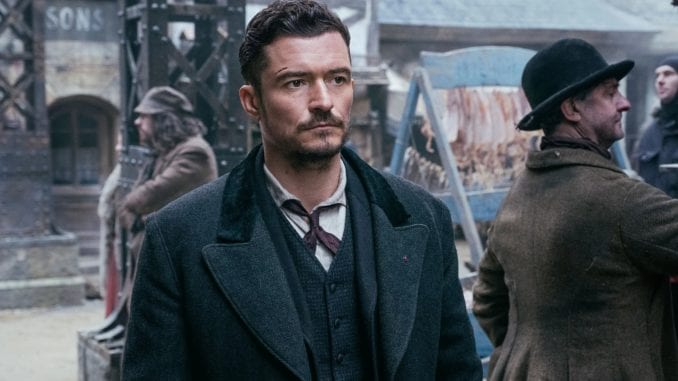 Yet another celebrity has given us an example of why you have to be very careful when getting a tattoo.
It's been a couple years since the Ariana Grande incident when she got a misspelled Japanese Kanji tattoo. The singer and Instagram darling shared a tattoo picture of what she believed to be the words "7 rings." Grande shared an iMessage conversation between Grande and a friend named Ayumi. In that conversation, Grande tried to honor her hit single with the kanji 七輪. But as Ayumi shared, 七輪 means "Seven circle, or it could also mean Japanese bbq grill."
And now, it appears that Orlando Bloom has made a similar mistake. Only, the actor didn't mistakenly besmirch the attempt at honoring a past work. Instead, he misspelled his own son's name.
The Lord of the Rings and Pirates of the Caribbean actor got a new tattoo to honor his relationship with son Flynn. Flynn was born in 2011 to Bloom and his now divorced wife Miranda Kerr. The two later got divorced in 2013. As for the tattoo, Bloom marked his forearm with his son's birthdate. The only thing is that the date is written in morse code… and it's missing a dot.
As Balazs Bercseny, the tattoo artist who created the art on Bloom's arm, wrote on Instagram, the actor and the artist are both aware of a mistake.
"A beautiful reminder for @orlandobloom of his son," wrote Bercseny, "and yes, a dot is missing, we know, it will be fixed."
Again, this isn't the first time that a celebrity has gotten a bad tattoo job or had to cover it up after time had passed. For instance, both Johnny Depp and Pete Davidson have had to change or coverup tattoos after breakups. After breaking up with Winona Ryder, Depp changed his "Winona Forever" tat to "Wino Forever." Meanwhile, Davidson changed the playboy bunny, in honor or former fiancé Ariana Grande, to a Blackheart.
Meanwhile, soccer star David Beckham made a mistake somewhat like Bloom's. When Beckham tried to make a tribute to his wife Victoria, he thought he wrote up her name in Sanskrit. But unfortunately for him, the tattoo actually read "Vihctoria."
Then Liam Hemsworth tried to get a twin tattoo with his now-wife Miley Cyrus. Cyrus got a line from Theodore Roosevelt's 1910 "Citizenship in a Republic" tattooed on her arm. When Hemsworth tried to do the same, his tattoo artist forgot a "he" in the line. So, the line reads, "if he fails, at least fails while daring greatly."
Do you know any other celebrity tattoo mistakes worth mentioning? Did you or someone you know make a similar mistake? Let us know down in the comments below.
h/t: Allure, Cosmopolitan, Men's Health, Inked Mag,