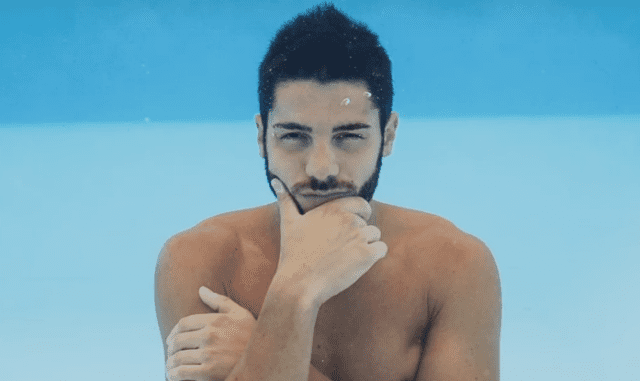 Have you peed in the pool? Science suggests many do!
Summer isn't over just yet. There's still time to jump into the pool! But before you dive in, know there's a good chance you'll be swimming in loads of pee and fecal matter.
And that's not all! You'll also be paddling around with other people's skin cells and sweat.
We hate to break it to you but according to research, most public swimming pools are nothing more than blue toilette bowls.
While we may not know the exact number of people doing it, a report suggests a LOT of folks are.
According to the American Chemical Society (see video above), most pools contain 30-80 milliliters of urine per individual. That's a lot of pee, meaning more than a few are leaking like it's going out of style.
Hey, don't blame it all on the kiddies!
If that's not enough to gross you out, how about a government study that suggests the majority of public pools are filled to the brim with fecal bacteria?
Ready to put your trunks on yet?
Oh, and if you think the smell of fresh chlorine is a sign of sanitation, think again. That's because what you are really getting a whiff of isn't chlorine at all.
Instead, it's chloramines.
You may be wondering what chloramines are? Simply put, chloramines are the chemical result of the compound chlorine binding with your urine, fecal matter and bodily sweat.
That's right – what you were really breathing in was a combination of pee, crap, sweat and chlorine.
It's like all three became friends and created a lasting memory.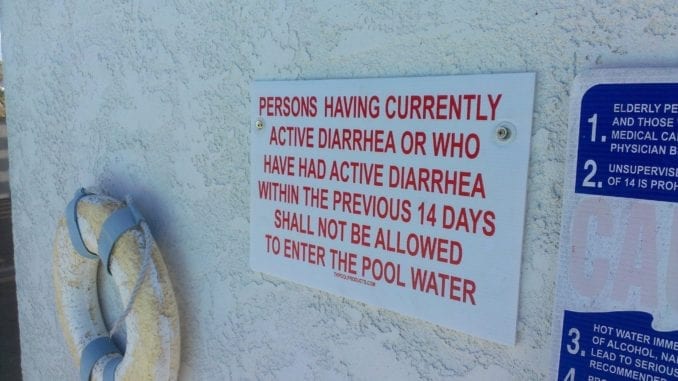 Do you think your local pool is clean? Umm – sorry to say it's probably not.
As reported by Mental Floss, the CDC conducted a study across five states back in 2013 to assess how many pool operators were compliant with local health safety codes.
The results were grim:
"One out of every eight routine inspections resulted in the closure of a facility. One in five kiddie/wading pools had to be shut down. And almost 80 percent of inspections found at least one violation of health or safety standards. The top three violations were imbalanced pool chemistry, lack of safety equipment, and too much or too little disinfectant in the water."
Related: This guy pooped in a Jacuzzi at a gay resort
Have you ever gotten near a pool and suddenly noticed your eyes got scratchy? Did you have problems breathing? Your reaction probably wasn't coincidence.
Instead, you were likely exposed to strong chloramines – or more specifically – trichloramines. They act as irritants to the skin and upper respiratory system.
This is why so many professional swimmers and pool lifeguards worry about getting sick. Constant exposure to these chemicals increases their risk for developing infections.
We know what you are thinking right now – professional swimmers don't take leaks in pools.
Actually, they do.
Olympian Michael Phelps was asked back in 2012 if he whizzes in the water. Here is what he said, as reported in the Wall Street Journal:
"I think everybody pees in the pool. It's kind of a normal thing to do for swimmers. We don't really get out to pee. We just go whenever we are on the wall."
So there you have it! Make the most of what's left of summer and get your swim on! Just remember to wash off good when you're done.
Here's a poll that asks: Do you pee in the pool?