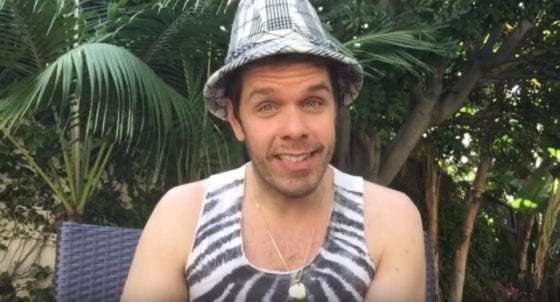 Perez Hilton Outed Brunei's Prince
Perez Hilton is hitting back after critics say he endangered a prince of Brunei.
Last week, Perez Hilton uploaded a video to YouTube in which he did a round robin of news stories. In the video, Hilton mocked Britney Spears' relapse (which he apologized for later) and talked about one of Brunei's princes.
On the latter issue, Hilton alleged that one of the Sultan's sons, Prince Azim, is "a big old homo." The 36-year-old prince is often seen partying with LGBTQ celebrities like Caitlyn Jenner and Gus Kenworthy.
"Y'all know I don't out people anymore. I used to do that back in the day but I'm making an exception here," said the sarcastic gossiper. "I'm guessing the Sultan of Brunei doesn't know that his son, Prince Azim, is a big old homo. I would know because I have spent time with Prince Azim. It's so hypocritical this guy's son is a big flamer, and now he's enacted a law to stone to death gay men."
The Backlash
After seeing that video, the internet was understandably annoyed at Perez. According to Meaww.com, Perez received ridicule from news sources and internet users for attempting to out yet another gay man for his own enjoyment. Many also pointed out that Perez may have endangered the prince now that Brunei has instated harsher laws against homosexuality.
"Do u even understand the repercussions of your idiotic post @ThePerezHilton?," wrote one Twitter user. "U quite possibly could be the cause of this man's life. This isn't a joke and outing him doesn't help the situation. It makes it worse. Especially for the son of the Sultan. You're a father for god's sake."
"Outing someone is never ok," wrote another. "Outing someone because of your interpretation of a law of a foreign country that could cause their death? Irresponsible and cruel. Set a better example for your children."
I don't think white gays will ever understand how dangerous this is. Perez Hilton, who is an annoying dunce to begin with, put this prince on death row just to stick it to the leadership. https://t.co/8KDGGHr5wV

— Bashy 바쉬 💚💜 (@Bashore101) April 8, 2019
While #Perez is trending, I would like to remind everyone that Perez Hilton is a piece of shit. Goodnight.

— Anti-Trash (@WhatHaveIHad_It) October 7, 2016
Remember when https://t.co/S4aWKhBH3R punched Perez Hilton in the face. Ahhh a HIT that is most pleasing to me in his career

— 🙏 (@ShayneOfficial) April 9, 2019
Recently, the Islamic country ruled by Sharia Law passed that anyone caught engaging in adultery and gay sex with be punished with death by stoning. And, the penal code will also punish theft with amputation of the right hand for first offenses. Then, they'll amputate the left foot for second ones.
The Second Video
Hilton then posted another YouTube video to defend himself against the backlash. He says that he didn't endanger the prince as the law is focused on gay sex and not being gay.
"The law in Brunei is not that it's illegal to be gay. It's illegal to have gay sex. There's a huge difference. You won't be stoned just for being queer. And to be stoned there needs to be proof that gay sex happened. There must be witnesses. So, he won't die. No one will."
Let's be honest, Prince Azim's sexuality is no secret to anyone who knows him or keeps up with the leadership of Brunei. That said, a law against gay sex, or random laws against sexual content, can easily be exploited to attack men for being gay. We've seen it in Indonesia, Egypt, and other countries run by Sharia Law or homophobic leaders.
Plus let's be real here, Perez Hilton is a toxic man who gossips, jokes about, and mocks others for his own enjoyment and wallet. He may have settled down a bit after having kids, but the man is still mocking others in order to keep himself relevant. And unfortunately, it worked.
h/t: Meaww.com