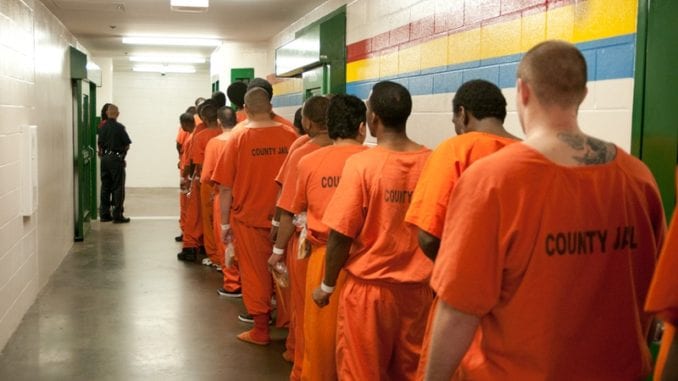 Sexually assaulted with a toothbrush
A 24-year old prisoner at the Madison County Jail in Andersen, Indiana has been accused of raping a fellow jail detainee, according to the Madison County Sheriff's Department.  
Justin Harrison faces charges of Level 3 felony rape, Level 5 battery resulting in serious injury, Level 6 felony strangulation, and Level 6 felony criminal confinement.
The Herald Bulletin tells the brutal details of how a 31-year old male victim was choked on his bunk until he passed out. While he was unconscious, he was then allegedly tied up by another prisoner (Kramer Hill) and pinned to the ground.
When the victim woke up, he tried to scream for help but the pair of inmates allegedly covered his mouth to silence him.
It was then the victim was sexually assaulted with a toothbrush, per police reports. Allegedly, the attack lasted for two hours, according to the victim.
More: Man group raped repeatedly in prison
The inmate was taken to St. Vincent Anderson Regional Hospital after the attack where he was treated for injuries. He also met with investigators when he was brought back to the jail.
According to ABC local affiliate, Harrison and Hill allegedly waived their rights and agreed to speak with them.
"Mr. Harrison gave (a) confession he had choked (the victim), adding things might have gotten a little out of control," according to the affidavit.
Hill said there had been a fight in the cell, but he had no part in it, adding that Harrison was the only person who attacked the victim."
Anderson, Indiana is located approximately 50 miles from Indianapolis. It is also the home of the Church of God.
More: Prison Rape: Will I be sexually assaulted in jail?
An automatic plea of not guilty was entered on Harrison's behalf at an initial hearing. According to court records, Harrison asked for a speedy trial, which was scheduled for May 17.