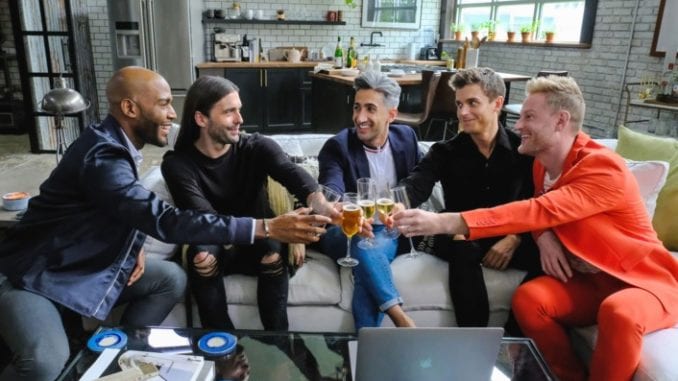 Review of "Queer Eye" Reboot
In 2003, a cultural phenomenon was launched on TV that seemed to speak to gay guys and straight guys (although they struggled to admit it) alike.
Queer Eye for the Straight Guy found its way into living rooms, offering flamboyancy and sass in its attempt to make gay culture a bit more 'normal' for families across America.
For one of the first times, we were willing to accept that gay men had something to say about what it means to be a "man." And for four years, the show put a spotlight on the deep rift between hyper-masculinity and stereotypical queerness and, somehow, narrowed that divide and made it a little bit easier for so many of us to be out and proud.
Now, 15 years later, the series has gotten a reboot – and its reworking is nothing less than sublime. If you haven't watched an episode yet, it's about time for you to do that. Let me explain why…
I'll first admit: I did not watch the original run of the show. And I am, in no way, a fan of reality TV. In fact, I rolled my eyes at Queer Eye's flippant approach to perpetuating what, in my mind, were scripted, damaging stereotypes that only made it more difficult for queer kids like me in small town USA to be proud of my queerness. Of course, looking back on it now as a 30-something, I realize its importance and cultural impact.
More: Meet Queer Eye's Antoni Porowski 
Nevertheless, I pressed play on the first episode of this new series with a bit of hesitancy. It has the typical set-up: a group of five gay men, each labeled with an expertise (such as food and drink, culture, fashion, etc), are sent to invade the life of a "hot mess" man with overgrown facial hair, poor self-confidence, and a messy apartment.
At first, the old stereotypes seemed to be back in all their glory for gay men and straight men alike….ugh.
The Fab Five (as the group of gay hosts are lovingly known) drop in on the man's life, immediately commenting on his scraggly beard and his dry skin, tossing items out of his closet and into his trash can, and lamenting how he, of course, can't find a 'lady friend' with so much filth caking the floor of his studio apartment.
Yep – it was typical reality TV formula…but, within minutes, I was hooked!
What this show seems to capture so beautifully is individuality and the genuine connection between each of the Fab 5 and their 'unsuspecting' subject. Their relationship is what rises to the top here.
Sure, there are the typical sassy comments that provide a good laugh or two, but these guys seem to really care about a man who also cares about what they have to say. It doesn't feel like the show is trying to make to statement to me as the viewer or proclaim a political argument in my favor – instead, it seems to simply show what happens when men from seemingly different planets take the time to listen and care about one another.
By the end of the show (you know where this is going) the 'new man' emerges with an updated wardrobe, less body hair, a bathroom cabinet stocked with several creams, and a newly-decorated apartment that looks like it jumped right out of a "Fixer Upper" episode on TLC.
And, of course, he is greeted by all of his friends and family who "always knew he had this dapper gentleman inside of him."
But it's when the Fab Five must say goodbye to their new creation that the whole episode really pays off. I won't spoil it for you here, but let's just say that all the gay lessons of cooking and cleaning and grooming seem to fade into the background as the real intent of the show floats to the surface.
Perhaps I'm being a bit over the top here, but the new Queer Eye is exactly what we need in America right now – a show that isn't trying too hard to change the world, but in a sweet and subtle way sorta does.
Main photo credit: Vulture