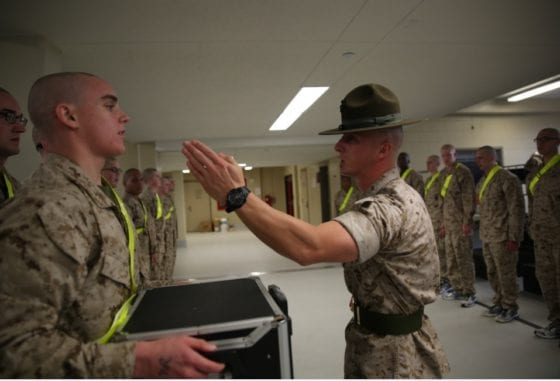 Marine Corp Hazings
A report from the Marine Times indicates hazings took place at the Marine Corp Depot in San Diego.   The venerable publication shares with readers that since 2014, at least two instructors have been disciplined for hazing recruits, as revealed in redacted documents the Marine Times obtained through the Freedom of Information Act.
As reported by the MT:
"One drill instructor at Marine Corps Recruit Depot San Diego received non-judicial punishment in 2014 after he ordered his recruits into the shower, where he had them crowd together while naked until they were standing, "nuts to butts," as one recruit told investigators.
Another drill instructor accused of choking recruits was found guilty of violating a lawful order at a July 2016 summary court martial and reduced in rank to corporal, according to the investigation."
Reporting from Marine Times also reveals an instructor was accused of choking recruits. He was found guilty of violating a lawful order at a July 2016 summary court martial. As punishment, he was reduced in rank to corporal per the investigation.
More: Footballers forced male teammates into sex acts
Apparently, the drill instructor involved with the hazing incidents is still on active duty but no longer trains recruits. However, the drill instructor who is accused of assualting new recruits has been "administratively separated" from the Marine Corps.
Soon after an investigation into the shower hazings that was launched in April 2014, several Marine recruits told investigators they supported their drill instructor.
"His treatment did not affect me as it is boot camp and the yelling and craziness is something that comes with it," one recruit shared on a questionnaire from the Marine Corps' Criminal Investigative Division.
Another recruit indicated that he was not sure if being ordered into the shower was really hazing because he wasn't completely sure what hazing was.
"I thought we were just supposed to get used to seeing other naked men," the recruit wrote on the questionnaire.
Not all Marine recruits that the behavior was OK.
Others wrote that being forced to crowd together that closely while naked was not acceptable and the drill instructor shouldn't be given a second opportunity to train recruits.
"It's against human rights; it's something that you don't do," one recruit said to a CID investigator.
Choked
Here's what Marine Times reports about the previously mentioned choking incidents.
"With the other case, investigators found that a drill instructor assaulted six recruits between June and July of 2015. One of the recruits told a CID investigator that the drill instructor, a sergeant, grabbed his throat and picked him up so that he had to stand on his toes to breathe, according to the investigation.
The recruit had a fear of being choked before the incident, the investigation says. Afterward, he became paranoid, "unfocused" and "depressed," but he initially kept quiet about it because he felt something bad would happen or no one would believe him.
"I wasn't reporting it at the time because I was scared and wanted to keep it all in and continue training," the recruit told a CID investigator. "I really didn't want to go to the Crucible because I was afraid of what would happen there if I didn't do well."
Five days after the incident, the recruit told another drill instructor that he had been choked and he was later sent to the hospital for a mental evaluation, the investigation says.
His mother filed a report with the recruit depot's provost marshal's office after a Navy ensign in the hospital told her: "The incident had been investigated either at or above the command level and that it had been unfounded," she told a CID investigator. "
More: Athletes charged with brutal sodomy of football player
photo credit: Marine Life