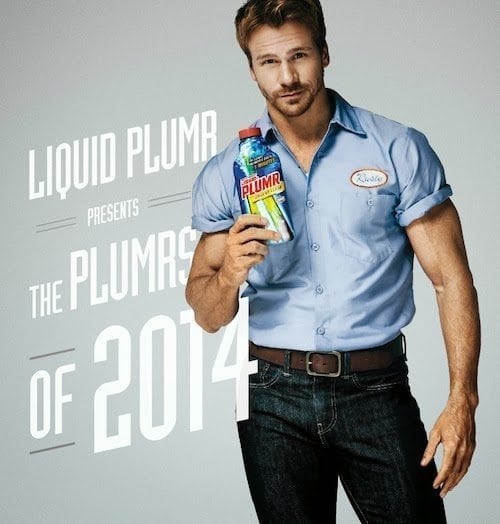 Rusty Joiner
Rusty Joiner is one of those guys you have likely seen in print, on television or movies but aren't quite sure where to place him. Open up most any supermarket tabloid and you will likely recognize Rusty as the Liquid Plumber Guy.
Yep – he's the handsome dude with the light blue shirt, perfectly fitting jeans and scruffy face that's staring back at you with massive biceps. 
Because we like to focus on different male celebs (minor and major) here on the blog, we thought it might be kind of fun to give you some quick facts about this rugged looking model and actor so that the next time you put eyes on him, you'll know a little bit more about who he is and his background.
Are you ready to find out some quick facts about Rusty? Let's jump right in!
Background Rusty Joiner
Birth Name: Jason Russel Joiner
Birthday: December 11, 1972
Place of Birth: Montgomery, Alabama
Sign: Sagittarius
Height: 5'11
Shoe Size: 11 (rumored)
Eye Color: Deep blue
Body Type: Athletic
1. Underwear Model 
Rusty Joiner was attending Georgia Southern University and was discovered by a scout. Given his muscular and magnetic look, he was quickly and easily placed with clothiers such as Abercrombie and Fitch, Levis and American Eagle. In this way, he is similar to other celebs who have found their beginnings as a model. Examples include people like Magic Mike star, Channing Tatum and Smallville star, Tom Welling. Oh yeah, Rusty was also was an underwear model for Structure from 1998-2000!
2 He was a Men's Fitness Spokesman
This is an actor/model that is known for his physique. He is the former spokesman for Men's Fitness "Fat to Fit Tour" program. Speaking of magazines, Rusty has appeared no less than 12 times on the cover of Men's Fitness (including international). He's also appeared in Vanity Fair. Rolling Stone and even Cosmo!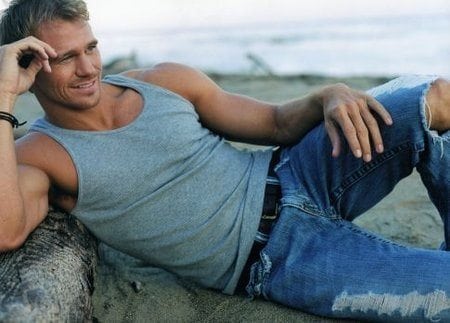 3. He's gay friendly
Yep – Rusty was born in Alabama and raised in Georgia, which has made some people stereotypically believe he's socially conservative. That's simply not the case – this actor is very LGBT friendly. Rusty is reported to have appeared in the Advocate Magazine (abs photo) according to Greg in Hollywood and used to tend bar at the now closed "I-Candy" in West Hollywood.
4. He's married with a super cute kid!
A quick check of Rusty's Instagram account reveals the model/actor has a beautiful wife and super cute baby. Rusty and spouse Charity welcomed Cariss Alaina Walden Joiner into the world on 2/5/14.
5. He has an extensive line of credits
This actor and model has consistently found work in some form or another since 2000, according to his IMDb file. Here, we are talking about parts in television shows like Spin City to Melrose Place to soaps like Days of Our Lives. He continues to find work to this day. Check out his complete line of credits on the movie database.
Final Thoughts
So there you have it – a quick 5 point background on Rusty Joiner! We have included a video of Rusty below from his Instagram, just in case you want to see more of this particular man.