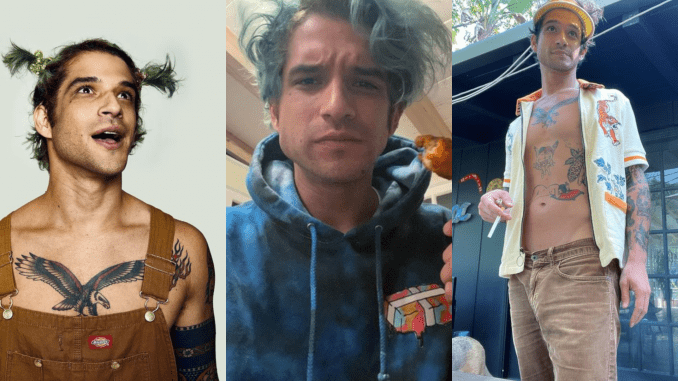 Tyler Posey! The former MTV star is trending online again. Ever since he opened up his OnlyFans account, fans have been hoping to get an intimate look at the actor and musician. And just recently, they got what they wished for. So with the actor going viral online, we thought it would be a perfect time to get to know more about him.
Pop File: Tyler Posey
Birthday:  October 18, 1991
Birthplace: Santa Monica, California
Zodiac Sign: Libra
Eye Color: Brown
Height: 5 ft 10 inches
Body Type: Toned
https://www.instagram.com/p/CIkLC5SjXo2/
1. Acting's In The family
First and foremost, you HAVE to know that family is very important for Tyler Posey. Tyler was born to Cyndi Terese Garcia and Jesse Posey. He also has one sister (Mayra) and two brothers (Derek & Jesse).
And funny enough, acting is in his family. Tyler Posey's father is John Posey, the first actor to be cast as Danny Tanner in Full House. Unfortunately, John's role was recast after the pilot. Can you imagine a world without Bob Saget as Danny?! Strange! But on top of that, Tyler's brother Jesse is also an actor and producer.
2. His Mother Passed Away
Unfortunately, Tyler Posey's mother is no longer with us. Cyndi Terese Garcia passed away from breast cancer in December of 2014. Tyler then dedicated season 5 of Teen Wolf to her.
https://www.instagram.com/p/CFmDLDije0x/
Related: 5 Interesting Facts on Tom Bateman
3. Trained To Act
Back when he was a child, Tyler Posey showed an interest in the arts. His dad, who again was already an actor, then decided to give Tyler the best boost he could get. Tyler Posey got acting training from actors Todd Thaler and Steven Anderson.
4. He's Mexican and British-American
Tyler Posey is Mexican-American and British-American. His mother is from Zacatecas, Mexico while his father is made up of several European heritages such as German, Irish, Scottish, and English.
As Posey told The Huffington Post in 2012:
"I just figured out what kind of Mexican I am. I was working on a movie last summer and somebody asked me, "what part of Mexico are you from?' I didn't know there were different parts, so I asked my mom and she said I'm Zacateco…from Zacatecas," says Posey.
https://www.instagram.com/p/CFVKHo2j7pE/
5. He Doesn't Speak Spanish
While Tyler Posey's part Mexican, he didn't grow up speaking Spanish at home. As he told HuffPost, he learned "Spanish in high school and [he] didn't do too well in it."
"My Spanish teacher told me not to go on with Spanish anymore, so I was discouraged a little bit," he added. "But I have been wanting to learn it more lately. Hopefully I'll be able to learn some more. Screw my teacher."
He then continued, "My mom would swear at us in Spanish. And you know, just call us M'ijo, and stuff like that. But literally my whole house looks like an hacienda! It's bright, has colorful strands everywhere – I wish I could show you pictures of it. It is really beautiful. I grew up in a small suburb called Santa Clarita just north of L.A."
6. He Almost Played A DIFFERENT Werewolf
While he's known primarily for his acting on Teen Wolf, Tyler Posey almost acted as a different werewolf of the late 200s. In 2007, Tyler Posey auditioned for the role of Jacob in the Twilight series. He didn't realize he didn't get the role until he bumped into Taylor Lautner later on.
"I didn't know that I didn't get the role yet," he once told MTV. "So I saw him and I was like, 'Hey, what's up man? What's going on dude? How've you been?' And he was like, 'Oh, I'm good. I've just been working in Oregon for the past few months.' I was like, 'Oh, cool. What've you been doing over there?' He was like, 'I was shooting Twilight.' And I was like, 'Oh, ok. So I didn't get the role."
https://www.instagram.com/p/Bca8EGlle6k/
Related: 8 Facts About 'The Mandalorian' Star Pedro Pascal
7. He Likes Welding And Bikes
During his time off from Teen Wolf, Tyler took up the hobby of welding. He got into it because of his love of motorcycles and he wanted to learn how to make his own. In addition, Posey once had the dream of opening a bike shop with his dad.
8. He's A Musician
During his school days at Hart High School, Tyler Posey used to play the piano. That love of music then transitioned into getting into rock music. Posey has now worked with several bands including Disappearing Jamie, PVMNTS, and Five North.
9. Tattoos
Tyler Posey has MANY tattoos. Posey has so many tattoos that the one on his arm had to be written into his Teen Wolf role. And Posey's love of tattoos has been around for years. His very first tattoo was even self-given. A little 12-year-old Tyler decided to get a needle and some ink together to make his own tattoo. He now says that's the closest thing to a regret in his life.
https://www.instagram.com/p/CGLzlUDDXRM/
10. Past Relationships
Playing as a heartthrob actor for several years made many think that Tyler Posey was a heartbreaker. And while that may not be totally true, he has had several relationships over the years. Tyler Posey has had the honor of dating many celebs like Sophia Ali, Bella Thorne, Miley Cyrus, Mackenzie Rosman, and Seana Gorlick.
11. Formerly Engaged
Speaking of Gorlick, she was Tyler Posey's longest-running relationship. The two had been on-and-off-again for ten years before getting engaged in 2013. Unfortunately, the relationship didn't last and the two broke up later that year.
12. A Dog Dad
Tyler may not be engaged anymore, but he still has a love in his life. Tyler has been the proud owner of two dogs in the past few years. With Chica to Roxy in his life, he is a happy dog dad.
https://www.instagram.com/p/B5Kk5jfBLyg/
13. He's Sexually Fluid
To close out, we have to talk about Tyler Posey and sexuality. The actor has become more sexually free and open in the past few years. He then came out as "not straight" last year. Tyler didn't want to label himself but he decided to share with the world that he has had sexual encounters with men and women.
"I woke up one morning and I saw all this stuff on Instagram about these transsexual women who were being beaten and harassed, and there were a bunch of people that were filming the whole entire interaction and laughing at them," he explained.
"Originally I was just shedding light on that, through whatever way that I could," he continued. "And, then I was hit with wanting just to come out myself with that whole thing and be honest about it."
9. He's On OnlyFans
Lastly, Tyler Posey is on OnlyFans. The actor decided to join the adult site in order to connect more with his most dedicated fans. As the months have gone on though, he's found the site both fun and draining at the same time. He gets to flex a new creative muscle and be more open about his sexuality. But, the actor and musician has found it hard to keep coming up with new content.
"OnlyFans is bizarre. It's really, sort of mentally draining. You really feel like an object on OnlyFans. I'm trying my hardest to be artistic as possible with the content I put out 'cause I don't want it to just be porn, you know? That's not what I do and I don't want to take it away from the people that are doing that. I just want to be artistic and stay in touch with my fans."