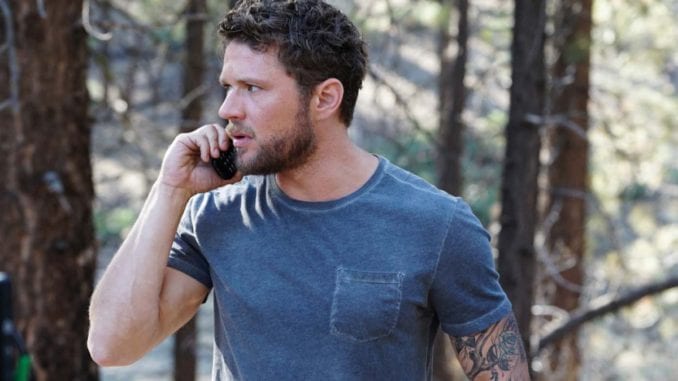 Daddy is looking mighty fine – even though he's injured
In case you haven't heard, Ryan Phillipe broke his leg. Yep, the hunky actor who is the star of USA's Shooter apparently injured it earlier in the summer.
Phillippe, 42, was briefly hospitalized this summer following what was described as a "freak accident" during a family outing. He recently elaborated about the injury on Twitter, discounting rumors he had been hurt on the set of his popular show.
More: How to look like Ryan Phillipe
"Hey, guys. I didn't injure myself doing a stunt or anywhere near the set of shooter. i was the victim of a freak accident during a family outing on Sunday," Phillippe shared in a Tweet.
"My leg is badly broken & required surgical attention, but I will make a full recovery, am in good hands, and will be back in action soon.
"Thank you for the well wishes, support & concern. also a special thanks to the paramedics & first responders who helped me at the scene & the medical staff caring for me. i will keep you updated on my progress," he continued.
Soon after Phillippe's leg injury, the original 10-episode order for Season 2 of "Shooter" was cut to down to eight.
"Our priority is Ryan's recovery, and after conversations with our partners at USA and UCP we've decided that we will wrap S2 with episode 208," Paramount TV confirmed to Entertainment Tonight.
Recently, he posted a photo of himself in a pair of leggings he bought at CVS for his birthday. Notice he doesn't have the cast on in the picture.
So what happened? How did he break his leg?
According to TMZ, the actor was involved in an UTV accident.
The story goes something like this. Phillippe and a buddy were off-roading when the utility vehicle rolled over. The duo tried to flip it back on its wheels, but the parking brake wasn't set. That's when the vehicle started rolling toward a nearby crowd.
Jumping into action, Phillippe attempted to grab the steering wheel. Unfortunately, it was too fast. That's when the moving UTV reportedly yanked him underneath, running over the hunk's leg.
Hopefully, he will continue to recover and do just fine. 🙂