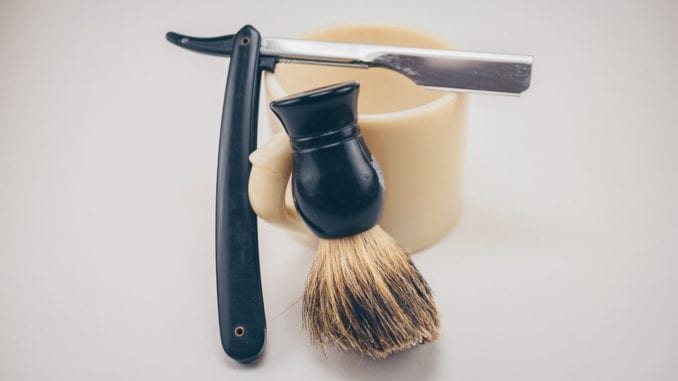 Shaving tips for men for a younger, healthier look
I think it's fair to say we all want to look good, and if we look five or ten years younger than we are, that's even better. I've been asking male friends of mine and of my adult son what kinds of skin and grooming problems and products they have tried that successfully met those goals, and was surprisingly pleased with how forthcoming they were.
Almost all of them said their biggest problem was with shaving, and judging from the look of some of their skin, I knew they were telling the truth. So, I found some great websites that can give you great tips on shaving, and shaving equipment. Check it out! 
Related: How male models achieve glowing skin
Do you have sensitive skin? When you first began shaving, did you get all kinds of red bumps on your face and neck? I can recall my son looking like he ran a cheese grater over his skin after shaving. Fair haired guys with light eyes usually have the most sensitive skin, and it took him ages to find what finally worked for him.
He finally discovered shaving products called Proraso, a company in Italy. In fact, MV has a Proraso gift idea in its Christmas stocking back in with the Holiday posts, so this is popular stuff. They have several lines of shaving gear and beard maintenance products, all formulated for different skin types. I did not set out to write a piece mostly about Proraso, but it was mentioned so much, I decided it was information worth passing on.
My son decided that going the old fashioned way was what worked for him. He mixed up the Proraso shaving cream in a bowl with a shaving brush and used the brush to apply it. (The brush doesn't just whip up the shaving lather, it also helps soften up the hairs and stand them up for a closer shave.)
via GIPHY
Then he used a metal razor, not one of the disposable ones. Within weeks, he wasn't only getting a great shave, but his skin had cleared up.
Most disposable shavers have several blades. The first one gets as much hair out of the way as possible, but for some people the second and third cut the hair below the skin. That can cause ingrown hairs, and that's what gives you all the irritation and red spots.
Growing a beard and having the versatility to reshape it as you want could seem like the easy way out. But more men are discovering that the older ways of shaving, the kinds of brushes and creams their parents and grandparents used, are actually less harsh on your skin. Most of them don't have so many chemicals and have simple ingredients.
Related: Research says men with beards are hot!
Maybe Grandpa wasn't an Italian barber, but if you want to read up on these shaving products, try Proaso (see Amazon for products). They have four different lines of shaving products, each with its own shaving cream, aftershave, and moisturizing balm.
Proraso's "Green" line is their original formula and it works for most beard types. All of the products in this line are made with menthol and eucalyptus, which provide a cooling sensation on your skin and help prevent post-shave redness and irritation. It's like the Noxzema we talked about once before, the eucalyptus scent goes away fast.
The "Red" line is designed for guys with thick, coarse beards. It is packed with shea butter and other ingredients to help soften up even the toughest beards for a close shave.
Their "Blue" product line is infused with Vitamin E and Aloe, and is made to protect and moisturize your skin. It is ideal for guys with dry or sensitive skin.
Proraso's newest set of products is their "White" line, which has been formulated with soothing oatmeal and green tea extracts. It is specially designed for people with the most sensitive skin.
Also, there is another site called
Maggard Razors
who offers fairly cheap samples of all four lines of Proraso products, for as little as $1.80–$6.75. That way you can see what's right for you before you spend a lot of money. However, once you find what suits your needs; you don't have to break the bank buying from Italy and paying postage! The real sized products can all be found on Amazon.
Another great site to visit when you want to see what's new in the shaving world; is: Badger and Blade. This has reviews on any kind of shaving products, and if you sign in, there's a forum where you can ask questions and get answers from other men with shaving issues. They discuss the pros and cons of shaving brushes, soaps, creams, skin and body care, safety and straight razors, fragrances, and more.
The first page begins with a "Frequently asked questions" feature. Then you will see guides for the products I mentioned above. There is a large section on Aftershaves too. You can't buy any of the things on this site, most likely a good thing, because it has so much to choose from, your debit card would melt.
But it's a good place for research on what's hot and what's not. And you can feel comfortable asking whatever you want on this site, others seem happy to offer advice.
Even if you aren't ready to go whole hog with an old fashioned safety razor, brush and bowl, you can seriously up your shaving and skin care game just by trying one product from the Proraso line.
Any of them are much better than that awful blue gel you've been using. 🙂