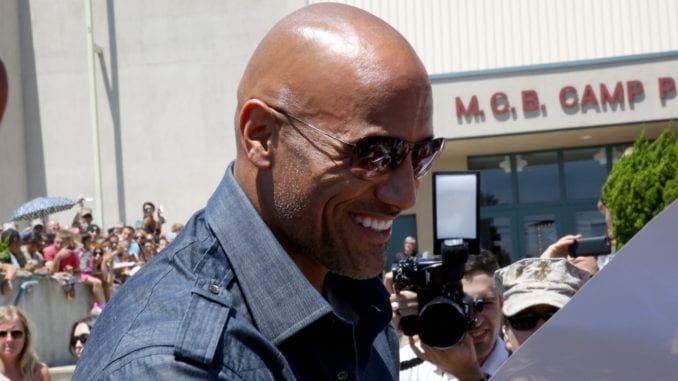 Shazam and Dwayne Johnson – a Closer Look
While the attention of superhero fans has been focused on the upcoming release of "Avengers: Endgame," there's another story that been quietly brewing on the other side of the comic book aisle.
"Shazam" was released on April 5th and has been another success for the Worlds of DC (or the DC Extended Universe, as fans still call it).
After a course correction following "Justice League" and a move toward a lighter cinematic touch, Warner Brothers has seen two huge successes in "Wonder Woman" and "Aquaman."
With "Shazam," the studio claimed another box office triumph with a $158 million worldwide opening. For reference, the best comparison is Marvel's "Ant Man." In fact, the show business tracking website BoxOfficeMojo.com did a comparison of the two.
If "Shazam" generally follows the same path as "Ant Man," it will probably finish up in the range of a $400-500 million worldwide box office take. Not the juggernaut of "Aquaman" or "The Avengers," but a definite financial success, especially on a sub-$100 million production budget.
As Warner Brothers moves forward with the sequel and other films, there could be major changes ahead in not only the DC Universe but Dwayne Johnson's career and even the "Fast and the Furious" franchise.
"Shazam 2" Is Coming
Studio execs have already green lit "Shazam 2" but the decision is more than just a desire to make more money. The film actually has two main stars (and a youthful supporting cast) and time is not on the producers' side.
While Zachary Levi plays the adult Shazam, teen actor Asher Angel portrays Billy Batson, the younger alter ego of the hero. Executives are worried how long they will have Angel and the other child actors from the hit film.
"They're going to look like Zach does today [in a few years]," producer Peter Safran joked about the younger stars. "So we've got to move swiftly with the sequel, for sure."
However, those watching closely are also wondering how the series will proceed when it comes to the villains.
If you've seen the film and watched the post-credits scenes, you saw the initial setup for the Monster Society of Evil, a long-time fixture of DC Comics. The team of super villains includes Doctor Sivana, Mr. Mind (an otherworldly worm) and a certain Black Adam.
The Future of Dwayne Johnson
For those who aren't part of Johnson's massive social media following, the former wrestler turned worldwide acting superstar signed up to play the DC comics villain Black Adam a few years ago.
The character is not only a foil for Shazam but is an important part of the entire DC universe, having gone up against almost every major hero and even acting as a hero himself, serving as a member of the Justice Society of America.
Originally, Johnson was going to appear in a solo Black Adam film that would lead up to "Shazam," but decisions were made to move forward with the origin of Zachary Levi's character first.
There were also talks to put Black Adam in the first "Shazam" film, but filmmakers didn't want to have to handle three origin stories (Black Adam, Shazam and Sivana), so they decided to wait.
But this didn't leave Johnson and his production company Seven Bucks on the sidelines. They were instrumental in the development and production of "Shazam" and Johnson served as a producer.
Plus, if you paid attention, in the beginning of the film, Johnson's character was shown, albeit artistically, in a scene when the wizard Shazam talked about a champion from the past who went bad.
So now that the sequel is quickly moving forward, eyes are on Johnson to see when he will be stepping into the costume of Black Adam.
Johnson has said that the Black Adam movie is still coming and filming will begin next year, but changes can happen fast in Hollywood depending on box office and availability. It's also a question of how this will tie in with "Shazam 2."
Signs Of Things To Come
One thing to watch is Johnson's upcoming "Fast and the Furious" spin off film "Hobbs and Shaw." If it does well, and Warner Brothers wants to implement the Black Adam character in more than just the one sequel and spin off film, Johnson may consider a bit of a career track change.
It's been no secret that there have been issues during production of the "Fast and Furious" films. Aside from the unfortunate death of star Paul Walker in 2013, there was the
highly publicized animosity between Johnson and co-star (and producer) Vin Diesel.
Fellow "F&F" star Tyrese even waded into the fray by commenting that he needed to feed his family and Johnson needed to do the films and not hold up production.
Johnson has a slate of other projects including the upcoming fast tracked "Jumanji" sequel, Disney's "Jungle Cruise," "San Andreas 2," a John Henry film for Netflix, a long gestating "Doc Savage" film with Shane Black ("Iron Man 3") and a slew of new intellectual properties.
Related: "The Rock's" life changed by amazing friend
In addition he has his television shows including the hit HBO series "Ballers" and "The Titan Games" for NBC.
Yet Johnson's movies have seen a box office decline in recent years. Franchise films like "Jumanji: Welcome to the Jungle," "GI Joe: Retaliation" and of course the "Fast and Furious" films have made incredible amounts of money and brought Johnson further fame and fortune.
However his other projects such as "Hercules," "Rampage" and "Skyscraper" have done well overseas, but domestically have been less than what the industry has come to know as blockbusters.
"Franchise Viagra"
Johnson has a long history of joining already established franchises, going all the way back to his debut as The Scorpion King in "The Mummy Returns" in 2001, where he set a salary record for an actor in their first film.
He even became so successful at it, the industry dubbed him "Franchise Viagra," a nickname he famously joked (and sang) about on Saturday Night Live.
Johnson did it with the "Fast and Furious" franchise and arguably become one of the most interesting and fan favorite characters in the series.
So odds are that Johnson and his team are cautiously waiting to see how "Hobbs and Shaw" does at the box office and weighing their options before making any decisions.
Future of the "Fast & Furious" Universe
With "Furious 8" doing incredibly well financially but not as well with critics, the future of the franchise is in doubt.
While it was full of huge set pieces such as a scene featuring a nuclear submarine chasing our heroes, its plot and characterizations were noted as ringing a bit hollow and predictable.
Even the major twist of the film was easily figured out by the audience in the first few minutes.
There are two more main "F&F" films in the pipeline as well as one centered on the female members of the cast. While it's unlikely that Universal will walk away from the moneymaking machine any time soon, it doesn't mean that Johnson might not bow out.
Universal might even make the decision to scale back on production budgets for the "F&F" films, something that might affect Johnson's payday and be a factor in his career decisions.
This is a common practice with studios as franchises begin to age, something that was already done earlier in the car-racing series before it was revitalized with the fourth and fifth films.
If Warner Brothers and DC can offer Johnson and his Black Adam character a chance to create another universe where his charismatic performance is central, he might just decide it's not worth going to work on a stressful set (for possibly less money) where has to go up against other egos.
Also worth noting is Johnson's physical appearance. He has been pairing down in recent months, changing his hulk-like physical bulk into a smaller, leaner frame.
It could be he is preparing for a role or it could be that with his age, he has an eye on different characters and how his career is going to progress into his 50s.
In addition, after a lifetime of training and body stress, he may be looking to the future of his own personal health. The stress of the exercise regiment as well as the continuous weight gain and loss can lead to long-term health concerns.
Into The Future
Johnson has signed onto enough projects to easily carry his career for the next five years if not beyond. Nobody knows what's going on in his head but him, but it's interesting to contemplate.
Johnson has discussed the possibility of running for office as well promoting his many business interests, including a partnership with Under Armour and a new tequila brand. It's obvious Johnson and his team are looking to the future and the star will not be hurting for income for the rest of his life.
Seven Bucks has also branched out and is steadily becoming a film and publicity powerhouse in Hollywood. The company is even written into Johnson's contracts and handles promotions and PR, which comes with an additional fee that goes into the coffers of Johnson's empire.
If his Black Adam character takes off, DC and Warner Brothers could easily make Johnson the centerpiece of their film universe. While they have claimed they are walking back from an intricately shared universe like Marvel, Black Adam has a rich backstory and could be a unifying character in their films.
Much the way Robert Downey, Jr.'s Tony Stark pops up in "Spiderman" and other films, you might see Dwayne Johnson entering a new phase of his franchise career, leaving the physics defying cars and onset drama of the "Fast & Furious" world behind him.
Instead, he may be content with his Hobbs spinoffs (which he can shape to his liking without the involvement of Diesel and others), his new intellectual properties and holding an important place in the Worlds of DC as the antihero Black Adam.
There will always be people who will want to make movies with Johnson, but in the end it's up to him how he wants his career to play out.
Because if there is anything we have learned about Johnson over the years, it's that he does things on his terms.
—
Main Photo Credit: USMC Office Website. Photo by Photo By: Sgt. Valerie C. Eppler