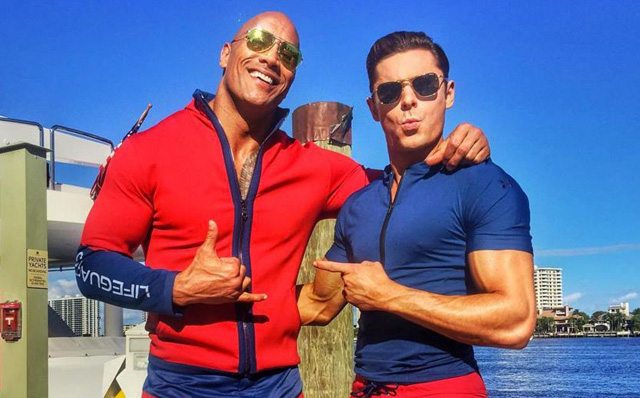 Zac Efron and Dwayne Johnson "gay kiss" scene
The new Baywatch Trailer is out starring Zac Efron and Dwayne Johnson. We've viewed it in its entirety and can already see this is going to be one of those mindless summer releases that may go the way of similar films of yesterday.
But we're not passing judgement yet until we actually see the movie.
Until then, there's lots of hot eye candy to be seen with the trailer in the form of one very hot Zac Efron and Dwayne Johnson! Right at the start of the video, you'll see a transformative "gay kiss" between the two men underwater.
And for the record, we've always been into underwater sexy time!
What's remarkable – at least about the trailer – is how HUGE (as in muscular) Zac Efron has gotten. It's obvious the stud has spent a lot of time at the gym. Not long ago, we reported that Efron might even be involved with muscle freezing to achieve the look you'll see in the film.
(Video of kiss below and then again in trailer at bottom)
More: Zac Efron freezing his muscles?
You'll also see some back and forth between Efron and Johnson in the film, with one scene where "The Rock" tells Zac not to pleasure himself in his sheets. Just the thought of that was kind of hot, particularly since there was a rumor that Zac's private pictures might leak before the movie releases on May 25.
Speaking of hotness, we're still all worked up over last year's gossip about old granny's squealing because of the size of Dwayne Johnson's rumored MASSIVE manhood! We're not kidding, it's supposed to be yummed out and huge. The link below will show you photographic evidence of it if you want to check it all out.
More: Dwayne "The Rock" Johnson has a rumored anaconda
Anyway, here's the trailer. It is almost right at the beginning. Enjoy!
h/t: Queerty