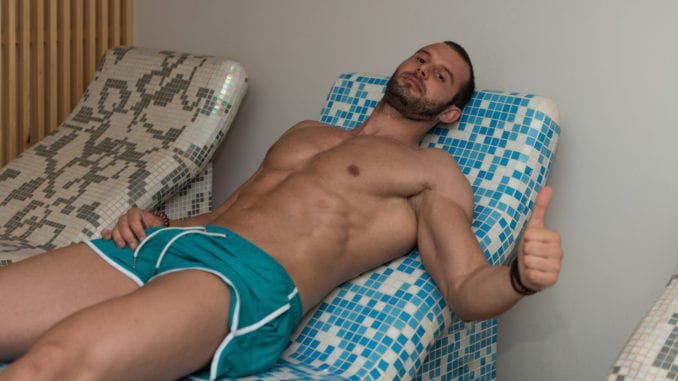 The happier they were with their size, the more likely they let someone else preform oral.
A new report overturns the long-standing belief that most men are unhappy with their penis size. Moreover, this same study suggests straight guys like the girth of their dongs.
In a study appearing in the October, 2017  Archives of Sexual Behavior, University of California researchers detail the results of a national survey of 4,198 male participants.
Who participated in study:
Men recruited for this study came from all demographic backgrounds and were between the ages of 18-65. There was a mix of single and partnered men.
The vast majority of men in this study identified as heterosexual (75%). Only 4% identified as homosexual.
How was the research conducted?
Participants were sent letters via U.S. mail. Once they agreed to participate in the study, they participated in an online study.
What were the highlights of the study:
Once all of the data was collected, the survey revealed the following results:
58% satisfied with length during erection
61% satisfied with girth
59% satisfied with size of testicles
52% satisfied with size of genital veins
47% satisfied with scent (44% neutral)
57% good with amount of semen discharged
64% good with head size of peen
57% liked the shape of their curvature
60% were good with texture of their wood
Medium age were men in their mid-forties
One interesting note is that during "flaccid" states, the satisfaction numbers changed.
39% were satisfied
19% were dissatisfied
34% were neutral
Behavioral scientists have long been aware of the link between male self-esteem and psychological health. Anxiety and other forms of psychosocial dysfunction are a common side-effect among guys who are unhappy with their manhood.
More: Dealing with really thick men
Case reports have shown men undergo risky procedures, such as silicon injections, to lengthen their penis and increase penile girth. In July of this year, a young man died because of a penile enlargement procedure gone wrong (see post).
From the study narrative:
"Overall, men were mostly satisfied with their genitals with less than a quarter of men reporting dissatisfaction. Our results confirm this finding, as 15–27 % of men reported dissatisfaction with penis size."
What would be interesting to see is a comparative study that focuses exclusively on gay men. Current data suggests that on average, gay men experience a higher degree of body image issues when compared to their straight counterparts (Veale, Miles, & Read, 2015).
Source: Journal Sexual Archives
References
Veale, D., Miles, S., & Read, J. (2015, September). Sexual Functioning and Behavior of Men with Body Dysmorphic Disorder Concerning Penis Size Compared with Men Anxious about Penis Size and with Controls: A Cohort Study. Retrieved from Science Direct: http://www.sciencedirect.com/science/article/pii/S2050116115300611