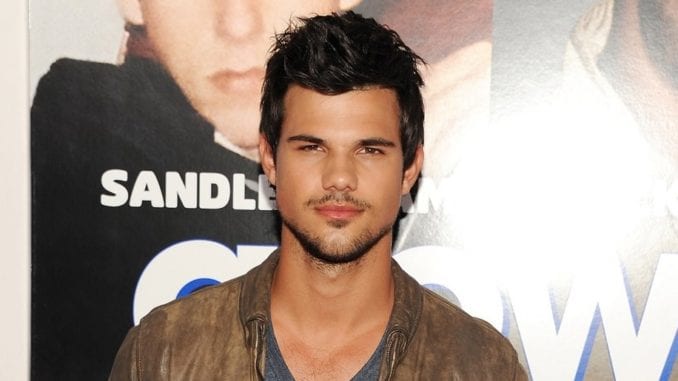 Taylor Lautner News
In case you haven't heard, Scream Queens starring Taylor Lautner has officially been cancelled. A report in the Hollywood Reporter details the end of the show. Apparently, the series didn't get many viewers and only averaged a 1.0 rating for adults 18-49 and 2.3 million viewers with live-plus-seven returns.
Translation … horrible viewership.
All of this leads us to wondering what Taylor Lautner will do now? He's got a lot of LGBT fans, including us here at the blog.
A quick glance at his IMDb file reveals that the actor who turned 25 in February doesn't have any new films or television roles in the works. It could be the case that deals are in the works that haven't come to light however, this would be pure speculation.
There had been hope that Scream Queens might represent a revival of Lautner's career, particularly after he was on the receiving end of horrible fat shaming by some on social media and various websites.
See our post where we spoke out against this when he originally got the role.
Given the show's demise, we can't help but wonder if ongoing attempts to depict the actor in an unkind light have had a harmful effect? The video above, put out by 
The Talko
, depicts Lautner as "rejected". Notice the comparison photographs used.
FYI: YouTube has lots of videos on Lautner's alleged weight gain.
HWR claims that Lautner's career issues really started in 2011 when he he starred in, Abduction; a film that didn't do so well.  Here's what they shared:
"So what happened? Insiders point to 2011's Abduction, which was critically panned (it earned $82 million worldwide). After that, Universal put Stretch Armstrong into turnaround, and the leading-man offers dried up. "His first movie just wasn't very good, and it didn't justify what he was asking for at the time," says one producer.

He since has focused on smaller roles, recently wrapping the indie thriller Run the Tide and the second season of the BBC comedy series Cuckoo, allowing him to flex the muscles he'll use in Adam Sandler's Netflix film The Ridiculous Six."
One thing is clear, the ongoing effort to depict Lautner as an "overweight has been", as shown on sites like Fat Male Celebrities and NG Trends really aren't helpful nor nice.
We would like to see the former Twilight star snag a role on a new series or perhaps in a film. He did a decent job in the movie Tracers in 2015 (see our review). The man is talented and certainly capable of keeping audiences entertained. If folks would stop focusing on his body and instead, his acting abilities, maybe we'll see more of him.