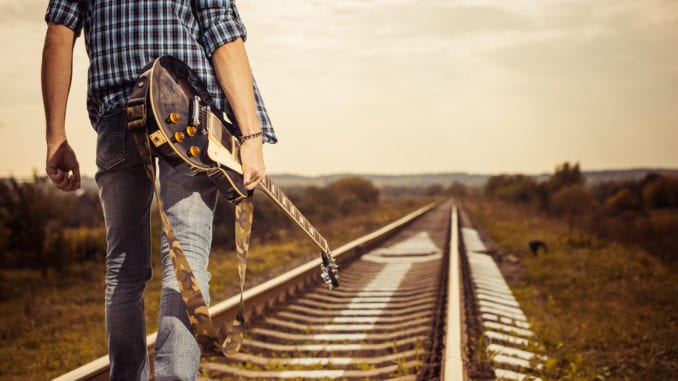 Vintage Jeans Hacks
Every man has their own sense of stylishness and for some guys; nothing beats the look and comfort of vintage style jeans.
Jeans have been a staple in America since Levi Strauss started making them for the gold miners arriving in California in the middle of the 19th century.
While these 49ers hoped to strike it rich, they quickly found out that their regular clothes weren't up to the rigors of mining and panning for gold.
Strauss saw an opening and a legend was born.
Today, Levi's jeans continue to be one of the post popular brands in the world even after nearly 125 years.
But they have been joined by countless other brands and styles who have moved denim from a work necessity to the height of fashion worldwide.
However, it's not just jeans, but the broken in vintage style that men love. For comfort and fashion.
But how do you find the right pair of vintage style jeans?
What Are Vintage Style Jeans?
Technically, vintage clothing is over 25 years old. Vintage "style" are jeans that are distressed or broken-in, but are not old enough to be technically called "vintage."
Often, they are distressed at the factory, adding patterns, ripping and other artificial signs of wear. Or they could just be newer but worn hard by the owner.
For some men, they want actual vintage because it's about the uniqueness of the denim fabric and cut as well as the look. For other guys, they are fine with modern jeans that are showing wear and distress in cool and interesting ways.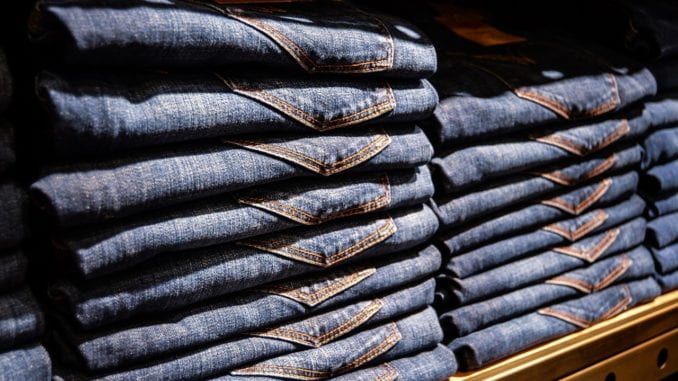 How To Find The Right Pair of Jeans
Since Strauss launched his jeans for gold miners with a single style, jeans have been rolled out in a countless number of designs.
At one point even Levi's offered dozens of styles in every cut imaginable.
However, we can break jeans down into a few basic styles:
Slim Cut– This cut isn't incredibly tight, but it is form fitting. Difficult for men with large waists or muscular legs.
Tapered– This style gets tighter as it moves down toward the leg opening. Looser than skinny, but not as loose as boot cut.
Regular or Straight– The sort of standard cut, looser with a straight cut down the leg. The "classic" style.  See Amazon for examples.
Relaxed or Boot Cut– A looser fit through the entire body, with larger openings around the leg to allow the wearing of boots.
Baggy– Very loose, providing plenty of room throughout the entire garment. There are a wide variety of baggy jeans from slightly loose to drop crotch jeans (with such enormous amounts a bagginess the crotch of the denim can fall somewhere closer to the knees.)
Skinny– A recent addition to men's style, for a long time skinny jeans were only marketed for women. Yet in the last decade, they have really taken off for men. They are usually a very low rise and skinny from hip to hem and are intended for leaner and thinner guys.
Measuring Your Jeans
Since denim can change over time, and sometimes a certain style will fit differently, it's important to know your measurements. But it's more than just your waist and inseam.
Waist– Simply the measurement around your waist.
Inseam– The distance from the hem to the crotch seam on the inside of the leg.
Front Rise– Measured from the center crotch seams to the top of the front waistband.
Back Rise– The measurement from the center crotch seam to the top of the waistband in the rear.
Hips– When laid flat, the distance from edge to edge (seam to seam) of the denim, usually measured right where your hip socket lies.
Thigh– The measurement across the thigh of a leg, right below the crotch of the denim.
Knee– The measurement across at the knee, which is then doubled to give the number all the way around.
Leg Opening– The distance across the leg opening at the hem, then doubled.
Length– Longer than the inseam, this measurement is taken from the top of the waist all the way to the hem. 
That "Broken-In" Look
Different jeans will also break-in differently based on their material. 100% percent cotton jeans will usually fray and hang more comfortably as they distress and also become much softer.
Jeans with a blend of artificial fabrics won't usually wear down softly and often won't fray or fade in interesting patterns due to the fabric content.
Denim will naturally age and start to get that perfect broken-in look after wearing and washings, or they can be altered to begin the process or make it look as if they have already been worn and loved.
Here are some terms you should know as you hunt for your perfect vintage style denim: 
Abrasion- The act of scrapping or rubbing jeans to make them appear more worn. Often done to the upper thigh or knees of the denim.
Whiskering– The creases and fades in jeans, especially around the crotch area. Called this because of an appearance that looks like the whiskers of a cat. Can also be called "mustaching."
Honeycombing– As denim is distressed or worn, the fading on the back of the knee is called honeycombing. It resembles faded and distorted honeycombs or fishing net.
Arcuate– The stitching on the back pockets. Can range from a few simple lines to ornate styling.
Destroyed Finish– When jeans have been cut or torn in order to create stylish holes or the appearance of long time wear.
Hyperwashed- When jeans have been laundered multiple times in order to fade the color or break down the fabric and soften them.
Fray- The way jeans start to wear and allow loose threads to hang from holes or hems in interesting ways.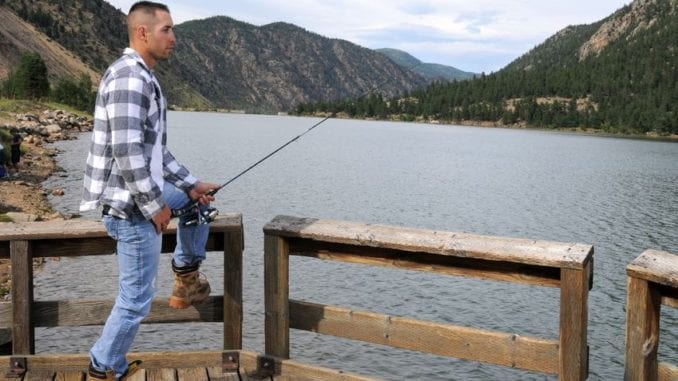 Creating Your Own Style
For some, the thrill is finding jeans that are just starting to fade and tear and have them continue as you wear them. It might take a few weeks or it could be months or even longer.
Some guys like to add some wear to their jeans through washing them, or using tricks to create the look they want.
You can add specifically targeted cuts using scissors or razor blades so the holes will begin to fray and look natural. Other people will use sandpaper or even cheese graters to create the effect.
Also remember, you don't have to completely style your vintage denim. You can just add some abrasion and cuts to start the process and then natural wear and washing will create the distressed look.
The way jeans become broken-in is also going to vary by the maker of the denim. For example, Abercrombie and Fitch jeans tend to be made out of a heavier denim than say Hollister.
A&F jeans will keep their shape and texture longer, while Hollister will wear down, fray and become a soft denim feel much quicker.
You will find that some brands are perfect for you, while those from other companies may just not be a good fit. But once you find the brand you like, you'll never let them go.
Finding Vintage Jeans
There are many stores that specialize in vintage and vintage style denim, but usually you are going to find very high prices. Don't be surprised to see prices tags in the hundreds of dollars.
A great place to find your perfect pair are at thrift stores and second hand clothing stores. You may have to do some digging, but that's part of the fun. The thrill of the hunt.
When shopping for denim in a thrift store or the like, remember that the measurement you see on the label may not be what you are holding.
Some vintage brands were made as "shrink to fit," so the would get tighter. Others, simply due to wear and tear and the cotton blend, will shift and shrink or sometimes even bag.
That's one of the great things about vintage denim, each pair has its own personality.
So good hunting as you find your new pair of vintage style jeans!
—
Related Post: Man's guide to buying a suit