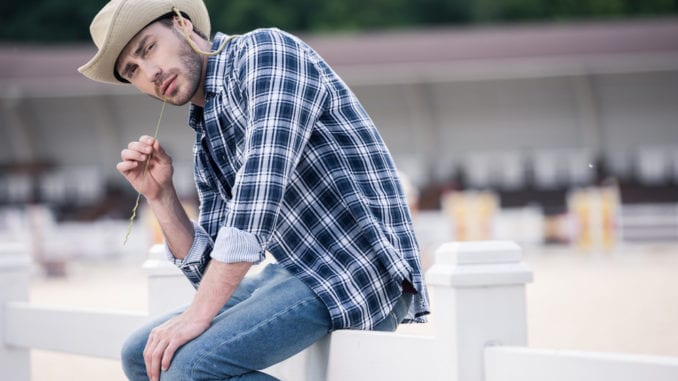 Review of "Cowboy" cologne 
Are you a gay man into rugged men? You know what I'm talking about, right? Outdoorsy guys who like to show off and get all dominant in the bedroom.
If so, join the club. Those are the types of men who get my juices flowing.
Can I be real with you? There's nothing like getting it on with a guy who has a hairy chest, muscles, some facial hair for good measure
Throw a pair of jeans on him with some cowboy boots and oh man, I'm in seventh heaven!
That's why when a friend of mine named Kyle told me about a new cologne he was wearing, I had to try it! According to him, whenever he sprayed a little on, he had HOT, dominant types coming after him like crazy!
If you've followed the blog for any amount of time, you probably know that occasionally, we do product reviews. For example, not long ago, a fellow blogger did a review on an aftershave balm.
Anyway, back to the cologne. This product is called "Cowboy" and is categorized as "woody and earthy". Inside the bottle, the ingredients combine to create a super masculine scent that makes you smell like:
Woods
Juniper
Black and white pepper
Moss
After Kyle wouldn't stop yammering about the bearded boys he was attracting and how they ruled him in all the ways he loves, I decided to buy a 3.4 fluid ounce bottle on Amazon.
So, you may be wondering about my experience? Did the cologne do what Kyle claimed? I'll just come out with it and say two things: Yes, it worked, and wow have I been pleased.
I still can remember the first time a guy noticed it. It was a few months ago at a neighborhood watering hole. While I was ordering drinks from the bartender, a really CUTE guy behind me started making small talk.
"Hey, are you here alone? Want to hang out for a bit?" he asked in a deep voice. Let me tell you. He only had to ask me once. Moments later, we were in a quiet corner, chilling out.
He had on jeans, boots, a white t-shirt and a red trucker hat. And in case you are wondering, he also had a beard.
No, we didn't hook up or anything. But we did make out some and got our feels on (use your imagination here). The only reason we didn't end up going back to my place was that he confessed to having a boyfriend (scoundrel).
To me, that's kind of a deal breaker, you know? But it was the first bit of evidence I had that Kyle (maybe) wasn't full of crap.
Perhaps there was something about the cologne's smell that set off manly pheromones – like woody body washes do?
At any rate, I decided to test "Cowboy" again a few weeks later when I went to otter night at one of the clubs. If you don't know what that furry creature, read this otter post.
All I can tell you is that I ended up going home with a guy what was probably one of the hottest bearded men I've ever met. We're talking tall with green eyes, a hairy chest, and … well, I'll stop there.
Moreover, he was dominant – just the way I like it. Ugh, just thinking about him now is getting me worked up.
But I digress. My point is there have been other connections, like the ones described above, since I started using "Cowboy". And no – the company hasn't asked me to write this review or shill for them.
The only proof I have that the cologne attracts dominant guys are my experiences – plus Kyle's. I'm also the first to admit that I typically gravitate towards the scruffy, muscular type so it's possible all that has happened is a coincidence.
But to keep it real, I highly doubt it.
Since using "Cowboy" these are the types of men I've been attracting. I'm not saying it will do the same thing for you. But I am suggesting if you are in a dry spell, it might not hurt to try.
I recognize there are tons of men's perfume and cologne products on the market. Additionally, I know there are some reviews online that suggest this fragrance isn't that great and that the cost isn't worth it.
All I can say is this hasn't been my experience. At a national retail price of around $35.00, I'd be hard pressed to tell you it is expensive. But I guess that is a relative term, right?
All in all, I've been very pleased with the results. Will it work for you the same way? Honestly, I can't say that it will. Each person is different I suppose.
As I mentioned at the start of this post, I prefer assertive type men with beards. Usually, that means they fall into the rugged category.
Have you tried Cowboy Western spray cologne? Did you like it?