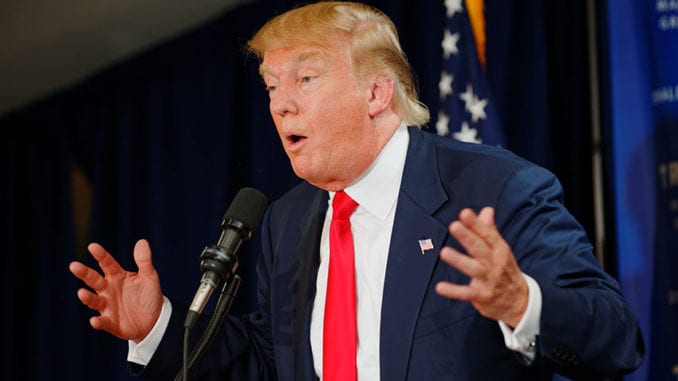 He once said he would "protect" LGBTQ citizens
In news that will come as (NOT) shocking to anyone, the White House is refusing to say if Justice Kennedy's replacement will be a person who will uphold LGBTQ rights.
Remember, Donald Trump is the person who once said he would protect LGBTQ citizens.
From the Washington Blade:
"The White House affirmed on Thursday President Trump has started the process for nominating a successor to U.S. Associate Justice Anthony Kennedy, but won't say if that choice will uphold his legacy on LGBT rights.
White House Deputy Press Secretary Lindsay Walters dodged a question Thursday on whether LGBT rights would inform Trump's pick from a reporter during a press gaggle on Air Force One en route to Wisconsin for a Trump rally.
Asked about the timing for Trump would make his announcement for his pick to replace in the aftermath of his announced retirement this week, Walters vaguely said "the process has already begun."
When the White House spokesperson was pressed more on the issues, Walters said the following:
"As the president said yesterday, he is going through the process of finding a nominee," Walters said. "He will pick one off of the list that you all have previously seen. This is something that the president takes very seriously, and we will move through that process."
When asked if Trump's pick would carry the Kennedy legacy of upholding LGBT rights at the Supreme Court, Walters repeated her first response.
"As I said, the president's nominee to replace Justice Kennedy will have a tremendous intellect, judicial temperament, and impeccable qualifications," Walters said. "He or she, above all, will have a duty to uphold the law and the Constitution."
Bear in mind that "list" of nominees to consider comes from the Federalist Society, a hard-right group with judges that are no friend to LGBTQ persons.
Justice Kennedy, who announced his retirement earlier this week, was author of milestone gay rights decision. The 1996 decision in Romer v. Evans held state laws barring municipalities from enacting LGBT non-discrimination ordinances are unconstitutional.
It was Kennedy who also wrote the 2003 decision in Lawrence v. Texas, which struck down state laws criminalizing same-sex relations.
Finally, Justice Kennedy wrote important decisions enacting marriage equality throughout the country. As pointed out by the Washington Blade, [he was] "The first with the 2013 decision in Windsor v. United States against the Defense of Marriage Act, a federal law barring federal recognition of same-sex marriage, then with the 2015 decision in Obergefell"
h/t: Washington Blade