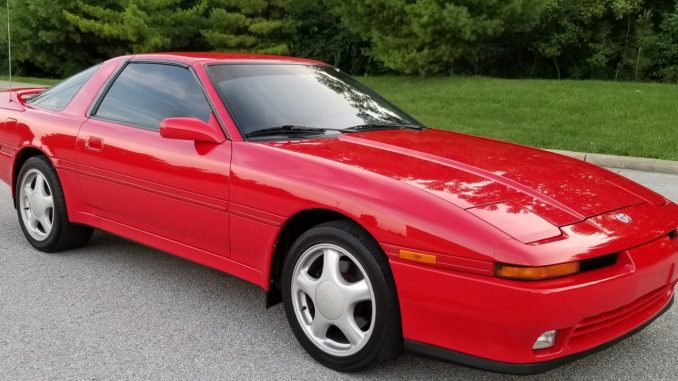 Old Toyota Supra's Are In Demand
Vintage and classic cars are growing in popularity, especially JDM cars like the Toyota Supra, but is it starting to get ridiculous?
There's a brand-new Toyota GR Supra on the market, but gearheads are shelling out big money and absolutely salivating over Toyota Supras from the 1990s. Small, punchy and full of character, these six-cylinder turbo tuners are hot ticket items at auctions.
Bring a Trailer recently sold a 1995 Toyota Supra Turbo for $200,000 at auction. It had ivory leather guts, factory cassette player, and original rear wing. The retro Supra was equipped with a six-speed manual transmission and a 320 horsepower V6 engine. The odometer had just 7,000 miles on the dash.
A 1993 Toyota Supra with just one owner is listed by Diamond Motor Works for $300,000 on ebay. It has low mileage, too. The twin-turbo engine hasn't been tweaked. The manual gearbox hasn't been rebuilt. It begs the question – Where have all these JDM unicorns been hiding?
Apparently, JDM and other classic vehicles are great investments. The Toyota Supra has a dedicated fanbase and savvy investors are wise to scoop them up for huge returns. These vehicles are getting six figures at auction, so you don't have to be a car person to see that there is money to be made with Toyota Supras from the 90s.
Why Are People So Excited About Classic Supras?
Part of what makes these cars so desirable is the rose-tinted memories that people have about them. Were they especially fast or could they really beat a supercar? You might remember seeing one that did, but it probably was heavily modified.
The most sought-after version is the fourth generation Supra that was released between 1993 and 2002. Fourth generation Supras were favorites for tuners and gearheads. It's hard to find one that exists in its original condition. That makes a stock Toyota Supra more valuable.
Another reason why Toyota Supras from the 90s are fetching 6 figures at auction is because these are the sports cars of peoples' fantasies. You might've had a poster when you were a teenager or flipped through a motorhead magazine and saw a suped-up JDM car and thought, "WOW, that car looks awesome".
You might've gone to a car show in the 90s and saw a kitted-out Toyota Supra and fell in love. You might've recalled that in the first Fast and Furious movie, Paul Walker drove a 1993 Toyota Supra. In the movie, it was blowing the doors off supercars.
These are just a couple of the reasons why buyers are willing to spend large amounts on an unadulterated fourth generation Supra. Meanwhile, the new 2022 Toyota GR Supra has a starting cost of $43,190 but auto enthusiasts are nonplused by the modern age revival of the Supra nameplate.
That's odd when you consider that on paper the 2022 Supra and the 1992 Supra are practically the same car. Both are rear wheel drive six-cylinder turbos with direct injection. The new Supra is actually faster. Yet, nothing can beat the nostalgia that comes along with an original Toyota Supra from the 90s.
Related: Let's Talk About the 1950 Abarth 205-A Berlinetta
Fourth Generation Toyota Supra
Toyota Supras from the mid and late 90s were loosely designed around the Toyota Celica and Lexus SC Coupe. Yet, the fourth generation Supra took on a style all its own. It had a long front hood, low stance, and distinctive rear wing.
There were two powertrain options. First, there was the standard 2JZ-GTE 3.0 Liter inline six cylinder engine that produced 220 horsepower. For a slight uptick in price, you could opt for the Supra Turbo which cranked out 320 horsepower and had a sport tuned six speed manual transmission.
The Supra had an optional lift-off roof and it was smaller than the previous generation. It had a shorter wheelbase, but also had a wider stance. There was nothing special about the suspension though. The Toyota Supra had a conventional double-wishbone multilink setup.
All in all, the fourth generation Supra was light and powerful. Twin turbo Supras could run zero to 60 MPH in five seconds even without additional modifications. It was a vehicle that only performance drivers could appreciate. Otherwise, the Supra didn't have great cargo or passenger space. It had a noisy cabin, and the exterior style wasn't popular at the time.
Why Is the New Toyota Supra Better?
Critics of the old fourth generation Toyota Supra would have a serious case of déjà vu if they looked at the 2022 Toyota Supra. It's small, powerful, and fun to drive. Yet, it still lacks interior space and a smooth ride. The new GR Supra is a reincarnation of the old favorite, right down to the gripes and miscues of yesteryear.
The new Toyota Supra is a better vehicle though. It comes with advanced safety equipment. The new Supra has pedestrian detection, lane departure warnings, a rearview camera, and improved electronic stability controls.
The 2022 Supra comes with high performance Michelin Pilot sport tires and Brembo performance brakes. It's also much faster than the fourth generation Supra. The GR Supra does zero to 60 MPH in 3.9 seconds. Yet, critics of the new Supra can't resist the urge to pick on its automatic transmission.
Where's the amazing stick shift from the original Fast and Furious movie? Well, sorry to disappoint fans of Paul Walker, but that Supra doesn't exist. The new GR Supra is practically the same as the fourth generation version; it's just updated and much safer to drive.
Related: What's In The 2022 Toyota Tacoma TRD Off-Road?
Vintage Cars are Hot Right Now
Vintage and classic cars are selling like hot cakes since the pandemic of 2020. The Toyota Supra has proven that it maintains and increases its wealth over time. So, the modern GR Supra will always play second fiddle to the throwback fourth generation, even though it's a faster, updated version.
The 2022 Toyota GR Supra is just as affordable in today's economy as the 1994 Supra was in its market. However, the sight of an old fourth generation Supra is one that car fans just can't resist. It pulls on the heart strings just as strongly as it pulls on your bank account.
Is it worth $200,000? Well, this could just be the beginning. The price could go up. The classic Supra could double in price in the coming years while owners of the brand new Supra will have to await their turn in the rose-tinted spotlight.
READ NEXT: 7 Hacks for Extending the Life of Your Older Vehicle