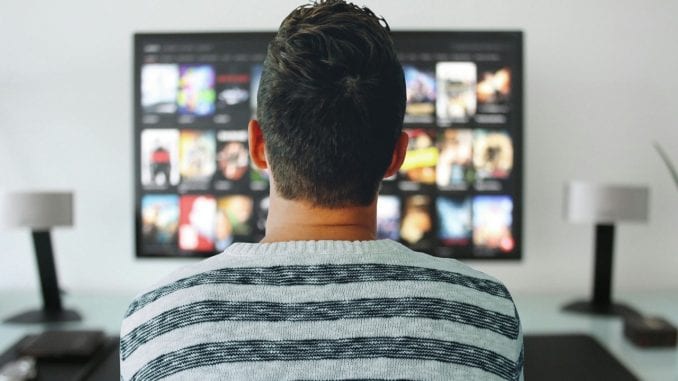 Netflix binge watching picks for chilling out
Sometimes, you just want to sit back and chill with your mate  This is particularly true if you both work long hours and don't have tons of energy to socialize with friends. Thanks to Netflix, you can now spend quality time with your significant other while doing something entertaining.
And did you know that a few titles appearing on Netflix are made in Britain? They sure are! The problem is we don't hear about them because so much focus in placed on American productions. And we're here to tell you that many British shows are totally awesome!
After spending several days (and nights) binge watching British TV, we decided to take a few notes and then share our favorites. What follows are our top five picks. As of the time of this post, all are available for streaming on Netflix.
So grab your man (or whomever you want) and check these out!
1. Black Mirror
Black Mirror is a suspenseful science fiction anthology series set in a not-too-distant, frightening future. Each episode is a self-contained story with a different cast, setting, and theme (similar to the format of The Twilight Zone).
The show portrays the dark sides of technology with stories that are both horrifying and humorous. The 'black mirror' that the show's title refers to is the black screens of televisions, computers, and phones. Netflix is streaming all 3 seasons of Black Mirror.
2.The IT Crowd
TheIT Crowd is a goofy comedy centered around the antics of IT geeks Moss (Richard Ayoade) and Roy (Chris O'Dowd) and their utterly tech-illiterate manager Jen (Katherine Parkinson).
The three work from the dingy basement of Reynholm Industries, where they are terribly underappreciated by company boss Denholm Reynholm and the rest of the staff, who enjoy modern offices with stunning views of the surrounding city.
Fans of geeky pop-culture references and absurd, understated British humor will enjoy watching all four seasons of The IT Crowd on Netflix.
3. Sherlock
Sherlock is a modern spin on Doyle's Sherlock Holmes mystery books, starring Benedict Cumberbatch as Holmes and Martin Freeman as Dr. Watson.
Each episode is loosely based on one of Doyle's original stories, but fans of the books will not be able to guess where each mystery will lead. Creators Steven Moffat and Mark Gatiss fill each episode with sharp dialogue, and Cumberbatch and Freeman give excellent performances as the crime-solving duo. Netflix has all 3 seasons.
4. Broadchurch
Broadchurch is a crime drama starring David Tennant and Olivia Coleman. The show focuses on the investigations of the murder of an 11-year-old boy in a small English town.
One of the most interesting aspects of this show is that it portrays the culture of suspicion that arises in the town in the aftermath of the murder. Netflix has both seasons of Broadchurch, and the third season is currently being filmed.
Related: 11.22.63 Hulu series review starring James Franco
5. Luther
Idris Elba stars as Detective Chief Inspector Luther, an obsessive and sometimes violent detective who always gets his man, in spite of his unorthodox methods. Luther brings down several cold-blooded criminals but struggles with internal darkness and the darkness surrounding the crimes he must solve.
Elusive psychopath murderer, Alice Morgan (Ruth Wilson) sometimes assists Luther in his investigations. Netflix has 3 seasons of Luther but has yet to add the newest fourth season.
Now you have some great ideas of what to watch on Netflix next time you're in the mood for some British television. Enjoy!