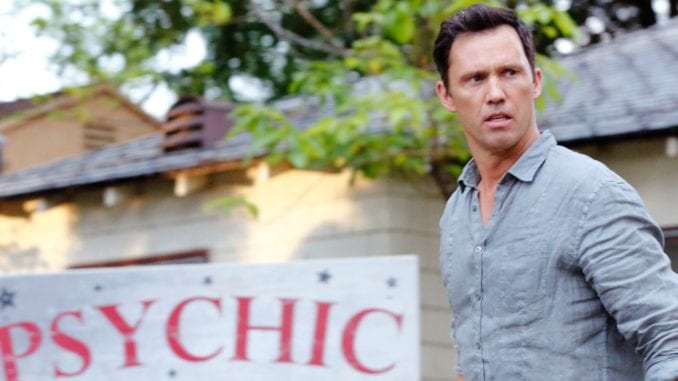 Review of Hulu Original: Shut Eye
Now and then, I like to check out some of the original programming they have on apps like Hulu. Recently, I got the chance to watch a show called Shut Eye starring Jeffrey Donovan. You may have seen him on series like Burn Notice and Fargo [the T.V. version].
I'll try to give you a little background without spilling the beans on the entire show. Are you ready? Here we go.
Donovan plays the part of Charlie Haverford – a smalltime crook who uses his fortune telling business as a way of conning people out of their money.
As time goes on, Haverford gets greedier and tries to reel in a mega-rich customer (who he identifies as a wale). That's when things get interesting – big time. You see when he starts to chase the money, weird things begin to happen to him that are kind of … supernatural.
But there's more. Haverford and his wife Linda (played by KaDee Strickland) also are part of a clan of fortune tellers who run a massive operation in Los Angeles – the Roma Family.
More: Should I watch 11.22.63 with James Franco on Hulu?
In the series, you'll see a mix of mystery, murder, and some gay stuff – like lesbian scenes. Additionally, you will discover that Haverford's faux powers may not be as phony as once thought.
One of the things I liked about the show was the presence of actor David Zayas (Eduardo Bernal). You may remember him from the popular series, Dexter.
Well, without saying too much, Zayas's character is shady – and violent. But there's also a funny side that eventually comes out.
So, what's the verdict? Is Shut Eye on Hulu worth watching? All I can tell you is that have found the series to be very entertaining. There is a lot of gratuitous violence but it's not grotesque.
Personally, I found myself caught up in the lives of the different characters – particularly those who found themselves conned by Charlie Haverford.
And if truth be told, I also watched the series because I liked this actor when he was on Burn Notice. The guy has always had an edgy vibe.
So, should you stream it? That's up to you. I'll say this much. I wasn't disappointed!