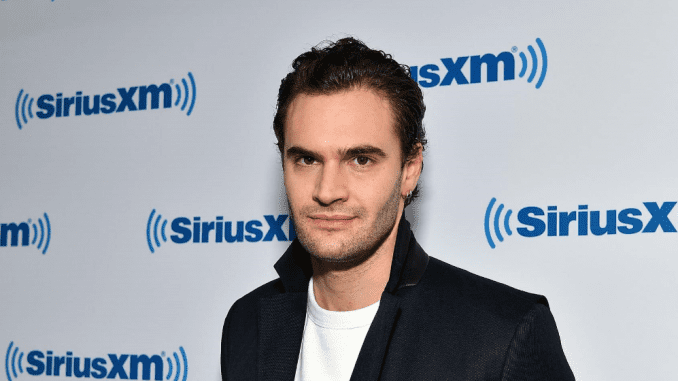 Tom Bateman: A Closer Look
If you're hooked on Netflix's new series "Behind Her Eyes", then you've no doubt seen one of the show's stars, Tom Bateman.
The six-part miniseries follows the story of Louise, a single mother who works in a psychiatrist's office. She embarks on an affair with her new boss, David, played by Tom, but without him knowing she strikes up a friendship with David's wife Adele.
A trail of secrets ensues, including spousal abuse, addiction, lies, and traumas.
Tom who has a deep, raspy voice is doing a Scottish accent that some viewers found hot and others too distracting. The series if full of twists and turns in the plot. and it's definitely worth watching!
Pop File: Tom Bateman
Birthday: March 15th, 1989
Born on exactly the same date as Caitlin Wachs.
Birthplace: Oxford, UK
Zodiac Sign: Pisces male
Eye Color: Hazel Brown
Height: 6 ft 2 in
Body Type: Athletic
Spouse: Star Wars Actress, Daisy Ridley
Best known: For his roles on the television series Da Vinci's Demons, in the film Murder on the Orient Express and Netflix's Behind Her Eyes
Personal quote: "I'm not sure a person can call themselves romantic. It's a trait other's have to see, I think. I love people, in all walks of life. Sitting opposite a person, talking and listening to them could be seen as romantic – or just how we should all be living."
https://www.instagram.com/p/CLcUAUHlB5Y/
1. He has 13 siblings
He was born in Oxford and has 13 siblings, including a twin brother named Merlin. Both his parents were teachers. Tom studied drama at the London Academy of Music and Dramatic Art, where he was awarded the prestigious Leverhulme Scholarship for 2009-2011.
He is now best known for his roles on the television series Da Vinci's Demons, and in the film Murder on the Orient Express. He previously made his US feature film debut in Jonathan Levine's comedy "Snatched" opposite Goldie Hawn and Amy Schumer.
2. His spouse is a Star Wars icon
Tom has been with British actress Daisy Ridley since 2017, and it's rumoured that they are engaged.
You might recognise her from "Star Wars" sequel trilogy – she rose to international prominence through playing the role of Rey – and she was also in "Murder on the Orient Express", which is where her and Tom met.
The couple are notoriously private about their home life, which, considering Daisy's past experiences with super fans, makes a lot of sense. They are believed to live in a luxury apartment in Primrose Hill, London
3. No official Instagram account
Tom Bateman is not tech-savvy and does not have a verified social media account. He has described himself as a private, old-fashioned man who loves nature. He is saddened by how people are so into technology that they don't even bother to experience things outside of it.
Other than that, he's a bit of a dreamboat and you can find a lot of photoshoots of him from his fan-made profiles.
https://www.instagram.com/p/CLe5m6wFpU2/
4. He has been in love with Elizabethan London 
"I love Elizabethan London – the whole grit and immediacy of it. There was a time when you couldn't build higher than St. Paul's Cathedral, and I think London must have looked so beautiful then. I suppose it's easy to look back and admire a time in history – we only learn about the beautiful bits. I'm quite happy where and when I am now, but what makes me sad is our lack of connection to what is around us now. People see the world through their phones, now, not their eyes. I miss a time without those."
5. Winner of the Hugo Boss Breakthrough Actor Of The Year Award
In 2018, he was awarded the "Hugo Boss Breakthrough Actor Of The Year" award at GQ's 2018 Men of the Year Awards.
https://www.instagram.com/p/BnW8ihrDvny/?taken-by=britishgq
Will there be another season of Behind Her Eyes?
Netflix viewers are already calling out for a second season of the love triangle thriller. It should be noted that Netflix hasn't announced whether it's going to renew Behind Her Eyes for another season yet, and this speculation is all based on the popularity of the series. At the end of February, it was the No. 2 most popular title on Netflix in the United States!
What we know for sure is that we will see Tom Bateman again really soon as he will be starring in "Death on the Nile", an upcoming mystery thriller film directed by Kenneth Branagh, with a screenplay by Michael Green, based on the 1937 novel of the same name by Agatha Christie.