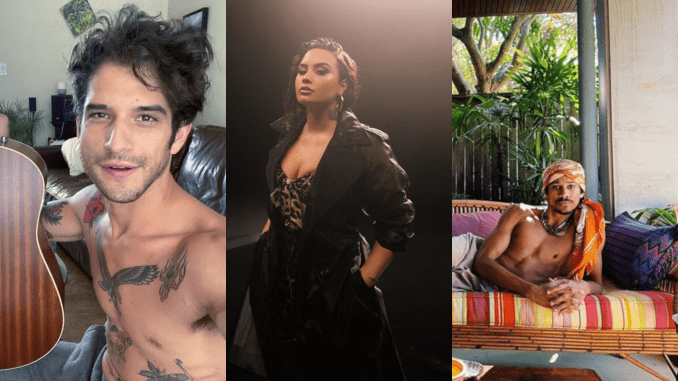 Bisexual visibility is still needed in Hollywood and the entertainment business. In the entire world, really. But thanks to more and more celebrates coming out recently, we're starting to see bisexuality getting the spotlight it justly deserves. To help that along, here's a list of some of Hollywood's openly bisexual, pansexual, etc. celebs.
1. Tyler Posey
The former Teen Wolf star recently came out as bisexual in order to support transgender people and spotlight the abuses they suffer throughout the world.
"I woke up one morning and I saw all this stuff on Instagram about these transsexual women who were being beaten and harassed, and there were a bunch of people that were filming the whole entire interaction and laughing at them," he explained.
"Originally I was just shedding light on that, through whatever way that I could," he continued. "And, then I was hit with wanting just to come out myself with that whole thing and be honest about it."
2. Keiynan Lonsdale
The Love, Simon and The Flash star came out through an Instagram post that said, "I like to change my hair, I like to take risks with how I dress, I like girls, & I like guys (yes), I like growing, I like learning, I like who I am and I really like who I'm becoming."
Lonsdale then doubled down in an EW interview in which he said, "I said, I'm not straight. I don't really label myself as anything. I have been in love with guys and I have been in love with girls. That's me."
3. Drew Barrymore
The talk show host and Santa Clarita Diet star came out in an interview with Contact Magazine, saying, "Do I like women sexually? Yeah, I do. Totally. I have always considered myself bisexual… I love a woman's body. I think a woman and a woman together are beautiful, just as a man and a woman together are beautiful."
https://www.instagram.com/p/BwUno2TBbj9/
4. Frank Ocean
R&B singer Frank Ocean came out through an open letter on his Tumblr in 2012. At the time, Frank Ocean only shared that his first love was a man.
"4 summers ago, I met somebody. I was 19 years old. He was too," he wrote on Tumblr. "By the time I realized I was in love, it was malignant. It was hopeless. There was no escaping, no negotiating with the feeling. No choice. It was my first love. It changed my life."
He later refused to label himself as bisexual. That said, his music has repeatedly discussed being open to dating men and women. For instance, Ocean's 2018 single "Chanel" has the lyrics: O"My guy pretty like a girl / And he got fight stories to tell / I see both sides like Chanel / C on both sides like Chanel."
5. Tessa Thompson
Westworld and MCU star Tessa Thompson told Net-a-Porter that she's attracted to both men and women.
"I can take things for granted because of my family – it's so free and you can be anything that you want to be," Thompson said. "I'm attracted to men and also to women. If I bring a woman home, [or] a man, we don't even have to have the discussion."
She then exclaimed at San Diego Comic-Con that her Marvel character Valkyrie will "find her queen" in the upcoming Thor: Love And Thunder.
6. Ezra Miller
Fantastic Beasts and Justice League star Ezra Miller first came out as queer. Miller then specified that they are not gay but have dated men on top of "shes."
"The way I would choose to identify myself wouldn't be gay. I've been attracted mostly to 'shes,' but I've been with many people and I'm open to love wherever it can be found," Miller told The Daily Beast.
https://www.instagram.com/p/B-FqcqglXqC/
8. Green Day's Billie Joe Armstrong
"Even Green Day?" Yes, it appears that the frontman of the iconic rock band came out as bisexual back in the 1990s! So, he was a trendsetter even in this front.
"I think I've always been bisexual," Armstrong told The Advocate in a 1995 interview. "I mean, it's something that I've always been interested in. I think people are born bisexual, and it's just that our parents and society kind of veer us off into this feeling of 'Oh, I can't.' They say it's taboo. It's ingrained in our heads that it's bad, when it's not bad at all. It's a very beautiful thing."
9. Sara Ramirez
The former Broadway and Grey's Anatomy star came out as bisexual during a speech at True Colors Fund's 40 to None Summit.
"So many of our youth experiencing homelessness are youth whose lives touch on many intersections — whether they be gender identity, gender expression, race, class, sexual orientation, religion, citizenship status," they said. "Because of the intersections that exist in my own life: woman, multi-racial woman, woman of color, queer, bisexual, Mexican-Irish American, immigrant, and raised by families heavily rooted in Catholicism on both my Mexican and Irish sides, I am deeply invested in projects that allow our youth's voices to be heard."
Ramirez then later came out as non-binary.
10. Dalton Harris
Jamaican singer and X Factor winner Dalton Harris came out as pansexual earlier this year through Twitter.
In a series of tweets, he said that he decided to finally allow himself to be happy.
"I want to experience live and be honest with myself and everyone around me in my intentions," he wrote on twitter. "Not hide or mask feelings and or flaws. Not judge myself. Not abuse myself and or anyone else. I am thankful for my family and everyone who is around me."
11. Kehlani
For years, R&B and pop singer (and sometimes rapper) Kehlani, has sung about her attraction to both men and women. Though, Kehlani is adamant that she doesn't want to be labeled as "queer, not bi, not straight." She said as much in a series of tweets in 2018.
"I'm attracted to women, men, REALLY attracted to queer men, non binary people, intersex people, trans people. lil poly pansexual papa hello good morning," she wrote. "I felt gay always insisted there was still a line drawn as to which 'label' of human I was attracted when I really jus be walking around thinking ERRYBODY FINE."
12. Demi Lovato
Demi Lovato revealed in her 2017 YouTube documentary "Simply Complicated" that shelooks for both men and women on dating apps.
"I am open to human connection, so whether that's through a male or female, it doesn't matter to me," she said at the time.
The singer has since been extremely open about her sexuality and stated that any long-term relationship with a man, like her recently canceled engagement, does not negate her bisexuality.
13. Tyler, The Creator
Lastly, while Tyler, the Creator has never labeled or defined his sexuality, he has constantly included lyrics in his music about his interest in both men and women.
Then in a 2019 interview with GQ, the rapper said, "I like girls, I just end up f***ing their brother every time."