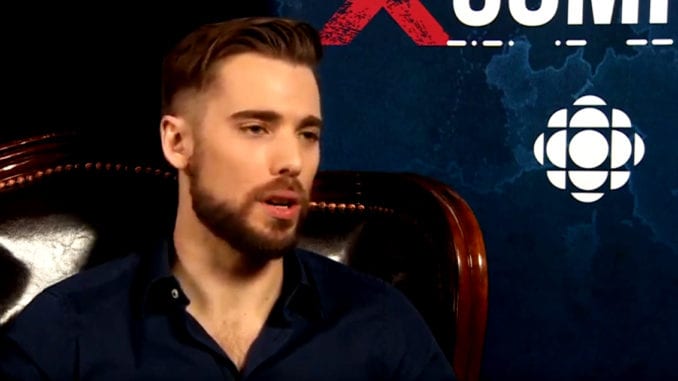 Bio and background on Dustin Milligan
Dustin Milligan – he's an actor you've probably seen on TV shows like Netflix's Schitt's Creek or the rebooted 90210. You know who I'm talking about, right? He's the handsome guy with the killer smile and rock'n bod that just won't stop.
But beyond the actor's good looks, what do you really know about him? Ever wonder about aspects of his personal story, like how he started acting and if he's dating?
If the answer is yes, you've come to the right place. That's because this post is all about Dustin Milligan with insights that might surprise you.
I can tell you that when I was doing the research, I was impressed with this guy's background and his modest life journey.
More: Beau Mirchoff facts and background
Are you ready? Let's jump right in!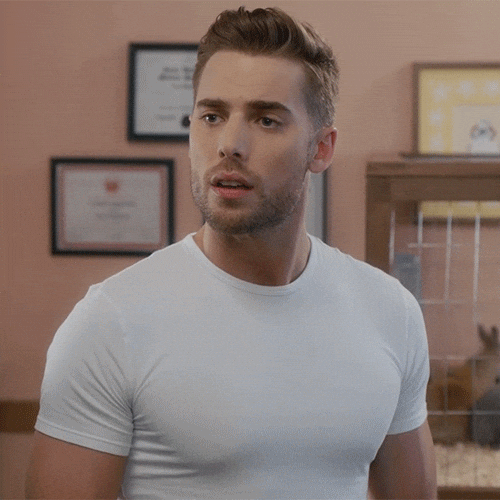 POP FILE: DUSTIN MILLIGAN
Birthday: 7.28.85 in Yellowknife, NWT, Canada
Height: 5'10
Eye Color: Super Blue
Zodiac Sign: Leo Man
1. Inspired by Grease and Saturday Night Fever
While playing the leads in high school productions of Saturday Night Fever and Grease, Dustin found his inspiration to act. With the goal of pursuing his career as an entertainer, he moved with his mom to Vancouver, BC.
2. Worked as a Cake Cutter
Everyone has to make a buck somehow and that was no different for Dustin. To pay the bills, he worked as a cake cutter until he started picking up acting gigs. Sweet, huh?
3. First TV Role in 2004
Going by his IMDb file, it appears Dustin's first real television role happened on the TV movie, Perfect Romance. This would just be the start because that same year, he also appeared as a character on the series, The Days.
Sat down in an ill-fitting long sleeve for a @realfeelsproj chat about, among other things, my highly not dope weed addiction — give it a watch: https://t.co/TEglPE5e9X

or a listen: https://t.co/C6bPbQzn75

or a listen: https://t.co/YWvhRvbUeD pic.twitter.com/ZKCtDInWPg

— Dustin Milligan (@DustinWMilligan) May 13, 2020
4. Got Canned from 90210
All actors experience highs and lows and this is certainly true for Dustin. He played the part of Ethan ward from 2008 to 2009. But in 2010, he wasn't invited back as a character. In an interview with Frank, the celeb revealed he got canned and discussed how frustrating it was. See this link.
5. He's a Mindful Guy
Dustin no doubt has a mindful approach to working through life challenges. Whenever he faces a difficult problem, he does the following, according to the Frank interview: "When I'm in a time of crisis or something like that – where there's a fork in the road ahead of me. I think "Okay. Here's this decision." Then I think about what my six-year-old self would think of this decision, and my six-year-old self is, more often than not, the version of me who is noble, strong, kind, and does the right thing."
6. Almost on Twilight
You remember Twilight, right? The show helped to kick off an entire slew of teen-vampire shows. Well, Dustin was almost on it. He auditioned for the role of Edward – but it never happened. The part went to none other than Robert Pattinson. As an aside, he did land a part on the CW's Supernatural starring Jared Padalecki.
7. Has a Girlfriend
Not that it really matters but a lot of folks are curious about how Dustin Milligan identifies. Long story short – the answer is straight. That said, the guy is supportive of LGBTQ people. So much so that he decided to swear off gay jokes back in 2010 and encouraged others to do the same. Be sure to read this post on Logo to learn more.
Wrap Up
Dustin has a decent size following on Instagram and other social media platforms. Just so you know, he lives in Los Angeles, which makes sense given his profession.
Are you a fan of this actor? We'd love to hear your thoughts. Share your comments in the area below.
—
Main photo picture: Youtube