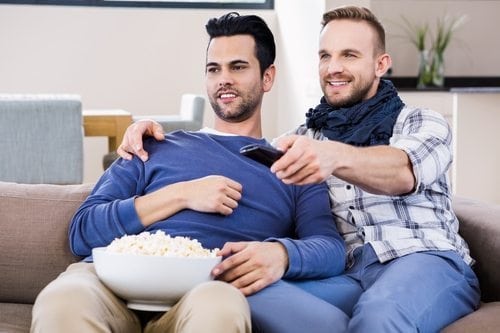 Amazon Prime Just Got Heaps Of Gay Films
If you have an Amazon Prime account, you now have access to dozens of LGBTQ films like the Eating Out series, G.B.F., and more.
Amazon just recently added a bunch of LGBTQ films that screened at Outfest in L.A. to its Prime Video service. Each of the films will make money for the creators based off of the amount of time that people watch each movie. Royalties will be deleivered to the filmmakers based off of these viewing time numbers.
But why Outfest? Well, Outfest is one of the biggest LGBTQ film festivals in the world. It started out as a project by UCLA students in the 80s and is now an annual event where lots of LGBTQ films premiere and earn a name for themselves.
"These are challenging times for many and reports of violence against LGBTQ citizens are on the rise," said Outfest executive director Christopher Racster. "I still believe, though, in the power of our stories to change that narrative… It is a relationship like this with Prime Video Direct that will carry our stories across the widest network and reach the most individuals."
If you want to know what films are now available on Prime Video, don't worry. We have the list for you down below.
 52 Tuesdays
 A Sinner In Mecca
An Englishman in New York
Anatomy of a Love Seen
Ander
Baby Steps
Beautiful Something
Body Electric
Call to Witness
Crazy Bitches
Desire Will Set You Free
Do You Take This Man
Eating Out
Eating Out 2: Sloppy Seconds
Eating Out: All You Can Eat
Eating Out: Drama Camp4
Ekaj
Empire State
Family Values: An American Tragedy
G.B.F.
Geography Club
Good Mourning Lucille
Hello Again
Hit So Hard
Howl
I Do
Greek Pete
Grown Up Movie Star
Isle of Lesbos
Jamie Marks is Dead
Karl Rove, I Love You
Liberty: 3 Stories about Life & Death
Loving Annabelle
Lyle
Major!
Morgan
Nate & Margaret
Open
Park
Political Animals
Queens and Cowboys: A Straight Year on the Gay Rodeo
Retake
Rift
S&M Sally
Sebastian
Slash
Southwest of Salem: The Story of the San Antonio Four
Strange Fits of Passion
Stuff
10 Year Plan
 The Gymnast
The Pearl
The People I've Slept With
The Resurrection of a Bastard
Were The World Mine
Wild Combination: A Portrait of Arthur Russell
Wild Flowers
Women Who Kill
h/t: NewNowNext