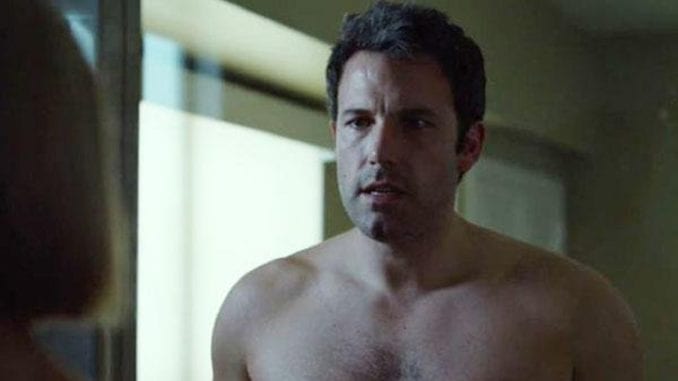 Ben Afffleck News
Get your popcorn ready. Ben Affleck is back and he's giving us an "erotic thriller."
Ever since the infamous, or famous depending on who you're talking too, full-frontal shower scene in Gone Girl, we haven't seen the former Batfleck getting in more "mature" content. But now, that's about to change.
Deadline reports that Ben Affleck has signed on for an "erotic thriller" titled Deep Water. Affleck will be a part of a couple, along with Ana De Armas, in the midst of a deadly game.
Deadline describes the movie as the following:
"Affleck and de Armas are in talks to play Vic and Melinda Van Allen, an attractive young married couple whose mind games with each other take a twisted turn when people around them start turning up dead. The couple staves off divorce in a loveless marriage by allowing each to take lovers, but it becomes messy as Highsmith exposed the surface facade of American suburban life."
Related: Tarantino 1960's Film Already Causing A Hullabaloo
The Other Creatives
It sounds interesting, but the project gets even more interesting the more you learn who's going to be working on it. Again, Affleck will be starring with Cuban-born actress Ana De Armas, who is getting ready to appear in the next Bond film. He has also appeared in other action films like War Dogs and Blade Runner 2049.
On top of that, the film will be directed by Adrian Lyne, who is known for sexy and deadly films like Unfaithful and Fatal Attraction. For that second film, Lyne was nominated for an Oscar. But Lyne doesn't just direct "erotic thrillers" like Fatal Attraction, he also directed the iconic '80s film Flashdance. Interesting enough though, Lyne hasn't directed a film since Unfaithful in 2002. It'll be interesting to see what his return to directing will be like.
As for the writing, it'll be helmed by Sam Levinson, who's currently having a successful run as the showrunner for HBO's Euphoria. The show highly praised by many, including sports legends. The movie's script will be an adaption of a 1957 novel, also called Deep Water, by author Patricia Highsmith. But Levinson isn't the only one to adapt the novel into a film script. He was aided by Zach Helm of Stranger Than Fiction.
If all of this sounds interesting to you, get excited as the Deep Water is expected to start shooting in November. But unfortunately, a release date has yet to be announced.