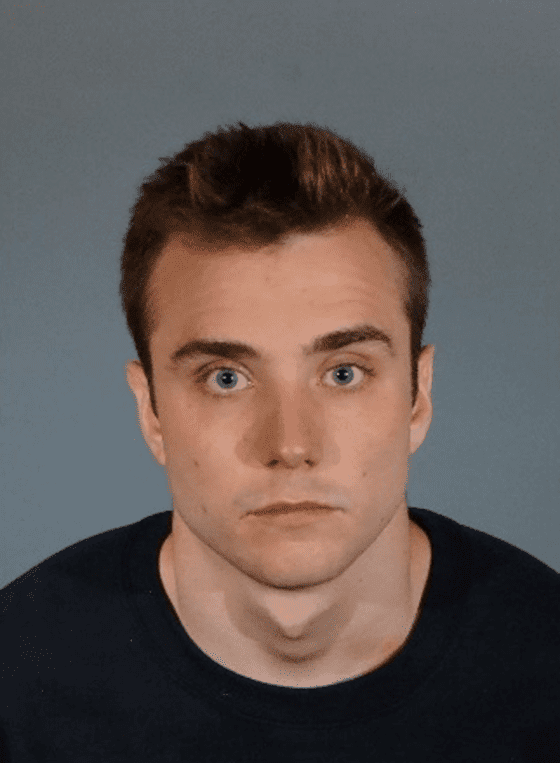 Apparently, there are some serious questions about the truthfulness of Calum McSwiggan's claim that he was the victim of a hate crime.
As Gay Pop Buzz and many LGBTQ focused websites reported on Tuesday, McSwiggan went public with an alleged bashing that took place at at a gay club.
The photo you see above is McSwiggan's booking photo from the West Hollywood Sheriff's Station, which is reported to have been taken after he assaulted himself .
We got this photo and the story from the website WeHoville and is courtesy of the Los Angeles Sheriff's Department.
Here is McSwiggan's Instagram post where he advises followers of the alleged bashing.
Here is what's coming out now about what really happened, courtesy of WEHOVILLE:
McSwiggan said online that he was assaulted by three men he did not know after leaving The Abbey. In an official statement on the matter, the Sheriff's Department said: "Responding deputies were unable to substantiate the assault. Mr. McSwiggan, who had no visible injuries, was subsequently arrested after deputies observed him vandalizing a car in the 8900 block of Santa Monica Boulevard. After being booked and photographed, Mr. McSwiggan was placed into a cell by himself at West Hollywood Station.

Mr. McSwiggan was then observed injuring himself with the handle and receiver to a payphone inside the cell. Medical personnel were summoned and Mr. McSwiggan was transported to a local hospital for treatment."

McSwiggan is known for his online chronicles of the trials and tribulations of his life. Among other things, he has discussed his experience with depression. McSwiggan also has a large YouTube following, with more than 450,000 views of a video of him confessing and apologizing for appearing in a porn video.

McSwiggan's allegation that he was beaten has been reported on gay sites such as Towleroad, the UK's PinkNews and LGBTQ Nation. Posts on Twitter and Facebook by people who say they are friends of McSwiggan alleged the attack was premeditated and carried out by people who followed McSwiggan on social media, with many claiming that the alleged attack was a gay hate crime.
The social media outcry has been enormous, with many people who formerly supported McSwiggan suggesting he is a fraud. The truth is when people make claims that they are the victims of a hate crime and it turns out to be fabricated, it takes away from others who have been legitimately  harmed.
In the world of Gaydom, most blogs want to highlight stories about members of our community who have been targeted for a hate crime because collectively, we have the ability to instantly create awareness on the topic. That's why it sucks when someone appears to pull these kinds of stunts for the sake of getting attention.
Obviously, we weren't there and don't know all of the details. But the follow up reporting now suggests that police think this incident was faked.  That's really sad.
Update 4pm 6/29/16
It appears that Mr. McSwiggan has been formally charged with filing a false police report, in addition to other charges connected to activities related to this event. For the latest on this case, we encourage you to visit WehoVille.
h/t WehoVille & Gay Star News