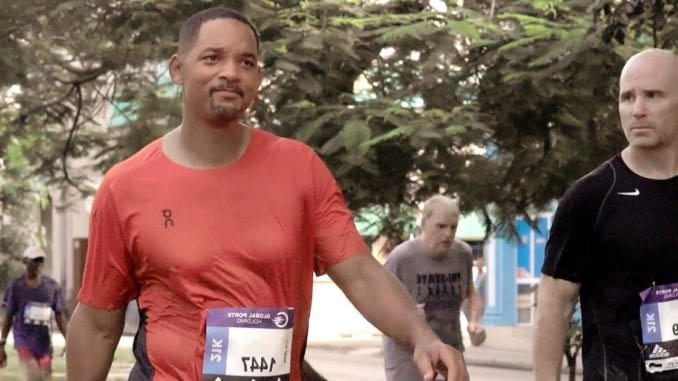 Celebrity marathon fun
Many celebrities have tested their endurance and physical prowess through marathons. But what are some names that finished the challenge? Here's a list of 15 male celebrity marathoners to inspire you to take up a run of your own.
Ryan Reynolds
Deadpool himself gave the  New York City Marathon a go in 2008. The actor took part in the run in order to raise money for Parkinson's disease, which his father dealt with. He finished the marathon at 3:50:22.
Bobby Flay
This celebrity chef is known for cooking up a storm and getting us fat with his delicious foods, but he also put in the work to lose some of those pounds. Flay completed the New York City Marathon in 2010 with a time of 4:01:37.
Related: Watch Will Smith Train For A Half Marathon
Kevin Hart
People like to make fun of Kevin Hart as if he doesn't put in a lot of effort to keep up a muscular body. His time of 4:05:06 after completing the New York City Marathon in 2017 prove that he's physically fit.
Theo Rossi
Sons of Anarchy star Theo Rossi also ran the New York City Marathon, but this itme in 2016. Rossi started running to lose weight for a role in 2009 and decided to take part in the marathon as the next challenge in his exercise career. He ended up completing at 3:35:48.
Bryan Cranston
Yes, Hal Wilkerson and Walter White also took part in the New York City Marathon. This time, it was back in the '80s. 1985 to be specific. His time was 3:20:45.
Mario Lopez
This actor and entertainment news host also ran the New York City Marathon, but he did so in 2011.
Just looking at his physique will tell you that the man is physically fit, but was he ready for a marathon? Apparently so, as Lopez finished with a time of 4:23:29. Good for him.
Drew Carey
The price is right, and so too was this comedian turned tv show host as he told himself he could run the 2011 Marine Corps Marathon. Carey ended up finishing with a time of 4:41:39.
Related: Is Running a Marathon Really Safe?
Nev Schulman
When Schulman isn't catching people catfishing overs on one of MTV's hit tv shows, he's apparently running marathons. (Not really, but go with the joke).
Schulman has run two marathons so far. His first marathon was in 2015, and he finished with a time 3:34:31. Then, Schulman had his second marathon in the 2016 New York City Marathon. His time then was 3:21:58.
Al Roker
The celebrity weatherman didn't wear a bowtie when he ran in the New York City Marathon back in 2010. And that's probably a good thing as it was a tough battle for the newsroom celeb. After struggling for a while, Roker finished with a time of 7:09:44. But no matter how much he struggles, he finished. And that's amazing all on its own.
Will Ferrell
This iconic comedian is no stranger to marathons. In fact, he's run in three of them!
As for his most recent go at a marathon, it happened in 2003. The former SNL star's third marathon was the Boston Marathon in 2003. He finished around 3:56:12.
Sean Combs (P. Diddy)
Yes, even P. Diddy has run a marathon before. Combs also tried his hand at the New York City Marathon and he ran at 2003. But even better than his time of 4:14:54, Combs raised $2 million NYC's children.
Apolo Ohno
Looks like Olympic medal winners also like to exercise for sports outside their own.
Eight-time Olympic medal winner Apolo Ohno retired from speed skating, but that didn't mean he was done with challenging his body. Ohno ran in the New York City Marathon in 2011.
"I went from short, ballistic-type one-and-a-half minute training to something that lasts three hours, 24 minutes longer," he told Extra after the race. "The last 6.2 miles are gruesome, my body isn't designed for this."
Bill Rancic
Reality tv star Bill Rancic spent nine weeks to train for the Chicago Marathon in 2001. Back then, he finished with a time of 4:31:31. At the time, he was only doing it to complete a bet with a friend. But now, he has caught the runner's bug and loves to take part in marathons when he has the time.
Gordon Ramsay
Bobby Flay isn't the only celebrity chef to try his hand at a marathon. Gordon Ramsay did it too. Only, Ramsay tried a marathon runner and an Ironman.
In 2004, Ramsay ran the London Marathon and finished at 3:30:37.
https://www.instagram.com/p/Bt7Ks4nIeAg/
Shia LaBeaouf
Next, we have the mysterious actor and performance artist Shia LaBeaouf.
LaBeaouf ran the 2010 Los Angeles Marathon to support U.S. Vet non-profit, U.S. Vets. He finished with a time of 4:35:31.
George W. Bush
Controversial as he may have been as a president, George W. Bush does deserve some respect for his pursuit of fitness. Before becoming president, Bush ran the 1993 Houston Marathon at the age of 46 years old. He kept a 8:30-mile pace and finished at 3:44:52.
Tiki Barber
Lastly, it seems athletes can't get enough of physical challenges.
Former NFL running back for the New York Giants Tiki Barber also tried running a marathon. Specifically, he ran the 2016 New York City Marathon and completed at 4:26:26 despite cramping up halfway through. Barber then tried again in 2017 and finished with a time of 4:38:15.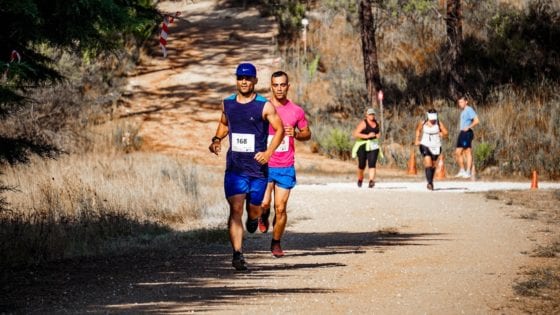 Marathon Running
Marathons are a big commitment and they take a lot of effort to even compete, let alone finish. Congrats to all the men listed above for putting in the work to take part in these marathons and to any men who may attempt them (and getting shorter times) in the future.