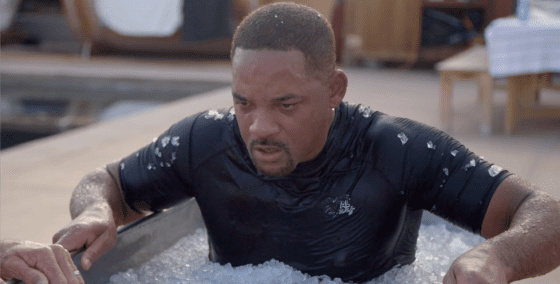 Watch This Will Smith Training Teaser & More
Will Smith did something crazy again, and he got fit while doing it.
That's right, it looks like social media has maintained Smith's stardom and kept him in the people's minds. And it wasn't just him. Wife Jada, daughter Willow, and step-mama Adrienne have become internet sensations in the past few years with their "Red Table" talk show.
And with all the viral videos that Will Smith has published in the past few years, it seems like it's the most heartfelt ones that have the most impact. Like the one below.
Will Smith, who's preparing for the release of his take on the iconic genie from Disney's Aladdin, released the teaser for his latest video on Facebook Watch. The actor and internet celebrity, produced the video for his "Will Smith's Bucket List" documentary series. The series shows Smith traveling around the world to complete tasks worth a challenge to himself and make life more exciting. This includes skydiving in Dubai, swimming with sharks, and more.
For his latest challenge, Smith decided that he would take part in a half marathon in Havana, Cuba with only three weeks to prepare. If that wasn't hard enough, Smith shared that he's gotten a bit out of shape. That meant his exercises had to be even more intense. Despite that, he was focused on staying safe and healthy.
"I really got to be smart about the way I approach this race," Smith explains in the teaser video below. "I gotta listen to my body. The older I get, the harder it is to shake the rust off."
This three week long tough training included climbing stairs underwater with dumbbells, and sprinting up dunes!
While the actual video about Smith's saga to the marathon won't be up until this coming Wednesday, you can watch a trailer down below.
Luckily, the actual marathon happened back in November of last year, so, if you don't mind spoilers, we can talk about how Smith fared down below.
According to Runner's World, Will Smith competed in the Havana Half Marathon, also known as Marabana, back in November 18 of 2018. The event has been running since 1987. Originally, Americans weren't' allowed to compete because of travel restrictions between Cuba and the United States. But in the past few years, those restrictions lowered and allowed U.S. runners to compete.
As for Smith, he finished with a net time of 2:29:04. Meanwhile, the winner, Luis Angel finished with at 1:11:32.
You can watch some news coverage of Smith's run down below. And again, you can watch Smith's training for the event and his personal coverage of it on Wednesday through Facebook Watch.
h/t: Runner's World