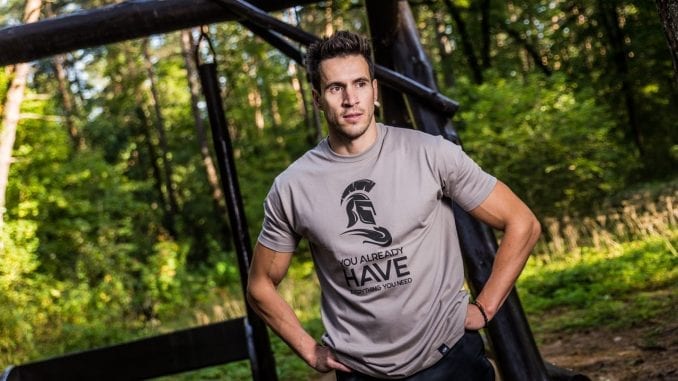 Your Online Personality and Real World Style
Imagine customizing your next outfit based on your online personality. Well, that's exactly what Russian fashion label KRAKATAU and Kaspersky, a Moscow security firm have done. Their latest collaboration is called the Safe Expression Collection and it's like a cyberpunk social experiment gone…right?
Aside from selling garments, the whole point of this collection is to bring more awareness to cybercrime and identity theft. Kaspersky specializes in mobile security apps, VPNS, and data protection. You can get their best apps and products in one bundle or shop for the specific features you need.
Kaspersky did a survey and found that 37% of millennials believe that their lives are too boring to attract the attention of cybercriminals. Yet something as benign as a selfie can potentially reveal vital information that hackers can use to gain access to your financial information. Your digital data can even be sold on the dark net for big bucks.
Kaspersky and KRAKATAU want to use fashion as a way to create deeper conversations about online privacy and the very nature of your digital identity. Most of the online activity for young people involves self-expression, so this collection explores how you can express yourself safely in a dangerous digital domain.
Related: 5 Good VPNs to Protect You and Your Internet Interests
Check out this cinematic trailer for the new KRAKATAU collection.
How Does the Safe Expression Collection Work?
You can head over to the KRAKATAU website to start customizing your clothing.
Users are greeted by a digital chatbot using an interface that looks and feels a lot like the opening frames of a new cyberpunk video game. After you type in your username, the chatbot uses your typing style as a data point for designing your garment.
Then, the chatbot asks a strange question. If someone asks for your contact information, what would you give it up in exchange for?
This is an interesting question, given that most people readily give their contact information to websites every single day. I chose a 50% discount in my favorite online store, but there is an option to answer nothing at all.
It asks how often you post photos of yourself exposing your palm or fingertips on a sliding scale of always to never. Now, I'm really starting to think about my digital identity, but I'm still intrigued so I answer the question.
Then, I'm asked how I generate my passwords. At this point, I'm wondering if I'm being trolled for the very information theft that this ad campaign for clothing is trying to highlight. However, after answering, I'm reminded by the chatbot that my password should be as unique as my own personality.
The last question has to do with public wi-fi. This chatbot is getting downright preachy about protecting my digital identity and I think I've been converted in just a few minutes time.
After the questions, I receive a rating in several categories – software empathy, cyber nihilism, social immunity, digital extroversion, and web agility. Apparently, I'm rather strong on the software empathy scale. Now I just need to figure out what that means.
Then, a custom AI generated print appears. The AI algorithm takes user data and crafts a special print that you can put on a T-shirt, hoodie, sweatshirt, or down jacket. The T-shirt costs about $70 and of course, it goes up from there.
I'm intrigued by my custom AI-generated print though. It has a 3D digitized face and some matrix-style codework. The clothes are made of softened nylon and French terry fabric. The colors are all black or neon green.
Related: Dress Like a TikTok Star in the Eboy Style
What's the Point of Designing Clothing Based on Online Behavior?
Online activity is just as much a part of our lives as the real world. This trend will begin to tip even more in the direction of the digital universe as time goes on. So, KRAKATAU and Kaspersky want to show you that your digital information is readily available, just like the print of a T-shirt.
It's part of how you identify yourself. The algorithm reveals how concerned you are with online privacy. The more concerned – the more complex the pattern of the garment. It's a metaphor for your digital security.
The point of this collaboration is to educate and allow people to question the nature of their self-identity in a digital world. I am a big fan of cyberpunk art. So, this sort of thing really appeals to me. Maybe the AI algorithm knows….
Maybe that's the point.