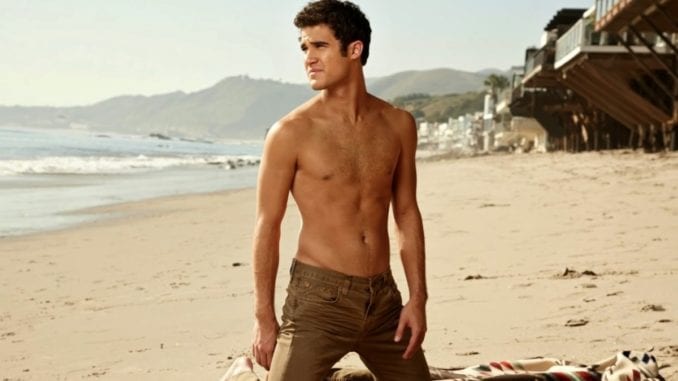 Darren Criss facts
If you've watched television for any amount of time, you no doubt have seen Darren Criss. He's the handsome Glee star with the beautiful voice and super hazel eyes.
But beyond what you've seen on T.V., what do you really know about him? For example, are you aware that he speaks fluent Italian? How about his ethnic background?
In this brief article, we're going to share 10 quick facts about the hunky actor that might surprise you. We'll start off with some basic biographic data and then dive deep.
Check it out.
Gay Pop File: Darren Criss
Birthday: February 5, 1987, San Francisco, California
Height: 5'8
Eye Color: Brownish-Hazel
Zodiac Sign: Aquarius
Shoe Size: 10 wide (rumored)
1. Classically trained
Darren's interest in music began in his early childhood. He began taking violin lessons at the age of five was classically trained for the next 15-years.
2. College educated
He attended all Roman Catholic schools. Darren completed went to Stuart Hall for Boys during his elementary school years. Later, he would graduate from Saint Ignatius College Preparatory in (2005).
Then in 2009, he obtained his Bachelor of Fine Arts from the University of Michigan. He majored in Theater Performance and minoring in Musicology and Italian.
3. Glee breakout
He portrayed Blaine Anderson, on the popular Fox television series, Glee. His first appearance occurred in season two in the episode "Never Been Kissed". The episode aired on November 9, 2010.
4. Film career
On September 7, 2012, Darren made his feature movie debut in the comedy, Girl Most Likely. It premiered at the Toronto International Film Festival (TIFF).
Later, it was released nationwide on July 19, 2013. Previously titled Imogene, the movie starred Kristen Wiig, Annette Bening, and Matt Dillon
5. Presidential Inaugural
Darren performed for US President Barack Obama, First Lady Michelle Obama, and Vice President Joe Biden at the inaugural balls of the 57th Presidential Inauguration. The event occurred on January 20, 2013.
6. Sexiest man alive
To the surprise of no one, Darren has been awarded for his sense of style. In 2011, he was named one of People's Sexiest Men Alive.
He was ranked No. 1 on AfterElton's "Hot 100" list in 2011 and 2012. He placed No. 1 on GQ Magazine's "30 Under 30, Finally, he made the top of "The Most Stylish Young Men In Hollywood" list in 2012.
7. Half Filapino and European
People often want to know Darren's ethnic background. According to public reporting, he is Eurasian – his mom is a native of Cebu, Philippines, while his father, a native of Pittsburgh, Pennsylvania, is of Irish, English, and German descent.
More: 10 facts on Tyler Hoechlin!
8. Major LGBTQ advocate
Darren is an advocate for LGBT rights.  He is a major supporter of The Trevor Project, a leading national organization that is focused on suicide prevention efforts among LGBTQ youth.
He was the recipient of Variety's Power of Youth Philanthropy award for his contributions to The Trevor Project.
9. More than Glee
Darren is mostly known for Glee but he has an extensive acting portfolio that includes theater and musicals.
He will play the part of Andrew Cunanan in American Crime Story on FX in the episode: The Assassination of Gianni Versace.
10. He's comfortable kissing men
In past interviews, Darren has talked about kissing guys. In fact, he gave an interview Conan he talked about seeking out guys who are "conservative looking straight boys" and planting one on. See video above.
UPDATE
2.18.19 – He just got married. See this NBC report.