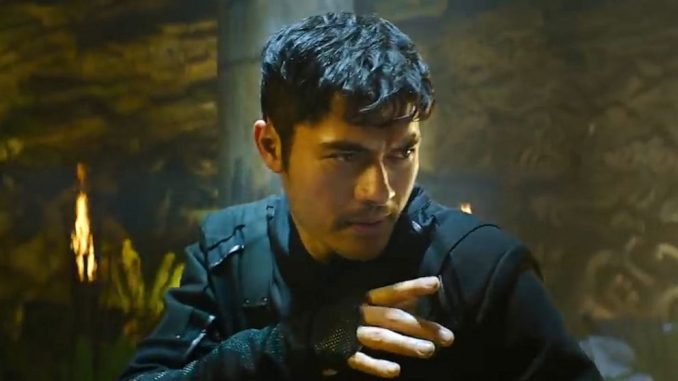 Henry Golding Quick Facts
It's time to get to know Henry Golding a little better. The Malaysian actor is rising in the entertainment world and his next stop is in the G.I. Joe empire. Starring in the latest film Snake Eyes, Henry Golding's star is getting bigger by the day.
Because of that, we thought it would be a great time to get to know the actor a little more. So if you're interested in learning 7 facts about Henry Golding, look no further than down below.
Pop File: Henry Golding
Birthdate: February 5, 1987
Birthplace: Sri Aman, Malaysia
Zodiac Sign: Aquarius
Height: 6 ft (185cm)
Weight: 178.57 lbs (81kg)
Body Type: Muscular
1 He's A Malaysian National
While Henry Golding has lived in several countries around the world, more on that later, Golding is originally from Malaysia. Golding's father is from England and his mother is from the Iban Tribe in Sarawak, Malaysia. Golding then spent 5 years of his childhood in Terengganu on the East Coast of Malaysia.
2 He Didn't Go To College
As he shared in an interview with The Blisscipline in 2010, Henry Golding found that a college education wasn't the right fit for him.
"That format of education and learning wasn't the sort of way that my brain works, I'm more hands on," Henry revealed to The Blisscipline. "I was very lucky, a lot of people go through the college system not knowing what they want to do. Thankfully my parents were very supportive of my choices and pretty much gave me free reign."
Related: 6 Facts About "Mortal Kombat" Star Lewis Tan
3 He's A Trained Hairstylist
Despite not enjoying working as a hairstylist, Henry Golding enjoyed growing learning the skill of haircutting and hairstyling. Growing up, Golding spent his time working at a barbershop in the UK. There, he apprenticed and learned how to style. Those skills have served him ever since and certainly helped him during coronavirus breakdowns when he had to cut his own hair..
"I went into an apprenticeship, starting off as a shampoo boy — just through the trenches," he previously told the HuffPost. Henry eventually worked his way up and was recognized by Richard Ward Hair and Metrospa in London.
4 He's Lived In Several Countries
Again, Henry Golding has lived and worked all over the world. After living in Malaysia for the first few years of his life, Golding moved to Surrey, England. Later, and went to the Warwick School in Redhill. Upon turning 21, Golding decided to move back to Malaysia. Golding moved to Kuala Lumpur to pursue on-camera roles. That's, of course, after working as a hairdresser on Sloane Street in London.
Once he started getting attention as a tv show host, Golding's career skyrocketed. He then ended up hosting several gigs for ESPN, National Geographic, BBC, Fox, and NBC Universal. In fact, the below reel shows a few of the many shows he worked on as a host.
5 He Loves Cats
But now for the important information. Is Henry Golding an animal person? Turns out, yes! Yes, he is. Judging from his social media presence, Henry Golding is a big cat fan, though he's been known to photograph himself with a dog once or twice. In fact, Golding spent his 30th birthday in 2017 by having a cat-themed party. On Twitter, he has even called himself an "occasional cat whisperer."
6 He Completed A Traditional Ritual
Before getting married, Henry Golding decided to reconnect with his roots. To do that, Golding decided to complete his bejalai. A Bejalai is a traditional Iban rite of passage into manhood. Normally, most of what goes on with the rite and ritual is unknown to the public. And, we want to respect that. But, Godling decided he wanted to record the whole experience. That video shows that he conducted the rite within the wilderness of Borneo. The journey lasted around two months and ended with Golding getting a tattoo. Golding received a traditional hand-tapped bejalai tattoo by Ernesto Kalum of Borneoheadhunters tattoo in Kuching, Sarawak, Malaysia. We love it!
Related: 10 Facts About Hollywood Star John Krasinski
7 He's Married
Lastly, he's a married man. Despite playing a gay role in the 2019 film Monsoon, Henry Golding is a straight man. And he's married to a woman named Liv Lo. The two men in 2011 and fell in love quickly. They then dated for four years before Golding decided to propose. The couple then got married at a garden ceremony in Golding's hometown, Sarawak.
That said, their relationship hasn't always been smooth sailing. With Henry Goldings' busy schedule, the two have had to work around living and working apart. Golding has also shared that they are worried about Golding taking on romantic roles and the emotions that would bring out. But, the couple has continued to love each other and fight for that love. And now, the two are the happy parents of one beautiful baby.