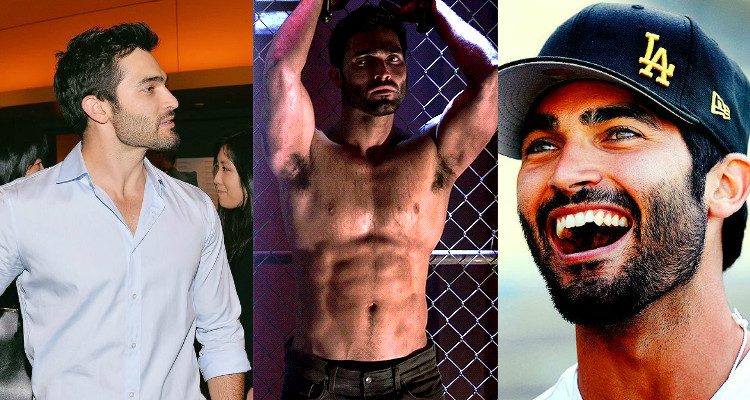 Tyler Hoechlin Facts
Tyler Hoechlin is one of those dreamy celebs I can't get enough of – ever! One look into his hazel green eyes is enough to send us over the moon. And the scruff on his face acts as a kind of visual Viagra.
I've been pining this former Teen Wolf star for some time now. So powerful is his sexiness that there are times we simply have to look away.
Full disclosure folks: we are full on, CRAZED Tyler Hoechlin fans that love to sit around and fantasize about what it would be like to get with him. Ugh!
via GIPHY
That's because long ago, we unanimously proclaimed Hoechlin makes for the perfect wolf. We even penned a piece that used him as an example!
Given our fondness for the hunk, we decided to share 10 facts about Tyler Hoechlin that might surprise you.
Even as we type this out now, we're getting super worked up. THAT'S how crazy we are for this guy. He's like a combo of lick and yum all swirled into one massive man-pop!
OK, let's jump right in!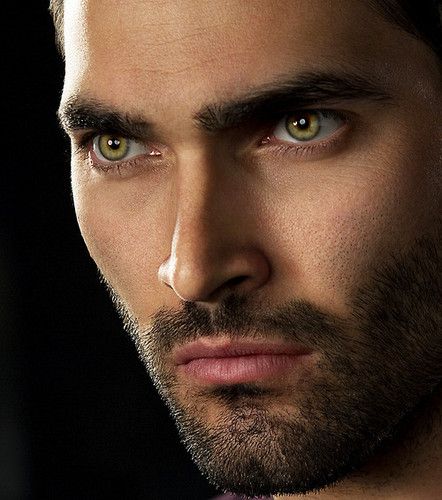 GAY POP FILE: TYLER HOECHLIN
Birthday: September 11, 1987, Corona, CA
Zodiac Sign: Virgo Male
Eye Color: Hazel Green Brown
Height: 6'0
Shoe Size: 11 wide (rumored)
Body Type: Straight up wolf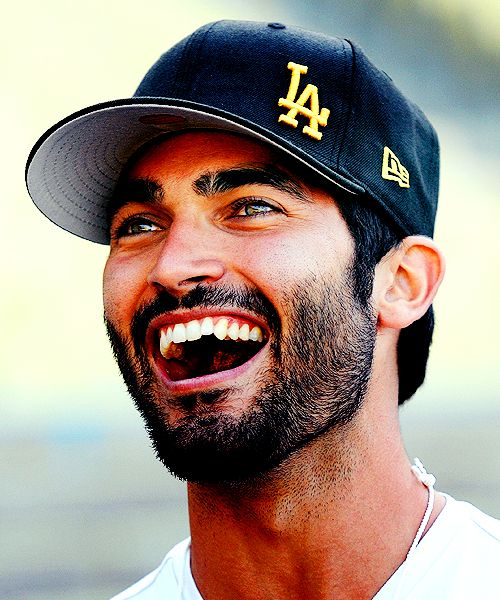 1. Jock who Loves Baseball
During his time in high school, Hoechlin was an active athlete playing a variety of different sports. But his favorite game was baseball.
While attending Santiago High School, he earned three varsity letters and named Best Defensive Player. After getting scooped up by Arizona State University, he served as one of the team's outfielders.
2. Surfer Dude
One of the things that drives us nuts about Hoechlin is that he's a surfer. And a good one at that! Because he's a native of Southern California who grew up along the Pacific coast, it's not that surprising.
In an interview he gave to Seventeen back in 2011, he shared the following: "I'm missing the beach, especially now that it's getting warming. I'm like ahhhh surfing. That's my new thing."
Yum!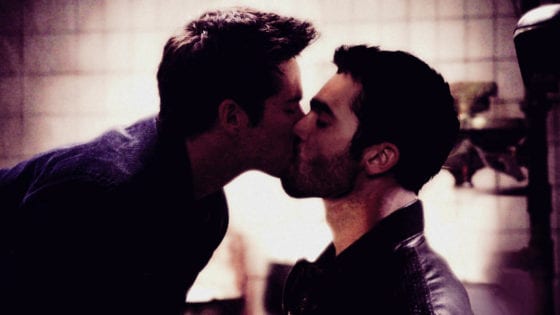 3. Real life friends with Colton Haynes
If you've ever watched Teen Wolf, you've no doubt seem Tyler Hoechlin (Derek Hale) and Colton Haynes (Jackson Whittemore) on the show.
But what you may not know is that in real life, Hoechlin and Haynes are super tight.
In fact, one might even call them besties. FYI: Hoechlin is very affirming of LGBTQ people. Check out this Tweet in support of his buddy, Colton.
And did you know Hoechlin has kissed another man? Yep, he has. The picture above is him making out with Dylan O'Brien from Teen Wolf. OMG, why couldn't it be me!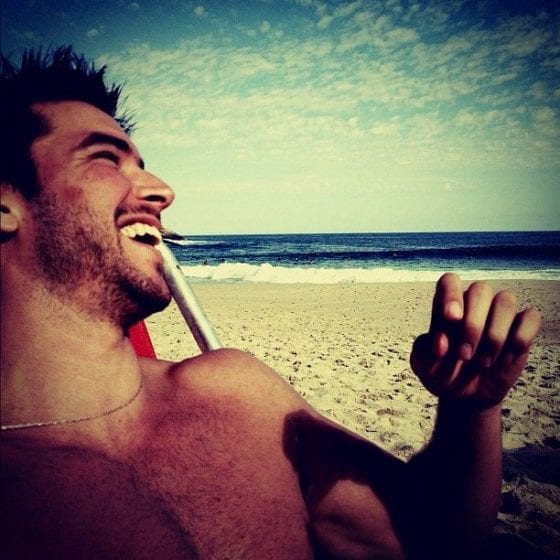 4. Played Superman
This is a factoid you may already know but just in case you don't, Hoechlin has played the role of Superman. Yep, he did it on the CW's Supergirl in a number of appearances.
And I'm not afraid to admit that I really like watching him wearing his Superman tights. If you've never seen the pics of him bulging in all the right places, you need to!
5. Movies
Hoechlin is one of the few actors who started on television and has successfully made the leap to the silver screen. It was just last year he starred in Everybody Wants Some (See Amazon).
And now, he's got a number of new flicks coming out!
According to his IMDb file, he'll appear in The Domestics, Stratton, Departures and Fifty Shades Freed. And you can bet we're going to see every single last one of them baby!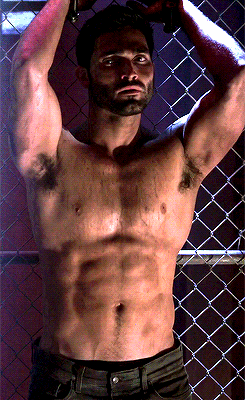 6. Lots of TV Roles
Hoechlin has enjoyed parts in lots of different television shows. There are too many for us to list here but some may come as a surprise to you.
He played the part of Martin Brewer on 7th Heaven. He was also Shawn Hodges on CSI Miami. And then there was his role as Dylan Fulton on Castle. Yum!
7. Hotness Runs in the Family
Hoechlin is active on various social media accounts. In a tweet he shared on Veteran's Day in 2016, he posted the following photograph of his dad – who has the same crazy, yummed out eyes as his son!
A very big thank you to all the veterans out there today. Your service could never be repaid. Including this guy, thanks Pops!#VeteransDay pic.twitter.com/LOWkMA9DAt

— Tyler Hoechlin (@TylerL_Hoechlin) November 11, 2016
8. Can't Take a Bad Picture
We've gone through hundreds of photographs of Hoechlin taken over the course of many years. We couldn't find one – not one bad photograph.
He's among a rare breed of people who has the rare gift of being extremely photogenic. Perhaps we're bias because we're crushing on him but seriously, all of his photos are delish!
9. Hasn't Joined the Teen Wolf NSFW Crowd (Yet)
At the time of this post, Hoechlin hasn't joined the other Teen Wolf actors who have experienced so called "leaks" of their private photos. See this post and be warned it has links to adult imagery.
Although, on March 19 of this year, the star reported on Twitter that someone had hacked into his snapchat. Is he inoculating himself in case some of his NSFW pics leak? We don't know but can only hope!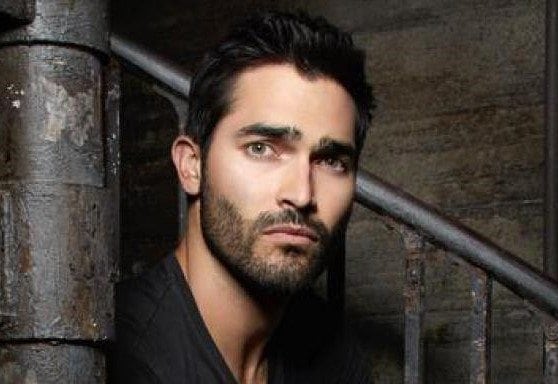 10. Sick Hot Beard
There's no way we could create a list of 10 facts about Hoechlin unless we talked about his crazy, sick hot beard. Don't you think the dude could be a facial hair model who offers shaving tips.
So where does Hoechlin get his magnetic looks? Well, the answer can be found in his jeans genes.
According to public records, he's a mix of German, Swiss-German (father) and British, German, Scandinavian, Irish (mother). When you mix the two together, you get one very hot Tyler Hoechlin!
Wrap Up
Honestly, we could go on forever and a day fawning over this actor. Not only is he ridiculously hot, he's also very good at his craft.
Is it any wonder he's been nominated for and/or won a number of awards for his work, including a Teen Choice Award for his role on Teen Wolf?
Just for fun, I'm putting up a man crush poll on Hoechlin for you to vote in. Enjoy!