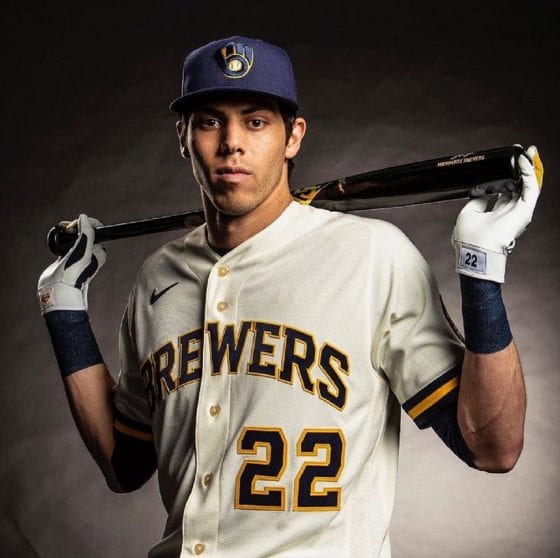 Chrisitan Yelich Facts
Christian Yelich! He's a baseball star on the rise. Just a few years ago, he was playing with the Miami Marlins. Then, the Milwaukee Brewers traded four minor leaguers to get him. But who is the guy behind the growing baseball name? What are some facts about his personality and way of life? What simple but fun facts can a baseball fan learn about this star player? Well, here are nine facts to fill you in.
Pop File: Christian Yelich
Birthday: December 5, 1991
Birthplace: Thousand Oaks, California, United States
Zodiac Sign: Sagittarius
Height: 6 feet 3 inches (190.5 centimeters)
Eye Color: Brown
Body Type: Athletic
1. Sports Are In His Blood
Christian Yelich is the great-grandson of football player Fred Gehrke. Gehrke played for the Los Angeles Rams and the San Francisco 49ers in the 1940s and '50s. In addition, Christian's uncle, Chris Yelich, played in college football for the UCLA Bruins. But for Christian's generation, baseball took over as the sport of choice. Not only does Christian play it, but his brother Collin played minor league baseball in the Atlanta Braves Organization.
2. He LOVES Chipotle!
Christian Yelich is a big fan of Chipotle. Being on the road so often. Yelich has often needed to get food fast. And his fast food of choice is Chipotle.
"An essential to my life would be Chipotle," Yelich told GQ Sports in 2019. "You're in the minor leagues [as he was in the time,] and you're in all these bizarre cities and a lot of small towns, and we're on a time crunch a lot of the time trying to make buses, be places at certain times. And something you can get quick. Fairly healthy for you, if you do it the right way, and I got on that routine when I was really young and I've kinda carried it. I don't see it changing any time soon."
https://www.youtube.com/watch?v=RnthfH1KZB4
Related: 8 Facts About NY Giants Quarterback Daniel Jones
3. His 10 Favorite Things
Speaking of that 2019 Sports GQ interview, Christian Yelich listed off the ten things that he can't live without. The list of his ten favorite things included, 5 Hour Energy drinks, his AirPods, Chipotle, Converse shoes, Beats headphones, Tom Ford sunglasses, his Rolex Daytona watch, his passport, his Tumi backpack, baseballs.
4. He Loves Drake
When talking about his AirPods, Christian Yelich discussed his musical tastes. The baseball player shared that he likes all genres of music. Though, some songs and artists made the top of his playlist (at the time). This includes Drake's "Money in the Grave," Carrie Underwood's "Southbound," Chance the Rapper's "Hot Shower," and "Muito Calor" by Ozuna & Anitta.
https://www.instagram.com/p/CHEZS15M5-L/
5. He's Dating Emily Balkind
But what about his personal life? Who is close to the baseball star? Well, you can't get any closer than dating him. And unfortunately for those wondering and praying, there's already somebody taking up that spot.
Christian Yelich is dating Emily Balkind, a Music Coordinator who works for Jill Meyers Music Consultants. The San Diego State University grad originally studied Political Science and Government before transitioning to Music Supervision for Film and Television.
6. A Pete Davidson Lookalike?
As Christian Yelich becomes more famous, he finds himself getting compared to a certain New York comedian. Over the past few years, Yelich has found himself being compared to Saturday Night Live comedian Pete Davidson constantly. To his credit, Davidson says that he gets the same comments from Yelich fans.
"Every night on Twitter, there will be five, six, seven people that [go], 'Hey, do you know you look like Pete Davidson or Christian Yelich,'" The baseball star told Bally Sports Florida after meeting the SNL star in 2015. "SO, we've been getting it for a while. It kind of blew up unintentional talk and it's finally good to come out and meet him."
Related: 9 Facts About SNL Comedian Pete Davidson
7. His Childhood Hero
Yelich grew up as both a Los Angeles Dodgers fan and a New York Yankees fan. Most of his first baseball experiences were at Dodger stadium. Now, he's happy whenever he can return to that stadium. But while appearing on GQ Sports, ChristianYelich shared that his favorite baseball player growing up was Derek Jeter.
"My favorite baseball player was actually Derek Jeter growing up," he shared. "He was always the guy that seemed to get the big hit in the big moment. So, he was the guy that I looked up to and I got to play against him in a spring training game when I was a rookie. One of the cooler moments in my career."
8. He's A [One Time] Actor
Yelich may be focused on sports, but he has taken the time to enjoy other opportunities. Specifically, Christian Yelich appeared in a 2019 episode of Magnum P.I. The athlete got to play himself and got to visit Hawaii while he saw how tv shows work.
"I wasn't awful at it, I don't think, because I got to play myself so it was a lot easier. And I was interacting with the Little League kids from the island that ended up making it to the World Series," he said in the GQ video while referencing the 2018 Honolulu Little League World Champions. "I really enjoyed it."
9. Would He Manage/Coach In The Future?
But what's next for Christian Yelich? The star has gotten a good few years under his belt as a baseball player, so is he considering what comes next? When it's time for Yelich to move on from being an active player, would Yelich consider being a baseball manager or coach? He says it's still too early to tell.
"At this point, I'm far enough away from my career being over to where I really haven't put much thought into it," he confessed. "It's a lot harder job than people think it is to be the manager. As players, we have long days, but the coaching staff, they really have long days. And I'd say at this time, I don't think so. It's a long way off and things can change."