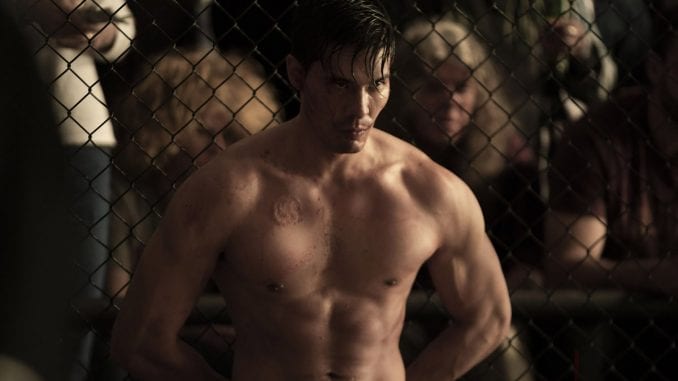 Lewis Tan Facts
Mortal Kombat is here! For years, fans of the gruesome and violent video game franchise have hoped and prayed for the arrival of this film. A movie that truly adapts and represents the source material and all its grittiness. But, who is the man standing at the center of it all? In order to help movie viewers get into the world, filmmakers decided to create a whole new character as the male lead. And playing that lead is none other than Into the Badlands and Wu Assassins star Lewis Tan.
So, if you want a little material to get you excited for the new film (or you saw the film and want to get into Lewis Tan), here are 6 facts about the leading man.
https://www.instagram.com/p/B8IPBBJhn_4/
Pop File: Lewis Tan
Birthday: February 4, 1987
Birthplace: Manchester, England, United Kingdom
Zodiac Sign: Aquarius
Height: 6 feet 2 inches (1.88 meters)
Weight: 187lbs (85 kg)
Eye Color: Hazel
Body Type: Athletic
https://www.instagram.com/p/CK2jUNLhYq8/
1. His Family
Lewis Tan was originally born in Manchester, England to martial artist and actor Philip Tan and former fashion model Joanne Tan. He's also brother to Sam Tan and Evan Tan. After being born in the U.K., Lewis and his family were constantly on the move. Because of his father's jobs, Lewis grew up often traveling between England, China, and the U.S.
When talking to Flaunt, Lewis Tan shared his perspective on his unique upbringing.
"I was born in England," he explained. "I was born in Manchester, England. I'm half Chinese, half English. I spent the majority of my childhood in LA. From LA to England to China. Those three places, I was raised. But primarily in America.
2. He's Trained In Martial Arts
Being the son of a martial artist, and an entertainer at that, Philip Tan heavily influenced Lewis Tan's lifepath. After becoming a national champion in Taekwondo at 22, Philip began doing stunts, choreography, and training for Hollywood films. Lewis Tan often joined his father on set for these jobs. Lewis fell in love with martial arts because of this and got into it himself. He now has training in boxing, MMA, Kung Fu, Wushu, some weapons handling, and more. He even has a history of being in the amateur circuit in kickboxing in Muay Thai.
Related: 11 Facts About Oscar-Nominee Star Steven Yeun
3. Why He Became An Actor
Martial arts weren't the only thing that rubbed off on Lewis Tan. So did acting and a love for filmmaking. On top of training his body, Lewis Tan grew up training his acting skills. He participated in theater shows for years and even appeared in a few commercials as a kid. Lewis Tan's first official role was when he was just five years old.
On top of that, Lewis Tan had the guidance of famed coach John Kirby. He worked with Kirby for years and learned about several great playwrights like Tennessee Williams, Eugene O'Neil, John Patrick Shanley, Chekov, David Mamet, and more.
As he told Flaunt, "It's very rare for a six-foot-two Asian-American actor like myself to be given these types of opportunities. So it was nice to be able to perform plays and to dive deep into material. As an actor you dream of doing Tennessee Williams, you dream of doing John Patrick Shanley plays, so that has helped me grow as an actor. John Kirby is a legend in the film industry, and has been around forever—him and his family and his brother, Bruno Kirby, have been around since the Godfather days. I've been very fortunate to have him guiding me."
4. He Was Almost Iron Fist
While Lewis Tan has enjoyed dramatic roles on the stage, he has thrived in action projects for the screen. He also almost became a lead role in a Marvel project. Back when Marvel Netflix shows were at their prime, Lewis Tan was on the shortlist to play Iron Fist. However, show executives decided not to race-bend the character. They instead offered the role to Game of Thrones alum Finn Jones.
As he admitted to Vulture, "Yeah, I read for Danny originally. I think they were highly considering it at one point in time, but it would have definitely changed the dynamic of the show. It would have been a different show."
Related: 7 Facts About Marvel Hero Simu Liu
5. He Travels A Lot
One other lesson he took from his father was the need to constantly keep moving. Now that he's a successful actor, Lewis Tan finds himself traveling between different countries frequently.
"I'm kind of all over the place," he once explained. "I have a place in LA but I'm barely here. I was just in Japan yesterday, a few weeks before that I was in Spain, a few weeks before that I went to London. I think that one of the most beautiful things about being in this business is the ability to be able to travel, to experience different cultures, and the more you do that—the more you realize how similar we all are, how there's a unity in everything, and that is what I want to show in my work. Bigger than being an Asian-American actor or an action star, I just want to be an artist who is doing work that inspires people to see and understand the unity in everything. I think the more that we do that, the less hatred, less ignorance, and that is the beautiful thing about the film industry and the film art form. The medium is powerful. It can influence this type of change."
6. He Wants To Write And Direct
But what's next for the martial artist and actor? Apparently, directing and writing. While Lewis Tan would love to get more dramatic roles as an actor, he also has an interest in working behind the camera. For instance, he began working with Tucker Tooley, the producer of Christian Bale's The Fighter, on a series of his own. Before that, Tan has directed short films and written three plays of his own.
Explaining his writings a little with Flaunt, Lewis Tan said, "I wrote a couple pieces. I wrote a romantic comedy, actually [laughs]. It was the first thing I wrote, just because it was a genre that I had not connected to, to what I'm doing right now. So I felt like it was nice to kind of get my feet wet in a different type of genre and to experiment with my writing. But most recently the screenplay that I've been working on is about my father. It's about his story, which is a true story, about how he was abandoned as a child and how he dealt with racism in London in the 1970s and worked his way up to winning the British national title martial arts championships. It's a cool coming-of-age story but it has a lot of heart, a lot of action, but it's drama-driven action. It's very close to my heart, it's based on my father and it's a very interesting story."