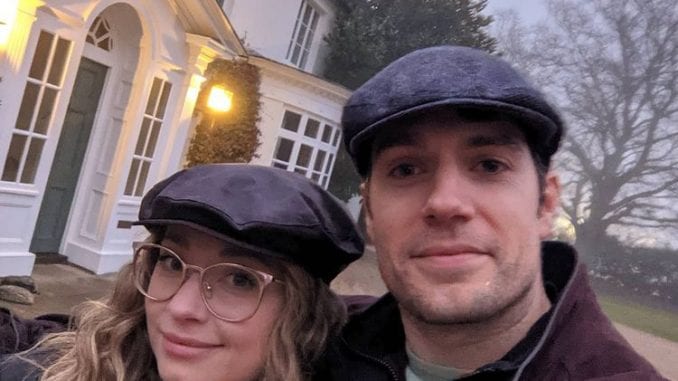 Henry Cavill's Girlfriend
Henry Cavill has a girlfriend?
The Witcher star Henry Cavill has been in headlines lately after announcing his new girlfriend. The most recent man to don the role of Superman became Instagram official with girlfriend Natalie Viscuso last month. The 38-year-old posted that he was in a "beautiful and brilliant love" in April.
"This is me looking quietly confident shortly before my beautiful and brilliant love Natalie, destroys me at chess," Cavill wrote to caption a picture of himself and Viscuso playing a game of chess on a beautiful wooden table.
Viscuso also posted the photo to her own Instagram account. She chose to caption the picture, "Just teaching my dear Henry how to play some chess…or…maybe he let me win?"
Related: 11 Actors Who Dated Non-Famous People
But, not everything has been peaceful for the two lovers. Since sharing the relationship with the world, Cavill's fans have, apparently, mocked his girlfriend. Things got so bad that Cavill had to address these toxic fans in an Instagram post late last week.
"Dear fans and followers, I wanted to make a wee community announcement," Cavill wrote. I couldn't help but notice that there has been some social animosity of late. It's becoming increasingly prevalent on my feed. There has been lots of, let's call it speculation for now, about my private life and professional partnerships."
The Justice League actor then added, "Now, while I do appreciate the passion and support by those very people who are 'speculating,' It has come to such a point that I needed to say something, which in itself, is a bad thing. We are living in an age of social enlightenment. More and more, people are realising that their views may have been blinkered and that they need to expand them to encompass others."
Cavill then made a point of condemning the "fans" who attacked his girlfriend, "So, to you out there who are expressing your disdain and showing your displeasure through a surprising variety of ways, it's time to stop. I know it can be fun to speculate, to gossip, and to dive into our own personal echo chambers on the internet, but your 'passion' is misplaced, and it causes harm to the people I care about most. Even your most conservative of negative assumptions about both my personal and professional life just aren't true."
Cavill then decided to leave his message on a positive note by saying, "Let's embrace this age of social enlightenment together, and move forward with positivity. I am very happy in love, and in life. I'd be enormously grateful if you were happy with me. If you can't bring yourself to be happy with me, then at the very least try to do yourself proud and be the best version of yourself."
Related: 10 Surprising Facts About Henry Cavill
Natalie Viscuso Facts
But not all of Henry Cavill's fans are looking to mock Natalie Viscous. Some are just curious to know more about her. Who is this beautiful woman who has charmed the heart and mind of Henry Cavill? Out of general and non-threatening curiosity, we've collected some beginner facts for any kind fans to find below.
1. Age
First, it appears that Natalie Viscuso is 31-years-old. So, there's a six-year difference between the two when you compare her age to Henry Cavill's 37.
2. She Was On Reality Television
While Henry Cavill is known as an A-list actor and celebrity, Viscuso is not new to Los Angeles and the entertainment business. In fact, she has been on tv before. Natalie Viscuso appeared on season 1 of MTV's My Super Sweet 16 back in 2005. The episode's description reads:
At 15 years old, Natalie is now living in a $5 million house and cruising around town in her dad's Bentley's and Ferraris. What more could she want? How about being the most popular girl at school?"
So it's easy to say, she comes from money.
Related: 7 Ways To Sport Henry Cavill's Look and Vibe
3. Where She's From & Where She Lives
Based on that My Super Sweet Sixteen episode, we can learn a little bit more about Viscuso. For instance, she grew up in Rosewell, New Mexico. But that was over a decade ago. Where does Natalie live now? Apparently, California. According to People Magazine, a young Natalie moved to La Jolla, California with her father and his then-fiancé.
4. She's A Movie Executive
Next, it appears that Natalie Viscuso is also in the entertainment business. Though, she does behind-the-camera work instead of in the front. Viscuso graduated with a Bachelor's at the School of Cinematic Arts at the University of Southern California in 2011.
After graduating, Natalie worked in the scripted television departments of the Weinstein Company and ITV Studios. She then went on to work with Legendary Entertainment., Viscuos's Linkedin says that she is now the vice president of Television and Digital Studios at Legendary. Perhaps this is how she met Henry Cavill.
5. She's A Dog Mom
Lastly, Natalie Viscuso's social media posts reveal that she is a proud dog mom to a French bulldog named Meat. Perhaps Meat will soon get a brother in Henry Cavill's dog named Kal. And, a dog dad in Cavill? We'll see in the future.