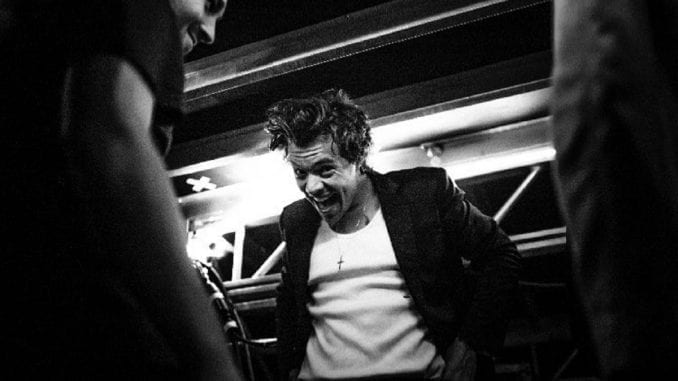 SLP
Are you a fan of Russell Brand, Harry Styles, or Lenny Kravitz? Do you love the way that they dress? There's just something about those skinny jeans? What is it about those boots? How can an open button up shirt look so cool? What is it about their style? Well, that style is actually called SLP. And if you want to dress like these stars and rockers, we've got all the tips and info you could ever need.
What Is It?
The SLP fashion style is all about the vintage rocker aesthetic. You know the type. The kinda guy who's the life of the party. He's sociable but also weidly unapproachable. He's the type to either have a circle surrounding him or is looking cool and distant as he hangs out by the side. Or at the very least, that's what you EXPECT a guy to be like when he's wearing these clothes.
SLP is all about confidence and attitude. Whether you're looking for more a punk rock vibe with a bit of grunge or you're looking for the cool guy/heartthrob look, SLP can fit either vibe. In the end, people who dress up in the SLP look are trying to look like they could grab a guitar and start rocking out at any moment.
Ironically, though, the SLP fashion is based on a high-end fashion brand from France. In fact, SLP is short for Saint Laurent Paris, which is a re-branding of Yves Saint Laurent. This fashion brand is the source of the SLP aesthetic explained above. Though, the brand also tends to have a bit more of a Parisian influence. That said, it's this brand merged with the rocker edge that has formed what we know today as the SLP style.
If you need more information AND VISUALS, check out this Inspiration Album.
Related: Important Hair Care Tips for Black Men
Fit & Body Shape
To be honest, we have to admit that this is one of fashion styles that comes with a certain body type requirement. While we encourage ANYONE taking qualities of this style or even attempting this style and seeing if it suits their personal taste and aesthetic, the SLP style does focus a certain body type. And that body type is tall and slim.
Again, think Russell Brand, Harry Styles, or Lenny Kravitz. There's just something about tall and skinny guys that fits so well with this look. This could be because the long and narrow lines of bodies like those three celebrities are accentuated by similarly slim clothing. For shorter or bigger dudes, the look may not work.
But again, you can still try out the style. And there are some exceptions to the tall and slim rule. For instance, bulkier men could potentially pull off the look. Kanye West, who has a more muscular and rounder body, has been able to pull off his own take on the look. And as we showed in our Americana fashion style post, Chris Evans was able to pull off a mix of the Americana look and SLP style in his Knives Out role.
https://www.instagram.com/p/CEKMonrDP7O/
Staples Of The Style
But now that you have a better idea of the SLP style, let's talk about the clothing pieces and factors that make up the overall look. As with many men's fashion trends and styles, it isn't just one set package. You can mix and match different aspects of the style to make it your own. In fact, we HIGHLY encourage that you do so. That way, you're not just looking like a carbon copy of the rockers that we all love. Instead, you're rocking the style while still rocking you.
But, you should also know the staples of the style. That way, you know which aspects of the look you can experiment with and which parts are essential. Know the basics before you advance the style, you know? So, what are some of those basics?
Shirts:
Open button up shirts

Without a doubt, a collared shirt that's opened 1/3rd or halfway is the perfect look to match this style. There's something carefree, cool, and casual about a slim yet loose button up shirt. Even if you don't decide to adopt this fashion aesthetic, you should experiment with an open button up. We guarantee it to up your confidence and personal style.

Crewneck t-shirts

Getting a crewneck shirt or two would be a great idea. And keep in mind, we're talking about either a regular crewneck t-shirt or a deep crewneck shirt. There's something about the open neck that makes crewnecks seem casual yet cool enough to fit this aesthetic. Maybe it's like with the open button up where the more skin shown the better. If you want a t-shirt, try a black and white striped shirt.
Related: The Best Lounge Shorts on the Market
Pants:
Skinny pants

If the pants are skinny, they are most likely great for this look. You want to get pants that are as slim and tapered as possible. This goes for denim, leather, or even chinos. For denim, go for either black or a light wash. Distressed pants are always good too.
Shoes:
Pointed/Slimming shoes

Slim-fitting and sleek shoes are VERY important. The point of the SLP look is to seem tall and slim. Having slim and slightly pointy shoes helps drive that idea home.

Boots

Chelsea boots are a GREAT go-to for this style. These boots have a little height, helping with the tall and skinny part of this style, thanks to the heel and look slim because of the thinned front.

High-top sneakers

You can still enjoy a good sneaker with this look. While it isn't as regularly seen on celebs rocking the look, high-top sneakers have merged into the style thanks to everyday men who wanted to wear comfortable shoes with their slim pants and shirts.
Outerwear:
Alternative: Leather Jackets, Denim Jackets, Varsity Jackets, Slim-fitted Bomber Jackets

Outwear is also a needed part of this look. While you can probably get away without a jacket during hotter season sand when wearing the open button ups, you might need a jacket during the colder months and when wearing a t-shirt. Try one of these many different jackets and see what it does to your overall outfit.

Formal: Peacoats, Duffle coats, Topcoats

You can also add a little formal style to your outfit. Adding a topcoat, duffle coat, or peacoat won't take you too far in the formal category. That is, if you accessorize and really drive home the other slim, tall, and alternative aspects of your outfit. In fact, it'll add an extra layer to your rocker look. A rocker with a "put together" air to yourself? Yes, please!
Light sweaters:
Knitwear

Did someone say edgy but put together? If you have a peacoat or duffle coat on, you might as well throw on a slim-fitted sweater too. Whether it's a turtleneck or a crewneck doesn't matter. You can still look like you belong in an SLP inspiration album if you add all the other components to your outfit.
Related: 5 Style Tips for Skinny Guys Made Simple
How You Can Start
But where can you get started with this look? Again, try to pick a few pieces of the recommended clothing options above. But as for stores where you can buy said clothes pieces, there are cheap and expensive options.
Button Ups: ASOS, Topman, Club Monaco, SLP
Chelsea Boots: ASOS, Nordstrom, SLP
The Spirit Behind The Look
Remember, at the end of the day, the SLP look and style is about a body type and an attitude more than anything else. Are you going to live and breathe the feeling of a rocker? Are you down to be the life of the party or the cool guy type? Of course, you don't have to lose yourself in the clothes. Instead, let the clothes energize your personality and excellence. It's a boost and not a substitute. Let the style rise you up and ride the rocker wave.